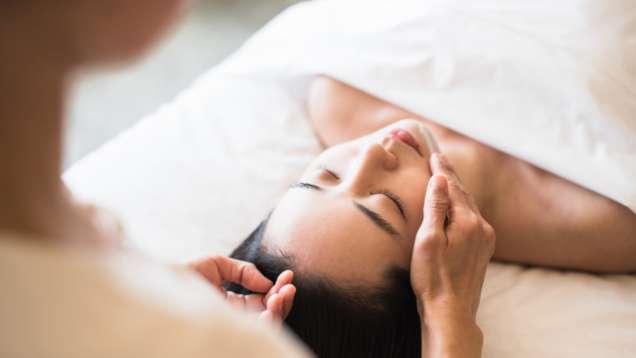 Our facial therapies include breathwork and singing bowls to unite body and mind in the present moment for maximum relaxation and efficacy.
Stability
Calming. Grounding. Supportive.
Inner Strength
Matrix-strengthening for stressed-out skin
Suitable for irritated or inflamed skin, this calming facial reduces redness, soothes sensitivities, nourishes imbalances and restores radiance. Includes a stress-relieving back massage.
Gold Age-Reversing
Advanced anti-ageing for mature, dehydrated skin
A powerful blend of gold, frankincense, hyaluronic extract, sonic and light wave therapy enhanced by a back massage and sound healing. Proven to reduce inflammation, reprogram cells, and counter signs of ageing.
Creativity
Awakening. Energizing. Connecting.
Deep Cleanse
Purifying refreshment for skin detoxification
Ideal for oily and combination, male and female skin. Featuring antibacterial lavender, ylang ylang and tea tree oils plus hot towel compresses, freshwater mud mask, relaxing scalp work and crystal sound.
Crystal Harmony
Revitalizing balance for all skin types
Combining healing crystals and vibrational sound, balancing meridian tapping, an energising garnet scrub, radiance boosting salt poultices and rose quartz, and a fine-line reducing jade mask.
Non-Judgement
Surrendering. Embracing. Loving.
Rainforest Rejuvenation
Brightening recovery for stressed, jet-lagged skin
A restorative blend of anti-inflammatory rainforest ingredients and lymphatic drainage techniques, herbal poultices, detoxifying mask and crystal sound to counter hormonal imbalances, jet-lag and city stresses.
Rose Infinity
Revitalizing balance for all skin types
One of the world's most radical natural anti-ageing facials, drawing on Nobel Prize winning research that targets ageing DNA to increase moisture and collagen, and plump lines for visibly smoother, firmer skin.
Note: According to Vietnamese Law, all pricing must be in Vietnamese Dong (VND). While our rates are quoted in US Dollars (USD) for reference, the actual charges for spa treatments at the Resort will be in Vietnamese Dong (VND) as per the exchange rate on the day of payment.