My Four Seasons
The Culinary Length of Vietnam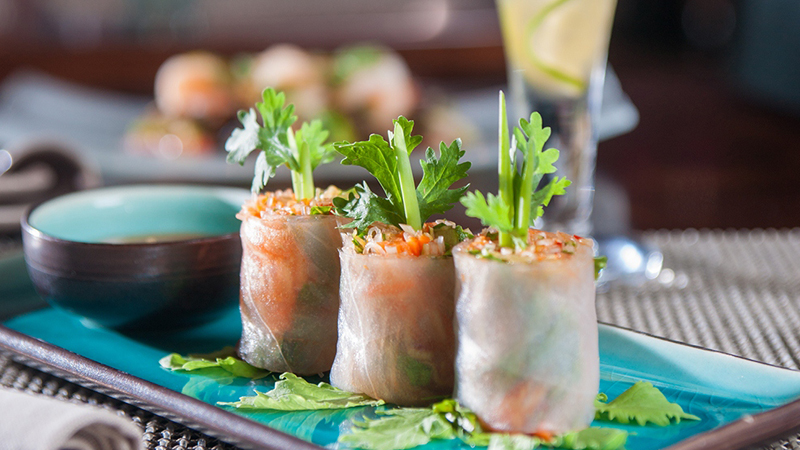 The Nam Hai's Cooking Academy immerses you in a smorgasbord of Vietnamese taste sensations. Each day our talented team will take you on a different culinary adventure spanning the length of Vietnam, uncovering unique flavours along the way:
Hanoi Specialties and Market Tour: Soak up the sights, sounds and smells of Hoi An's 100-year-old central market – from dried fish and sacks of herbs to fresh noodles and catch-of-the-day seafood. Then learn the art of bun cha, a Hanoian favourite.
Imperial Cuisine and Rice Field Experience: See and experience the great cycle of rice at the artfully created local paddies. Head back in time courtesy of an ancient Hue speciality, banh khoai.
Fish and Seafood Market Experience: Journey up the Hoi An estuary to welcome home the fishermen and their catch, experience the infamous Vietnamese "best price" haggling, then savour a local delicacy, muc (squid/calamari).
Hoi An Street Food and Noodle Factory Experience: Visit Hoi An, the birthplace of cau lau – fermented noodles served with marinated pork and myriad herbs. It's the water from the wells, scattered throughout the old town, that gives these noodles their distinct flavour.
Light and Healthy, The TraQue Vegetable Village Experience: Visit a horticultural wonder of perfectly manicured vegetables and herb gardens, tended to as if time hasn't changed. Predominantly vegetarian, with a distinct lack of gluten and diary, Vietnamese cuisine appeals to the conscious consumer. Try the banana blossom salad....
Vietnamese Favourites and Market Tour: Personally tailored. Let the chef pick the best daily produce, or choose a signature dish and navigate the key ingredients. Pho bo (beef) or pho ga (chicken) noodle soup laced with herbs and local chilli paste and finished with a delicately flavoured broth?
Our Chef's Recommendations and Rice Paper Experience: Set off to a local village where generations of families have produced rice paper for centuries. Then, perfect your own recipe for bo la lot: herb-infused minced beef rolled on a lot (betel) leaf, grilled and served with a spiced peanut sauce.