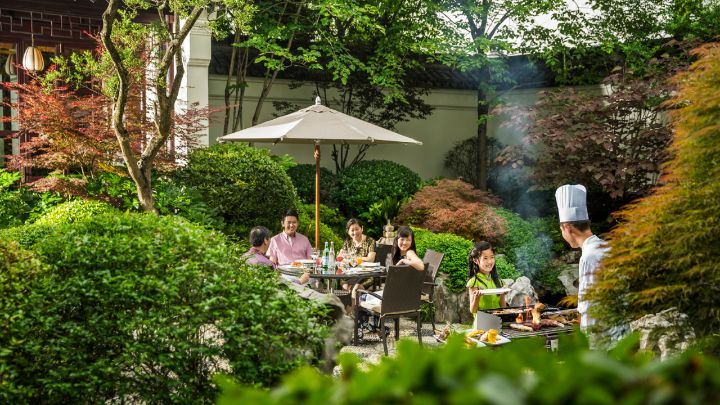 A true family-friendly destination, Four Seasons Hotel Hangzhou offers a variety of fun activities your kids will love. Contact our Concierge for individually tailored recommendations to suit your family's ages and interests. We have options to entertain every generation.
Your kids can learn to make Chinese paper lanterns – or delicious Chinese dumplings!
KIDS FOR ALL SEASONS

Our complimentary Kids For All Seasons program is designed to help younger guests appreciate the Hotel's beautiful garden setting. Our supervised activities provide memorable, educational experiences in a casual, fun environment. While the hub of activity is the outdoor playground, kids quickly realise the entire Hotel is their paradise!
TREASURE HUNT

Your kids can begin a treasure-hunt adventure as soon as they arrive. Follow our special map and collect stamps throughout the Hotel to earn a surprise gift. We'll also prepare an array of age-appropriate amenities to welcome your children.
PATIO DINING

With classical garden views, Jin Sha restaurant and our WL Bistro both provide open-air settings for easy, breezy family dining. Your kids can discover a variety of Chinese food options. WL Bistro also features an extensive kids' menu, created by our experienced chefs. WL Bistro welcomes children aged under 5 and offers a complimentary kids' menu for all-day meals when accompanied by a parent or guardian.
DUMPLING-MAKING CLASSES

Chinese dumplings are both fun and delicious. With a patient, professional chef as their teacher, your kids can learn how to make Chinese dumplings – from rolling the dough to boiling them in a big pot.
ARTS AND CRAFTS CLASSES

To educate and entertain, we can organise art classes – from painting plaster models to creating handmade lanterns. Your kids will learn about traditional Chinese handicrafts and enhance their practical skills.
BABYSITTING SERVICE

If you want some free time for just the two of you, you can pre-book Four Seasons babysitting services. Our attentive, dedicated staff will ensure you enjoy peace of mind, while your children play games or get a good night's sleep.