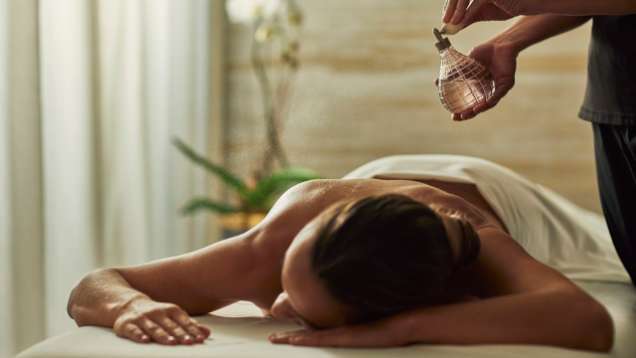 TRANQUIL SCALP RITUAL
This scalp massage focuses on vital energy points and a calming scalp mask is applied.
Monday to Thursday 30 Minutes - 60 GBP
Friday to Sunday 30 Minutes - 65 GBP
30 Minutes
GBP 60 - 65
Call 44 (1252) 853301
ABHYANGA AYURVEDIC MASSAGE
This massage follows smooth, rhythmic, flowing strokes providing a mindful relaxation. The herbal extracts of warm oils have detoxifying effects. Lift your spirit, calm your mind and quell your stress while you rejuvenate your body and spirit.
Monday to Thursday 60 Minutes - 120 GBP
Friday to Sunday 60 Minutes - 125 GBP
60 Minutes
GBP 120 - 125
Call 44 (1252) 853301
SODASHI CRYSTALUS BODY MASSAGE
A sensory experience designed to influence the mind, body and spirit using ancient Australian healing stones and crystals, bringing about total relaxation, rejuvenation and harmony.
Monday to Thursday 90 Minutes - 190 GBP
Friday to Sunday 90 Minutes - 200 GBP
90 Minutes
GBP 190 - 200
Call 44 (1252) 853301
PURVA KARMA (FOUR HANDED SPA RITUAL)
This ritual is an advanced combination of multiple stretching and rolling movements with long deep strokes using body oils enriched with ayurvedic herbal concentrates. Polarity balancing and rocking movements ground and de-stress, and the mind switches off as two therapists work in synchronized harmony. Leaving you mentally cleansed, this treatment delivers the ultimate in tension releasing and nurturing to achieve mental and spiritual bliss.
Monday to Thursday 120 Minutes - 315 GBP
Friday to Sunday 120 Minutes - 325 GBP
120 Minutes
GBP 315 - 325
Call 44 (1252) 853301