Four Seasons Hotel Hampshire
10th Anniversary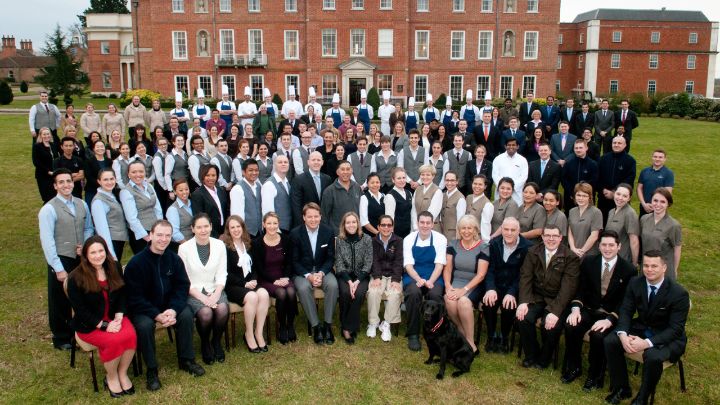 Located on the site where Henry VIII met Catherine of Aragon, Four Seasons Hotel Hampshire opened the doors to our first guests on Valentine's Day in 2005. Now, 10 years later, we will be marking our anniversary with a series of exciting initiatives and events throughout the year, so make sure to stay tuned.
Introducing 1086, Our Exclusive Craft Beer
What better way to celebrate than with our very own beer. Created by local brewery Andwells in partnership with Four Seasons Hotel Hampshire, 1086 will be on sale exclusively in our bar. Named after the year Dogmersfield Park was first mentioned in the Domesday Book, the teams have worked together to create a brilliantly fresh and inviting ale. Inspired by the Hampshire countryside, 1086 has an aroma of freshly cut grass and oranges, with subtle undertones of lychee, soft peach, spice and earthy notes.
Learn More about 1086
Looking Back Over the Years
As we head into our 11th year, coincidentally, 11 of our original opening team remain as employees at the Hotel today. Here, they share their personal insight into their highlights and what the experience means to them.
Top 11 Highlights
Top 10 Locations to Propose to Your Loved One at Four Seasons Hotel Hampshire
Guest Experience Manager, Olivia Anderson, is regularly asked to help create memorable moments. With the 10th anniversary of Four Seasons Hotel Hampshire coinciding with Valentine's Day 2015, Olivia has put together her top 10 list of places to propose or be proposed to on the Estate.
Top 10 Proposal Locations
Heritage
While Four Seasons Hotel Hampshire opened 10 years ago, the site's history dates back to 1086, when Dogmersfield was first mentioned in the Domesday Book. The original Manor House was built in 1728.
The Estate itself passed several times between King and Church before Henry I granted the manor to become a medieval palace. In 1501, Henry VII visited the palace with Prince Arthur, heir to the throne, to meet his future wife, Catherine of Aragon. In the party was Prince Henry, Arthur's brother, who would go on to become the King of England and make Catherine of Aragon the first of his six wives.
From here, the Estate passed through several aristocratic families where it took on different guises for the next 200 years. In 1728, Martha Goodyer and Ellis St. John had the existing Georgian Manor House built, which remained in the St John-Mildmay family until 1933. The existing property then went through various functions before being restored to its former glory and becoming Four Seasons Hotel Hampshire on February 14, 2005.
What will the next 10 years hold?