It's only the third-largest city in China (after Beijing and Shanghai), with a population of 12 million and growing fast, but Guangzhou is bigger than any American or European city—and older, too, dating back to the Qin Dynasty of 214 BC. Its location between Hong Kong and Macau makes it popular with both business travellers and tourists.
Whatever the reason for your visit, base yourself at Four Seasons Hotel Guangzhou, which is housed on the top floors of the 103-storey International Finance Center tower. Here you'll find a fresh perspective on Guangzhou's booming cultural scene, and you'll be within easy reach of some of the city's top attractions.
Explore the architecture
Photography VIEW Pictures Ltd / Alamy Stock Photo
The "starchitecture"-studded Tihane District is the locale of the International Finance Center tower, and therefore of Four Seasons Hotel Guangzhou. Put on your walking shoes and head to the Zaha Hadid–designed Guangzhou Opera House, which was completed in 2011 and remains a glimmering Modernist palace devoted to performing arts. It hosts performances by the likes of diva Renée Fleming and the Stuttgart Radio Symphony Orchestra alongside Chinese classics like Nine Songs, a cycle of poems written by Qu Yuan 2,300 years ago and performed by Taiwan's Cloud Gate Dance Theatre.
Catch up on your reading
Just around the corner is the equally mod Guangzhou New Library, designed by Japanese architecture firm Nikken Sekkei and also completed in 2011. Its eight floors and 1.2 million books are open to the public. The space is touted as an "intelligent library," with electronic retrieval devices and 24-hour self-service, while book returning and card issuing machines remain available in the stark main Leisure Hall.
Hit the art scene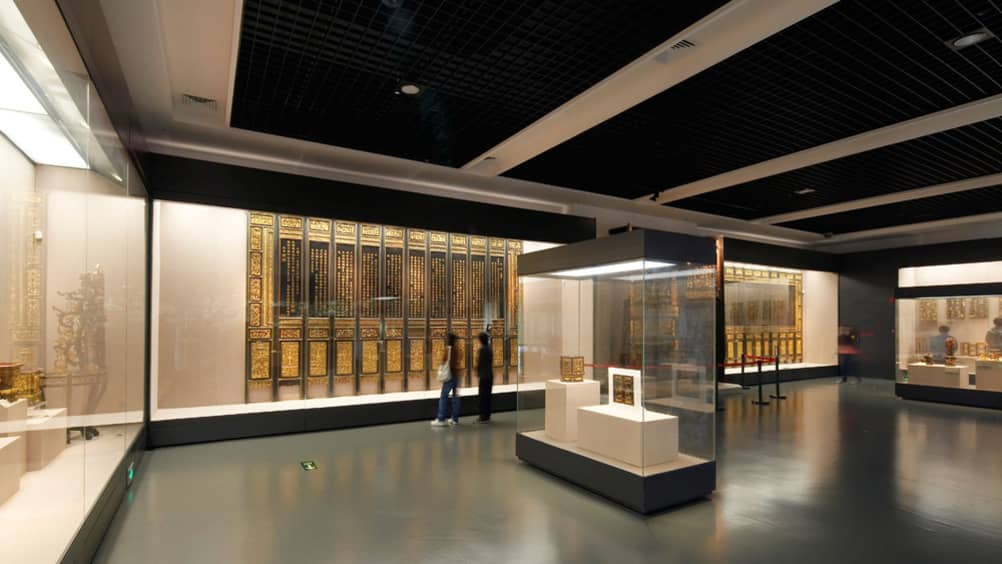 Photography VIEW Pictures Ltd / Alamy Stock Photo
The Cubist Guangdong Museum of Art secures Guangzhou's position on China's contemporary art map, with 12 indoor exhibition halls covering an area of 8,000 square metres (9,600 square yards), an outdoor Sculpture Garden and coastal China-centric exhibits such as Luo Linzhu's calligraphy and paintings by Fan Bo.
Dine like a local
Guangzhou is known throughout China for the diversity of its international cuisine, but Datong Restaurant at 63 Yanjiang Road plates up signature Guangdong dishes like crispy-skinned chicken, golden roasted suckling pig and a renowned custard tart.
Go shopping
The 138,000-square-metre (165,000-square-yard) upscale shopping market TaiKoo Hui, designed by Arquitectonica, draws an affluent crowd. Luxury shops include Armani, Chanel, Dior, Hermès, Louis Vuitton and Prada. The bookshop in L1, Fang Suo, sells a wide collection of English books as well.
Four Seasons Hotel Guangzhou