SPA
Face and Body Treatments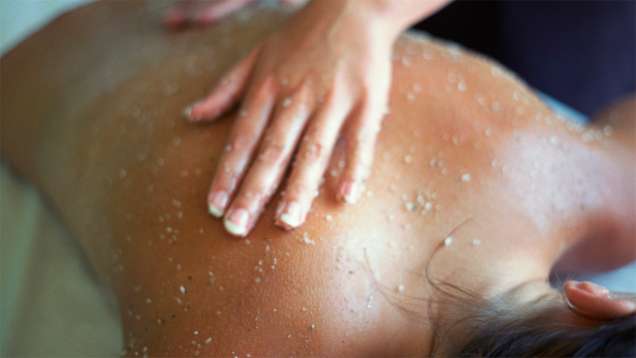 Sacred Burmese Gold Facial
A five-part, totally natural, results-driven facial therapy draws on the potent healing qualities of therapeutic Boswellia – an anti-ageing panacea that removes cellular inflammation and allows cells to repair and rejuvenate. After an energy-opening back massage the skin is prepared with gentle exfoliating silk cocoons before bio hyaluronic acid and colloidal Burmese gold penetrates deeply into the cell wall via ultrasound, plumping the skin and bringing hydration. With cells in an optimum state, stem cells and more gold stimulate collagen production and reprogrammed a healthy cellular structure. Suitable for all skin types and enjoyed by both men and women.
Location: Spa
90 Minutes – THB 6,500
Amethyst Wrap
Inspired by our neighbouring countries Laos and Burma where rich sources of amethyst and over 70% of the world's jadeite is found.
The amethyst wrap draws deep toxins from the cells and energy body. It revitalizes and purifies the skin, lymphatic system and bio-energy field and can promote profound emotional and energetic healing.
This treatment also incorporates a Thai Jasmine & Pearl Body Scrub, Burmese crystal placement and a Jadeite Body Cream.
Location: Spa
90 Minutes – THB 6,500
Salt and Poppy Seed Scrub
This scrub uses edible poppy seeds mixed with Himalayan Salts. They are warmed and sprinkled onto the body up and down the SEN lines (Thai for meridians), gliding with an earthy Northern Thai herbal oil of vetivert, ginger, patchouli and jatamansi. Finish with a light application of Earth Lotion.
Location: Spa
60 Minutes – THB 4,500
Energising and Detoxifying Body Renewal
More than a scrub, this Body Renewal is designed to cleanse the body of negative energy and restore vitality and vigour. The Himalayan crystal salt scrub emits healing negative ions, stimulating the circulatory and lymphatic systems. On a subtle level, the scrub cleanses and strengthens the body's bio-energy fields, eliminating tiredness, fatigue and disharmony. This treatment uses rose geranium, lavender, lemongrass and wild juniper berry.
Location: Spa
60 Minutes – THB 4,500
Long Rak Chiang Rai – Couples Connect
Infused with flowers of love and connection – jasmine and ylang ylang and grounded with sandalwood, our couples treatment is designed to bring gentleness, sensitivity and an open heart. Delicate yet purposeful this experience takes couples on a mesmerising journey through a pearl and mountain salt body scrub followed by a unique massage performed on a water mattress. Incorporating supportive and sensuous underbody movements the entire massage is given in the face up position. Bathe in a specially prepared rose and tuberose tub and linger in joy and union.
Location: Tent Only
Price: THB 15,000++ per couple (120 minutes) / Not part of package inclusion
120 Minutes – THB 15,000
For more information please contact our camp host at Camphost.CHR@fourseasons.com or Tel. 66 53 910 200.
Note: Prices and treatments are subject to change without notice. Prices are subject to 10% service charge and 7% VAT. Rates used within Thailand may vary.