The Golden Triangle is the famous place where the borders of Thailand, Burma and Laos meet. Here, you'll find a natural paradise that will invigorate your mind and restore your soul. To help make the most of your next stay in northern Thailand, we asked Werawat Roatchanaphaphong, camp host at Four Seasons Tented Camp Golden Triangle, to share his top recommendations for what to see and do in and around Camp – from where to find ancient temples to elephant treks through the jungle.
Local Thai specialties
Photography courtesy Four Seasons Hotels and Resorts
Nong Yao Restaurant features Thai, Laotian, Burmese and Western cuisine. Try the kaow ram fuen—layered Burmese noodles—or the traditional northern Thai specialty, kanom jeen narm ngeiw.
For an unforgettable dining experience, schedule a private candlelit dinner at the Elephant Camp, where the Camp Chef will tailor a menu just for you. The gorgeous al fresco setting and traditional live Thai music make an unbeatable combination. For a more low-key meal, opt for a private kanthok dinner (served on many small dishes) by the fire pit, or cocktails and dinner at Camp Peak as you watch the sun set.
Explore the villages of the Golden Triangle
Located on the bank of the Mekong River, the ancient city of Chiang Saen is one of the smallest and oldest towns in Chiang Rai province. Here, you can explore the history of the Lanna Kingdom through its ancient landmarks. Discover the remains of most of the city's walls and moats, as well as its main temple, Wat Chedi Luang. Make a stop at the Chiang Saen National Museum for a look at the region's historical artefacts.
Book a guided visit to the town of Santikhiri and experience the unique way of life of the Chinese communities who settled here after the Chinese Civil War. In this town, Mandarin is still the primary language, and traditional Chinese customs such as tea cultivation are still practised. Sample the region's specialty, High Mountain Oolong. A drive through the beautiful mountain scenery reveals why the area is also called "Little Switzerland."
Thailand craft and coffee
Photography courtesy Four Seasons Hotels and Resorts
Find authentic keepsakes to treasure at the area's major craft centres. At the Doi Tung Cottage Industries Centre, more than 300 skilled workers produce handmade goods, including weavings, mulberry paper and ceramics. Locally grown coffee is also roasted on site. Another great stop is Doy Din Dang ceramics centre, where local Thai artists produce beautiful contemporary ceramics.
Elephant experiences in the Golden Triangle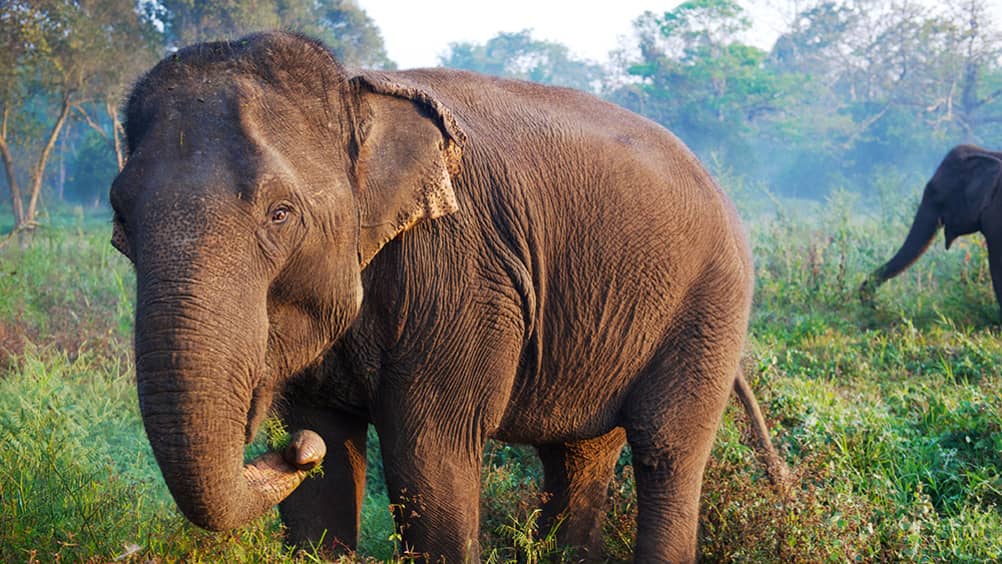 In Thailand, elephants are revered for their historical and cultural significance. Learn to care for and communicate with these magnificent creatures at a training session before heading off into the jungle atop your new companion. If you're feeling adventurous, cool off with your elephant in the refreshing Ruak River.
Can't get enough of these gentle giants? With the Elephant Research Programme, you can participate in elephant intelligence research initiatives run by the Golden Triangle Asian Elephant Foundation.
River sights
Hop aboard a traditional longtail boat for a trip down the Ruak River. With Thailand on one bank and Burma on the other, this river is the confluence of local ways of life in each country. You'll also get inches away from some of the world's most exotic and majestic wildlife, including baby elephants, which often bathe in the river.
Discover Burma
Take a cultural journey to the neighbouring country of Burma. After enjoying views of both Burma and Thailand at Scorpion Temple in Mae Sai, Thailand, you'll cross the Thai border via a walking bridge, entering the Burmese town of Takilek. A tuk tuk will carry you to the area food market, where you'll sample fresh, local produce. From here, walk to Township Dhammayon to learn about Burmese Buddhist traditions. You can also visit the Shwedagon Pagoda (a smaller replica of the famous golden pagoda in Yangon), where you'll make offerings and take in magnificent views of the surrounding mountains.
Hiking in the Golden Triangle
Travel by boat past Chiang Rai city to Houi Mak Leim National Park and Hot Springs. Here, you can hike the diverse jungle terrain and encounter a variety of indigenous hill tribes. Witness the daily activities of the region's native people, learn about traditional ceremonies and sample local tea before heading to the waterfall and natural hot springs, which are close to the banks of the Kok River, for a dip to soothe your muscles.
Unwind at Tented Camp
Photography Bea Cooper / Alamy Stock Photo
With so many exciting things to do at the Tented Camp, it's important to make time for a little inactivity. Relax by the pool, or retreat to your tent for some quiet time coupled with wine and cheese. Have a bath drawn and waiting for you after an afternoon spent with the Camp's resident elephants, or sip hot cocoa at the end of a fulfilling day.
Four Seasons Tented Camp Golden Triangle Thailand