Four Seasons offers the freshest regional products, perfectly prepared set against a backdrop of gorgeous vistas of the Hotel's lakefront surroundings.
Il Lago
A secluded area of Il Lago may also be used for a morning meeting or breakfast for private parties.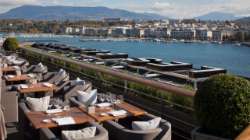 Izumi Restaurant
Crowning the Hotel, our rooftop Izumi restaurant presents a Japanese-fusion concept with innovative Nikkei cuisine. Enjoy a relaxing glass of wine with an innovative plate of sashimi or tiradito, or savour the creative flavours of unique specialties. Your dining experience is enhanced by 360-degree terrace views over Geneva, the lake and the surrounding mountain panorama.