My Four Seasons
Tree-Spotting in the Giardino della Gherardesca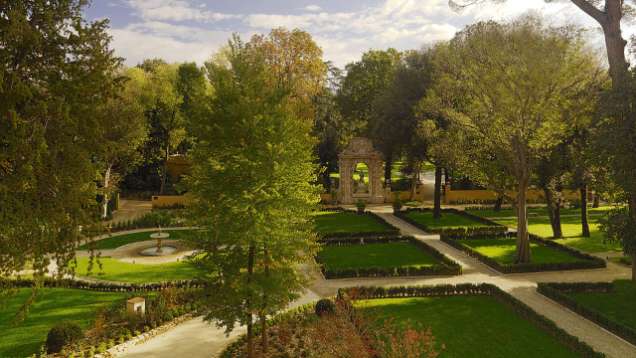 Located in the Four Seasons Hotel Firenze grounds is the Giardino della Gherardesca, 4.5 hectacres (11 acres) of natural beauty and one of the largest gardens in Florence. What started as a Renaissance garden planted by Italian politician, author, and historian Bartolomeo Scala has evolved into an urban sanctuary of secluded lawns, picturesque walkways, iconic statuary, and verdant flowers.
Though often overlooked as part of the backdrop, the trees of the Giardino della Gherardesca are the true stars. Towering and shade-bearing, these woody perennials stand tall, year after year, ancient testaments to both the garden and the city's endurance.
Among them is the Taxus Baccata, a decorative evergreen and one of the longest living plants in Europe. More commonly known as the yew, it's been celebrated in works by literary greats ranging from Shakespeare to Sylvia Plath to J.K. Rowling, author of the Harry Potter series (yew is the material used for character Voldenort's wand).
Another Giardino della Gherardesca notable is the Thuja, or "tree of life". An evergreen with soft, fan-like leaves, this tree grows rapidly and is known for its homeopathic properties. People of various cultures have used its extracts to treat everything from fever to respiratory problems to joint pain.
A final tree worth mention is the Mandarin orange tree, a small evergreen that originally hails from Indochina or the Philippines, depending on whom you ask. Most are familiar with the tree's sweet and easily peeled orange-colored fruit, but may not know that the Giardino della Gherardesca was the first place in Florence to grow the trees, which were imported from Naples in 1844.
The best part about all of these specimens is that visitors to the Giardino della Gherardesca get the opportunity to interact with them hands-on, whether it's viewing them on a walk through the grounds, documenting them in photos, or simply enjoying a mid-day nap in the shade of one of the park's greatest legacies.