Meetings & Events
Conference Planning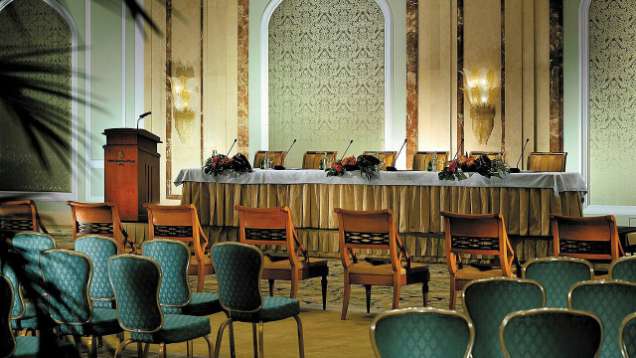 Four Seasons Hotel Doha offers the Al Mirqab Ballroom with its own pre-function area, as well as a large outdoor terrace and five well-designed, spacious conference and banqueting venues that can be adapted to suit gatherings of virtually any size. In addition, two boardrooms in the Business Centre meet the needs of business meetings.
Technical Assistance
State-of-the-art audiovisual equipment includes:
Overhead projectors, several types of LCD projectors, slide projectors

Screens and drape kits

Video cameras, video projectors, video players

Microphones, mixers, amplifiers

Audio cassette players, CD players, reel-to-reel players

Stands, carts, easels, flipcharts, laser pointer, speaker timer

Personal computers and peripheral

Wired or wireless Internet access
Music and Entertainment
Our catering managers will be happy to assist with setting up any type of music or entertainment for your meeting or event.
Receiving and Maintenance
The Hotel features a full-service shipping and receiving office. All packages should be sent to the attention of your group's name and its conference service manager. They will be stored in a separate conference storage area. Limited space is available for the storage of large items. Please allow time when shipping packages prior to your arrival.
Destination Management Companies
Our conference coordinators can recommend a variety of companies to accommodate your group's special needs.
Welcome amenities and VIP gifts
Special arrangements can be made for clients to purchase welcome amenities for their VIP guests.
Spouse programs
On-site:
A day at the Spa and Wellness Centre – relaxation at the Spa, which offers a complete range of beauty and aromatherapy treatments.

Cooking classes – given by Four Seasons Executive Chef and Pastry Chef.
Off-site:
Shopping – a tour of the boutiques in the elegant City Centre or Landmark Mall.
Family programs
We would be pleased to arrange appropriate activities for visiting children or families.
Discover flexible spaces that adapt perfectly to your goals, and technology that accommodates the most demanding presentation and communication requirements. Experienced Four Seasons support is on site to promptly respond to every need.
Quick Reference
Time zone
GMT +3 hours
Language(s) spoken
Arabic is the official language, but English is also widely spoken.
Electrical system
Voltage is 220 volts AC at 50 hertz; 110 volts AC in bathrooms. Adapters are available; please request through the Concierge.
Shopping hours
Saturday through Thursday 8:30 am to 12:30 pm and 4:00 pm to 9:00 pm, with malls open 10:00 am to 10:00 pm. On Fridays, some shops remain closed all day and others open at 4:00 pm. Most malls and supermarkets offer extended Friday shopping.
Working hours
Sunday through Thursday 7:30 am to 12:00 noon and 3:30 pm to 7:30 pm. Government offices are open Sunday through Thursday 6:00 am to 2:00 pm.