Many find themselves in Doha by accident, as stopovers are more frequent now that Qatar Airways has taken its rapid and giant leap into the ranks of the world's top airlines. Until recently, many viewed Doha as a city to travel to only for business. As the area grows, however, it is becoming a popular destination for world travellers. Explore what this city has to offer from your base at Four Seasons Hotel Doha.
Why go
Impressive expansion. Doha is expanding overnight, and this is a wonderful place to get a picture of what happens behind the scenes in rapidly growing cities.
Beautiful design. The architecture is unlimited, each building an expression of the culture and modern age. Learn with the kids by exploring these sights as a family.
Friendly locals. You'll feel welcomed as you make your way through Doha. Nearly every taxi driver will be able to tell you the name of each building you pass, how long it has been there, who built it and what's coming next for this busy city.
What the kids will love
Souq shopping. Bustling, exotic and delightfully chaotic, these local markets are filled with trinkets, accessories, spices and various food options.
Travelling in style. The Hotel manages to make even the ride to and from the airport a good time for kids. They'll love the drinks, wireless Internet, iPads and automatic sun shades provided for their trip in a BMW 5 or 7 series.
Kids For All Seasons. In a tower complete with turrets and a spiral staircase, the Hotel's kids' club gives a medieval feel to their Doha experience.
Playing by the pool. Whether they opt for the children's pool with a water slide or the hot tub (for older ones), the kids will love the three-level beachfront grotto pool. They'll also love the range of exotic "mocktails" they can enjoy poolside, while you sip on Champagne.
The beach pontoon. They can swim out and get some away time from the parents, all within perfect view of the beach.
What you will love
City living. Fascinating and thrilling, there's always something happening in Doha—ask the Concierge to help schedule a city tour.
Peaceful beaches. This quiet loop of soft sand has a backdrop of gorgeous boats in the neighbouring marina. A pontoon located just an easy swim away beckons those who might want a little more peace or a closer view of the enticing sights across the bay.
Room for relaxation. The Hotel pools are close but still separate—meaning there is a quiet adult pool and a lively family pool, allowing you to enjoy the best of both worlds.
Personal accommodations. The rooms are incredibly spacious, and the ease of booking a babysitter for a date night is convenient.
Relaxing at the Spa. The lovely hydrotherapy pool, heated stone lounges, colour therapy room and wide selection of body and facial treatments will make your spa experience one to remember.
Look for
The breathtaking chandelier in the lower foyer, and the other ways the Hotel's design mixes an opulent French feel with Arabic nuances.
Eat this
Photography Four Seasons Hotels and Resorts
Dine in

Adventurous eaters will enjoy sampling the new style Japanese cuisine at Nobu Doha (the largest Nobu in the world). To satisfy everyone's sweet tooth, order the cinnamon and caramel milkshake at Seasons Tea Lounge during an afternoon tea of passionfruit and raspberry macarons.
Dine out

Grab a snack at Souq Waqif, which is home to many authentic Arabic restaurants. Order lgeimat (saffron-flavoured fritters) for breakfast or dessert, a local favourite. If you visit the Museum of Islamic Art, be sure to dine at the nearby Alain Ducasse restaurant, which fuses French and Qatari cuisine.
5 family to-dos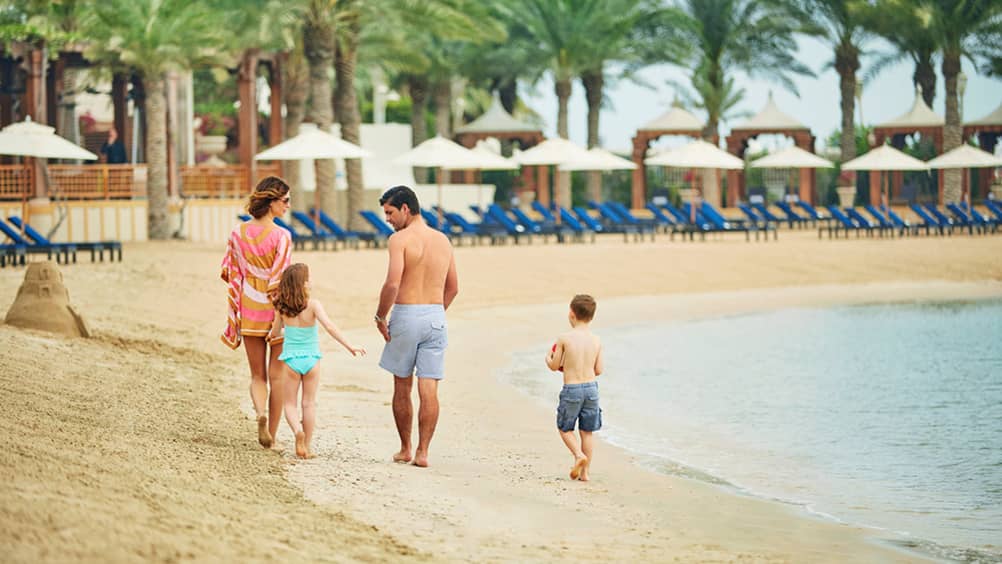 Photography Four Seasons Hotels and Resorts
1. Visit the souq. Souq Waqif is a relatively new structure, but you would never know it. The market boasts a large number of locals, often dressed in abayas or kandoras. You'll also find trolley boys with wheelbarrows full of deliveries, and shopkeepers selling local goods and making conversation with passersby. Buy sweets for the kids, such as chocolate rocks (often served with Turkish coffee), and textiles and antique trinkets for you.
2. Shop at a mall like no other. Villagio is is one of the most extravagant shopping centres you may ever see. There are frescoes, canals and gondolas that you can ride on for 10 QR (about USD 3). You can also take advantage of the ice rink and indoor amusement park. The Dean and Deluca store is the biggest in the region, with a very tempting array of sweets on offer, and honey in just about every way you can imagine. Try the chocolate fondue and Mexican hot chocolate upstairs at Maya while you watch the gondolas glide beneath you.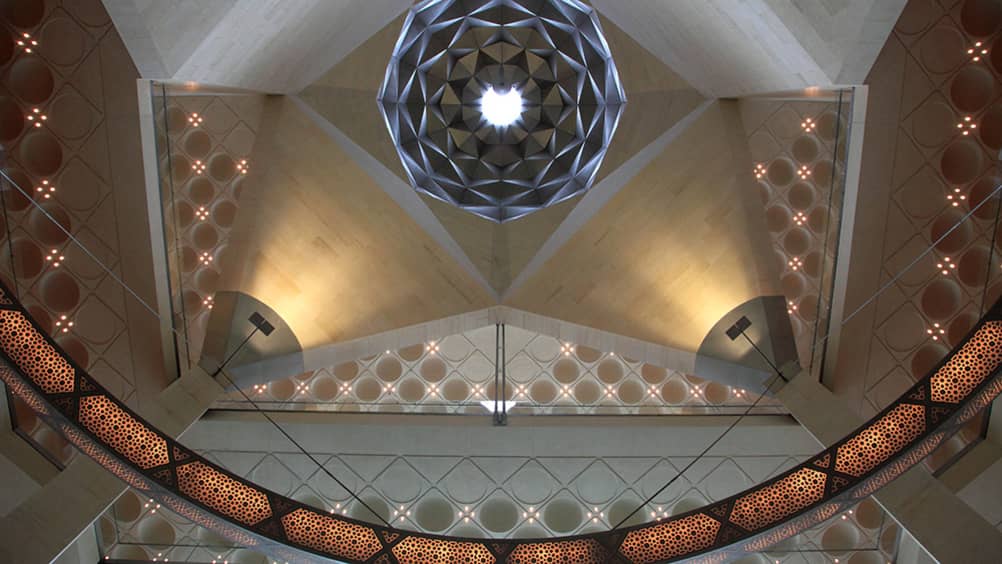 Photography Tibor Bognar / Alamy Stock Photo
3. See the Museum of Islamic Art. This is the flagship gallery of Qatar, and it's not just about the art inside, which is quite incredible (think: ancient manuscripts, textiles, ceramics, glass works). The building itself is a piece of art—a monolith perched on a tiny peninsula that provides an excellent view of the city through its contemporary arches. There are also landscaped gardens and a kids' park with paddle boats, a playground and a number of other activities.
4. Explore the Pearl and Katara. Katara is a cultural village located just off the Pearl, Qatar's own manmade island. Here you'll find something for everyone: contemporary, local and international art for the culture gurus; interactive exhibitions for those who like to explore; cafés and restaurants; an arena for live shows; and one of Doha's nicest beaches with plenty of activities to try. From here, you can see the Pearl over the water. Take a quick taxi ride for some more high-end shopping and international dining.
5. Get into the desert. It's easy to organize a half-day trip into the dunes, or, for the more adventurous, an overnight trip to Qatar's salty inland sea, Khor Al-Adaid (the Concierge can coordinate this for you). Prepare for an exhilarating adventure as you drive into the abyss of sand and sky, followed by a meal in Bedouin-style tents and sand boarding. Your overnight trip will include a large, carpet-lined tent with electricity and water provided. You may want to opt for this when it's a little cooler outside, anytime from mid-September to mid-June.
Four Seasons Hotel Doha