In Qatar, contemporary art is the genre of choice; the country has lately been singled out as its biggest global buyer. And all media are fair game: painting, sculpture, calligraphy, textiles. Ultimately, all of these expressions are about storytelling, and stories have always had well-nourished roots and an eager audience in Arab culture. The visual arts, in particular, have famously found a strong following in the Middle East in recent years.
In Doha, the tastes and the finances certainly exist for showcasing contemporary and other arts on an unprecedented scale. Much attention is paid here to international artists, particularly stars of Western contemporary art. For example, last year the Al Riwaq Art Space gallery staged the single largest show of Damien Hirst's works. Critics worry that such fervent interest in Western art may drown out local voices. But the city's art scene is striving for balance. Venues like the Katara Art Center devote themselves to the support of local and regional artists. Qatar Museums is the organisation behind Doha's Museum of Islamic Art, among others. Chaired by Her Excellency Sheikha Al Mayassa bint Hamad bin Khalifa Al Thani, sister of the Emir of Qatar, the network of museums strives to help the country originate art, culture and heritage experiences.
For unsuspecting visitors to Qatar, the challenge is to absorb all the contemporary art that surrounds them beginning the moment they land at Hamad International Airport. Following are the works, venues and artists to watch for, from the arrivals hall to key museums to outdoor exhibits.
Art at the airport
Hamad International Airport reflects the country's aesthetic interests, blending noted local, regional and international artists such as Faraj Duham, Ali Hassan, Urs Fischer and Tom Claassen. Claassen's sculptures of oryx (antelopes native to the region) form a herd in the arrivals hall. And Fischer's installation Untitled (Lamp/Bear) has a grand seat in the great hall leading to the duty-free shops. The gigantic yellow teddy bear with a lampshade over its head perched on Park Avenue in New York, before Qatar snapped it up at Christie's for USD 6.8 million in 2011. Photographs from local artists are also on display, alongside Duham's large-scale murals and Hassan's desert horse sculpture.
Museums and galleries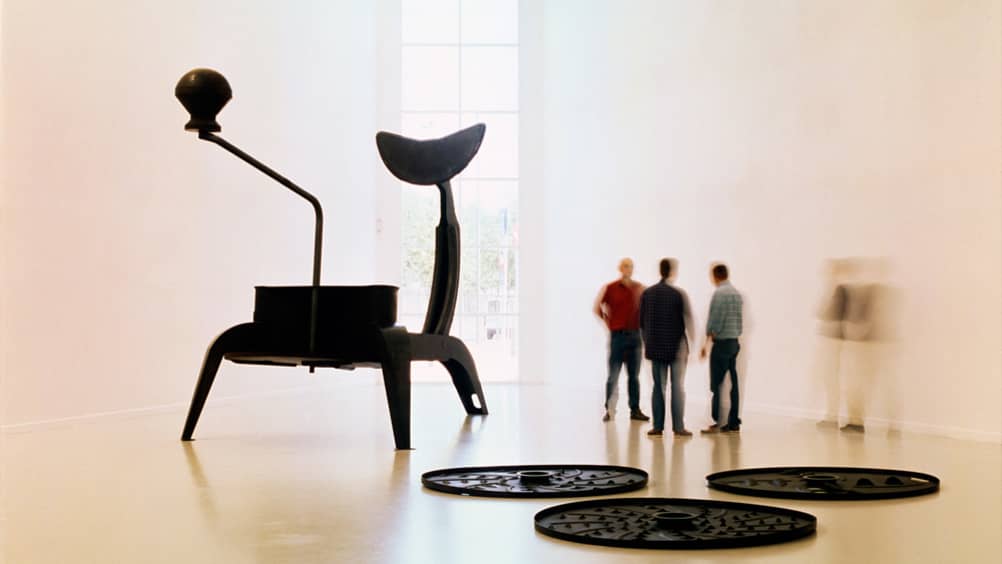 Photography Wim Van Nueten Courtesy MuHKA, Antwerpen
The National Museum of Qatar is a work of contemporary art in itself. Inspired by the desert rose, the dramatic white structure by Jean Nouvel features an interlocking-disc design that's built around the original palace of Sheikh Abdullah bin Jassim Al-Thani. The I.M. Pei–designed Museum of Islamic Art and the nearby Mathaf: Arab Museum of Modern Art are the only two museums in the Middle East allowing visitors online access to their extensive collections, via a pioneering initiative with Google Cultural Institute's Art Project. But nothing beats seeing the art in person. At the Museum of Islamic Art, the ceramics section showcases artefacts ranging from decorative art to simple household items, some dating back to the seventh and eighth centuries. At Mathaf, the permanent collection of contemporary art demonstrates the sheer variety of styles and media covered by modern Arab artists. From pop art to classical sculpture, it's all connected by a deep-seated cultural identity.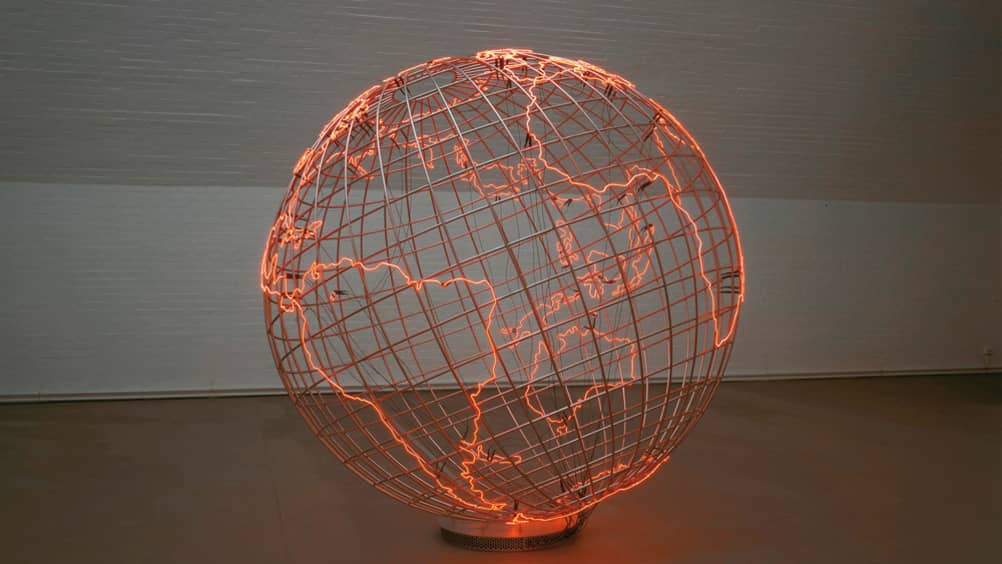 Photography Jörg von Bruchhausen Courtesy Galerie Max Hetzler, Berlin
Al Markhiya Gallery showcases work from Qatari, Gulf and other Arab artists. Lebanese artist Ginane Makki Bacho is excited by that focus. "I wish to be more involved in the Arab artistic scene," she says, "since I have assimilated within me multiple cultures: Arabic, French and American ones." Doha, she adds, is the perfect host for such works: "Qatar is just amazing with all the flow of the arts and its prestigious and international shows. It gives insight into contemporary Occidental and Oriental culture and arts."
Opened in 2012, Anima Gallery spotlights contemporary art from local and international artists. In addition, the gallery hosts regular art classes. Iliana Kodzhamanova, Anima's sales and marketing executive, says Doha is the perfect artist's environment: "Arts and crafts have always been a rich part of Arab history and culture," she says. "Because innovative societies value artists as much as scientists and entrepreneurs, art education and development have become an important part" of the scene in Qatar.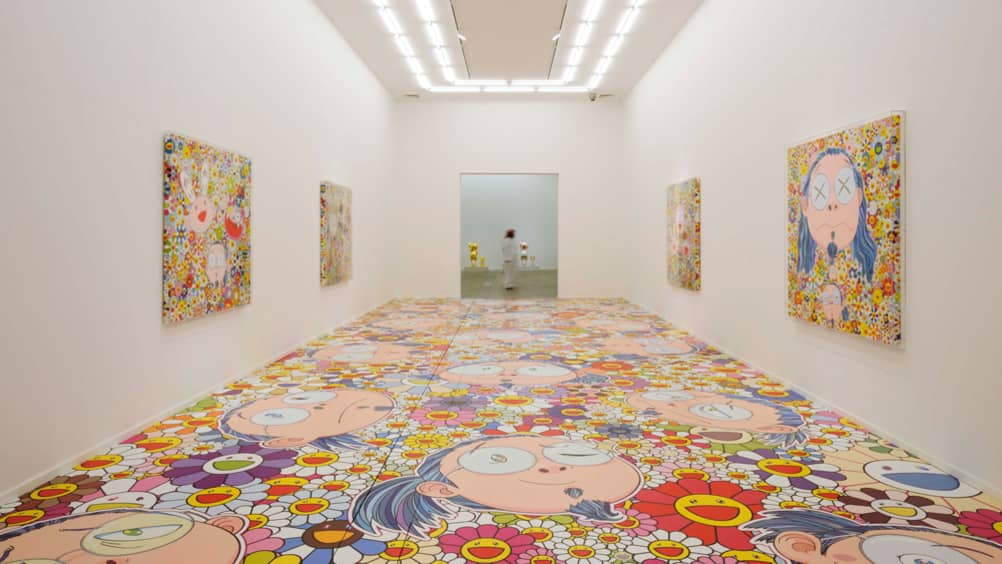 QM Gallery is located in Katara Cultural Village, an all-round experience that includes workshops, theatres, markets, restaurants and artists' studios. The gallery houses changing exhibitions featuring local, regional and international artists, while the entire complex aims to ensure that the old traditions of expression through art and poetry continue to thrive.
Local talent
A number of exceptional Qatari artists await discovery at venues around town. Names to look for include Yousef Ahmad, whose art is on display at Mathaf: Arab Museum of Modern Art. Born in 1955, Ahmad is part of the first generation of modern artists in Qatar. His work has evolved from early oils to collage and mixed-media pieces including Arabic calligraphy. Ahmad has exhibited across the globe, but his art reveals his affinity for his home country. Inspired by the flat desert landscape and Qatari culture, Ahmad even incorporates paper he creates from local palm trees.
One of Qatar's most celebrated artists, Ali Hassan splashes bold colours across canvases embellished with figural forms. Trained as a calligrapher, Hassan has focused much of his work over the past two decades on a single Arabic letter, exploring the richness of colours, textures and treatments as he has amassed a large body of work in pencil, pastel, watercolour and ceramic. He's also known for his sculpture, especially his Doha airport installation: a graceful desert horse that stands almost as tall as a palm tree.
Highlighting the state of being a woman in the Middle East, Amal al-Aathem trained in art education at Qatar University and is one of the most respected female Qatari artists. One of her recent series explores the relationship between women and the moon, mostly in mixed-media paintings. "From a painter's aesthetic perspective," she has said, "I seek a visual equivalent for this ancient legendary relationship, from which I will shape a visual existence that starts with the senses and ends with the mind and soul."
Art outdoors
Famed for his large sculptures, American artist Richard Serra has two major works here: 7, standing 24 metres (80 feet) high in the Museum of Islamic Art Park, and East-West/West-East, a set of four standing steel plates in the Brouq Nature Reserve outside Doha. Even arachnophobes will be enticed by Maman, a giant spider by the late French-American sculptor Louise Bourgeois at the Qatar National Convention Centre. Also cutting an imposing figure: Perceval, a life-size, 5-ton bronze and cement replica of a Shire horse and cart by British artist Sarah Lucas, on view at Aspire Park. At Katara Cultural Village, Gandhi's Three Monkeys are made of cooking implements, bowls, tiffins and pails by Indian artist Subodh Gupta. And along Salwa Road, French-Tunisian street artist eL Seed's "calligraffiti" canvases the tunnels. His 52 works here, a mash-up of graffiti art and Arabic calligraphy, are a thoughtful blend of Arabic traditions with contemporary forms.
Four Seasons Hotel Doha