With a thriving arts and entertainment scene, great restaurants and fun outdoor recreation, the Mile-High City is a veritable Rocky Mountain playground. To help make the most of your trip to Denver, we asked Jason Vargas, Concierge at Four Seasons Hotel Denver, to share his top travel tips – from the best local breweries to First Friday to the city's buzzing arts scene.
Denver's local brews
Photography Joseph Roybal
Tivoli Brewing Company is the oldest brewery in the State of Colorado and still operates from its original home, just blocks from Four Seasons Hotel Denver. Tivoli began its journey in 1859 and offers historic and new beer creations. Brewery tours are offered on weekends and our concierge can assist in coordinating an individual or private group tour.
The Falling Rock Tap House is one of the best places in Denver to enjoy a frosty mug of beer. Located in historic Lower Downtown (known as LODO to locals), Falling Rock features a rotating selection of more than 75 draughts and 130 bottles. Wander into the venerable Wynkoop Brewing Company, the first microbrewery in the city and first brewpub in Colorado, among whose founders is former Denver mayor and current Denver governor John Hickenlooper. It's almost an executive order to enjoy quality craft beers in a city that hosts the annual Great American Beer Festival and prides itself on its brewing acumen.
Experience a Colorado dynasty: Golden Brewery, in Golden, Colorado, is approximately 20 minutes from downtown Denver. It offers free tours that include a self-guided tour of the brewery, and an exploration of the town and the history of Miller Coors. At the end of the tour, those 21 and older can sample up to three types of draught beer.
Downtown Denver dining destinations
The historic block of Larimer Square is the place to see and be seen in downtown Denver. This scenic city block that originally housed Denver's first bank, bookstore, photographer and dry goods store is now home to some of the best dining and shopping Denver has to offer. Stop by Rioja, a Mediterranean restaurant, for pasta stuffed with goat cheese and artichoke mousse with truffle essence. Or check out TAG's Asian-fusion menu and cocktail list, featuring such drinks as the Kumquat Jalapeño Mojito. Osteria Marco pairs great Italian food with a casual ambience; the restaurant's wild mushroom and Robiola pizza is a favourite among regulars.
Shopping in Cherry Creek North
Featuring unique specialty boutiques as well as nationally recognised stores, the Cherry Creek North neighbourhood shopping district has something for everyone. Boutiques like Alicia and Garbarini feature designer fashions and accessories for women, while Andrisen Morton carries international menswear designers such as Brioni and Ermenegildo Zegna.
For the young and young at heart, The Wizard's Chest is an 8,000-square-foot, two-storey castle full of toys, games and costumes. To refuel and recharge for more retail adventures, stop into the warm and inviting Cherry Creek Grill for a hearty lunch. Later on, stroll three blocks north to the rustic elegance of the Barolo Grill on Sixth Avenue.
Mile High City nightlife
The best hot spot in Denver is the 1920s-style speakeasy called Green Russell. Chef Frank Bonanno and partner Adam Hodak describe the bar as a "Prohibition-esque watering hole," with bartenders crafting inspired cocktails using block ice, fresh herbs and pressed-to-order juices. No fancy cocktail list, no cocktail waitresses, no shots and a strict no-standing-room policy: This is the place to go to have a nice drink, and maybe a slice of pie (their specialty.)
Denver's art scene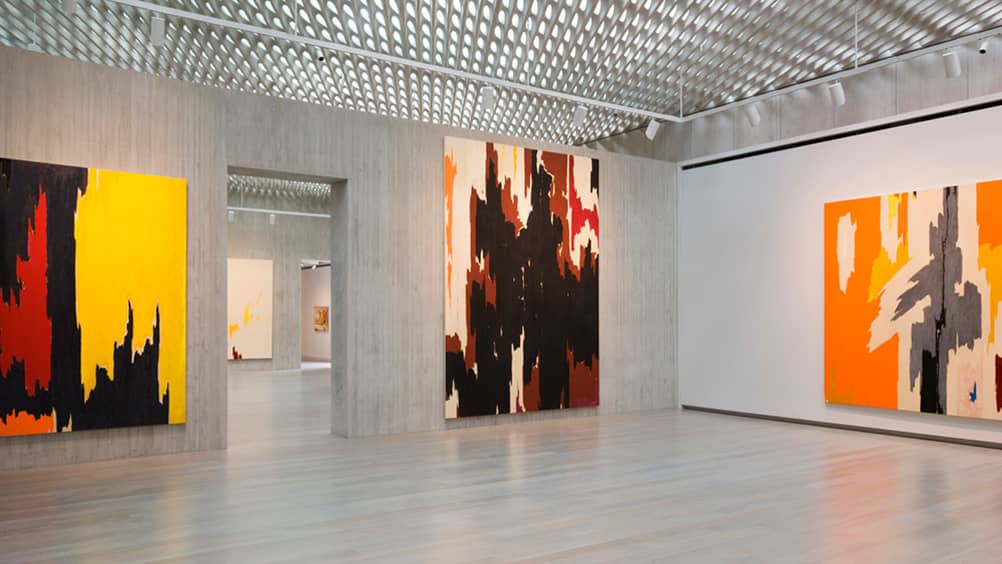 Photography Raul Garcia courtesy Clyfford Still Museum
Denver has a thriving arts community, and on First Friday, arts patrons and enthusiasts have the opportunity to stroll from gallery to gallery during extended hours. While the Santa Fe Arts District is the most well known, it is actually only one of seven distinct art districts in the downtown area. The stunning architecture of the Frederic C. Hamilton Building extension of the Denver Art Museum (DAM), designed by Daniel Libeskind, is worth marvelling from the outside, and the lively and interactive exhibits inside are equally enticing. The Clyfford Still Museum near the DAM complex downtown explores the work of one of America's most significant yet least understood artists, whom the museum is named for.
Theatre and live music in Denver
The Denver Performing Arts Complex is the second-largest performing arts complex in the nation. Venues include the Ellie Caulkins Opera House in Newton Auditorium, Boettcher Concert Hall and Temple Hoyne Buell Theatre. The Denver Center for Performing Arts presents Broadway shows and professional theatrical performances.
El Chapultepec, locally known as "The Pec," has long been a part of music history in Denver, having hosted the likes of Sinatra, Bennett and Fitzgerald on its small stage. Rock legends McCartney, Jagger and Richards have also played here. "The Pec" features jazz music every night, and serves strong drinks and Mexican fare. Tuck yourself away in a booth and soak up the history of this local hangout.
Family fun in Denver
The one-two combo of the Denver Zoo and the Denver Museum of Nature & Science, both located near City Park, makes for a great family outing. The Denver Zoo spans more than 8 acres (3 hectares) within Denver's historic City Park, where visitors will find 3,500 animals representing more than 650 species. The zoo features naturalistic habitats like Predator Ridge, as well as Tropical Discovery (which contains the world's largest Komodo dragon exhibit) and Primate Panorama, all designed to enhance the lives of some of the world's most endangered species.
The Museum of Nature and Science is the fourth-largest museum in the nation and is filled with treasures of the earth—dinosaur fossils, dioramas, space exhibits and interactive, hands-on science experiments. The museum also features an IMAX theatre and the Gates Planetarium.
Denver by bicycle
Rent a bicycle through Denver B-cycle, the first large-scale municipal bike-sharing system in the U.S. Since Denver receives more than 300 days of sunshine a year, a bike tour is the perfect way to explore downtown and neighbourhoods like Capitol Hill, Washington Park and the Highlands.
Or take a road trip along the Peak to Peak scenic and historic byway, established in 1918. The 55-mile route begins less than an hour outside of Denver and provides unmatched views of the Continental Divide and several of Colorado's famous 14ers—mountain peaks soaring more than 14,000 feet (4,250 metres). There are several popular attractions along the way, including Rocky Mountain National Park, Golden Gate Canyon State Park, Arapahoe and Roosevelt national forests, the Indian Peaks Wilderness Area, Eldora Ski Resort, and the ghost towns of Apex and Hesse. The route ends in the beautiful mountain town of Estes Park.
An energy-balancing Denver spa treatment
Photography courtesy Four Seasons Hotels and Resorts
The 90-minute signature Balancing Gemstone Massage at the Spa is not just a treatment; it's an energy-balancing experience. This treatment is based on the theory that energy is inherent in gemstones, which can be used to balance the mind and body. The spa experience focuses on the five chakras of the body, utilizing aromatherapy, crystal energy wands, gemstones and herb-infused oils to balance the body and mind, leaving the guest soothed and relaxed with a calm sense of inner and outer well-being.
A show at Red Rocks
The world-famous Red Rocks is just 15 miles west of Denver. This spectacular venue has hosted a number of national acts each year since it opened in 1941. Red Rocks is open to the public on non-event days and features several hiking trails around the amphitheatre, with stunning views of Denver. Red Rocks is where U2 famously recorded their 1983 concert video U2 Live at Red Rocks: Under a Blood Red Sky in a driving rainstorm; that energy is replicated every summer season.
Day trip to Colorado Springs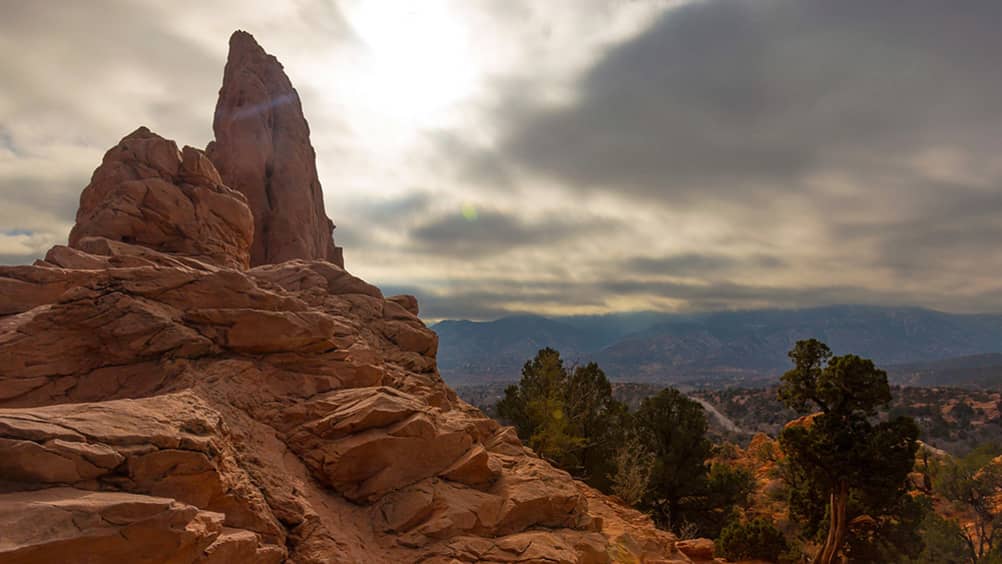 Photography MEGiordano Photography / Thinkstock
Located approximately an hour south of Denver is Colorado Springs, offering visitors several outdoor sight-seeing opportunities. See 300-foot (90-metre) towering sandstone rock formations and views of snowcapped Pikes Peak at the Garden of the Gods, a registered National Natural Landmark. Pikes Peak, the best-known Colorado 14er and most visited mountain in North America, can be best appreciated either by driving its beautiful 19-mile (30-km) road to the summit or by taking the Pikes Peak Cog Railway, the world's highest cog railroad.
A perfect day in Denver
Begin with pineapple upside-down pancakes at Snooze, an A.M. Eatery. Stroll through the historic lower downtown and stray into Rockmount Ranch Wear to purchase an authentic Western shirt and take home a piece of local history. Head to the Denver Art Museum and try to find a single right angle in the Libeskind-designed Hamilton Building. For lunch, sip a mojito in the back courtyard of Cuba Cuba Cafe & Bar.
Then, rent a bicycle from Denver B-cycle and explore the Capitol Hill neighbourhood, where you can find the Molly Brown House Museum, Kirkland Museum of Fine & Decorative Art and the Colburn Hotel, the onetime residence of Beat writers Jack Kerouac and Neal Cassady. Round out the night with a concert at Red Rocks or swing into Jazz at Jacks, on 16th Street, to see the house band, Dotsero.
Four Seasons Hotel Denver