Things to Do
Recreational Activities in Denver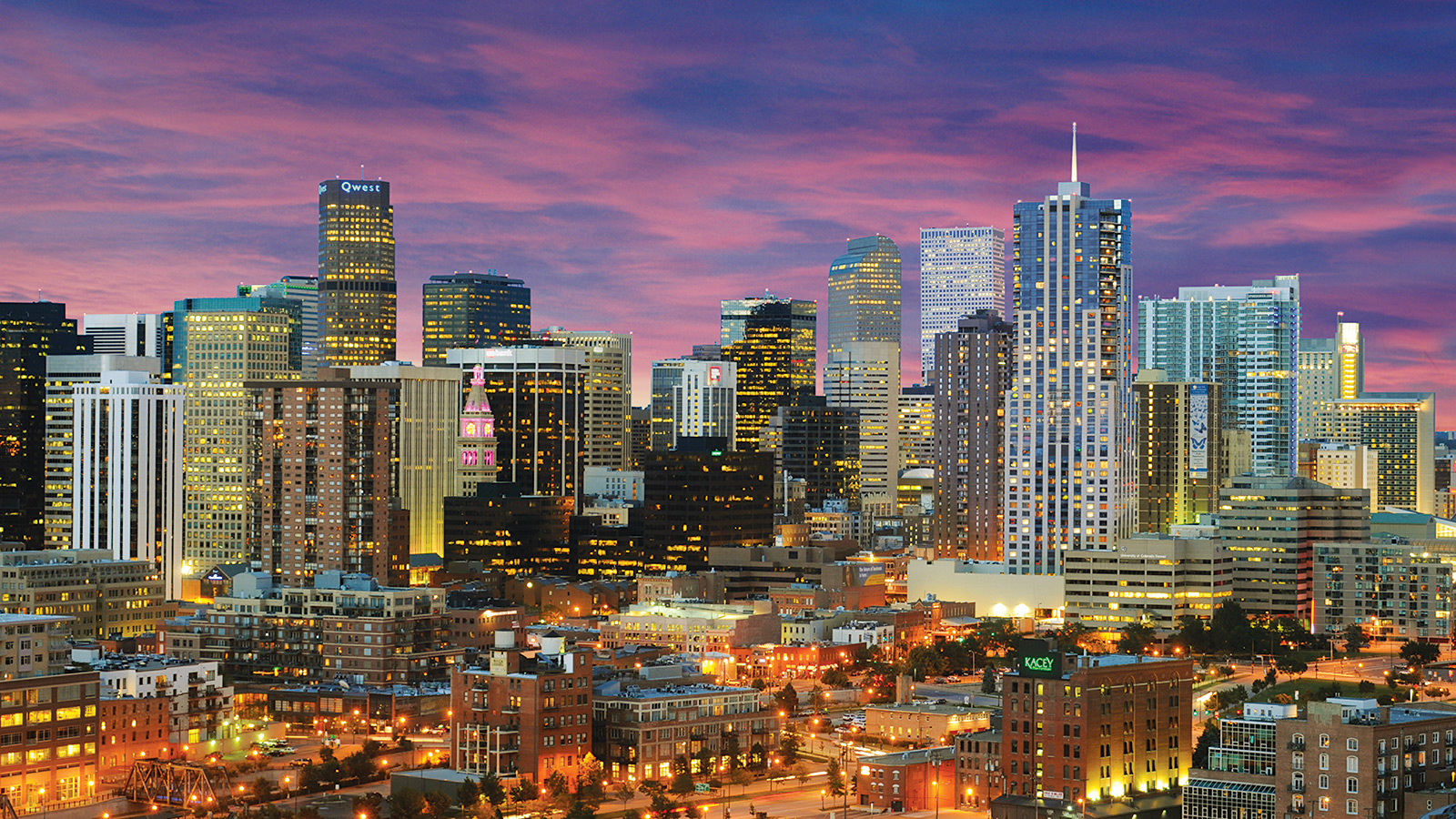 With vibrant culture and a warm, friendly spirit, Denver offers an invigorating blend of urban sophistication and year-round Rocky Mountain adventure. In winter, there's alpine and Nordic skiing, snowboarding, snowmobiling, snowshoeing and ice climbing. In warmer months, there's fly fishing, white-water rafting, hiking, mountain biking, rock climbing, horseback riding and golf.
Culture Meets Adventure
In the heart of the theatre district and near the city's shopping hub, Four Seasons Hotel Denver is also the ideal starting point for a mountain getaway.
Ideal for business, Four Seasons Hotel Denver is located within the 14th Street Central Business District and just three blocks from the Denver Convention Center. And it's only minutes from three professional sports arenas, offering baseball, basketball, football, hockey and soccer, plus world-class concerts. All ages can enjoy major museums, the aquarium, the botanic gardens and the renowned Denver Zoo.
Denver Art Museum

The Denver Art Museum (DAM) opened in 1971, but doubled its facilities in 2006 with the addition of a state-of-the-art 30,000-square-foot (2,787-square-metre) expansion. DAM has grown to become one of the largest museum collections between Chicago and the West Coast, with more than 65,000 pieces from around the world.
Larimer Square

Brimming with trendy stores and a hopping nightlife, Larimer Square is a focal point of downtown Denver. Its elegant, charming and completely irresistible package of dining, shopping and nightlife defines hip urban revitalization, and features an amazing collection of independent and locally owned businesses. As the Mile-High City's oldest and most historic block, the buildings tell the vivid story of the birth and early years of Denver. This is now one of the city's most prestigious areas.
Coors Field

The 76-acre (31-hectare) Coors Field stands at 20th and Blake streets in Denver's lower downtown/Ballpark neighbourhood. Fans sitting in the first-base and right-field areas are treated to a spectacular view of the Rocky Mountains. Every year since it opened in 1995, Coors Field has been a league leader in attendance, and in 1999, Coors Field firmly founded itself as the most prolific offensive ballpark ever created.
Red Rocks Amphitheatre

Nestled in the Rocky Mountain Foothills stands a symbol of nature's unparalleled majesty. Red Rocks is a geologically formed, open-air amphitheatre that is not duplicated anywhere in the world. With Mother Nature as its architect, the design of the amphitheatre consists of two monoliths (Ship Rock and Creation Rock) that provide acoustic perfection for any performance. The majestic setting of Red Rocks has attracted the attention of musical performers since before the turn of the last century.
Denver Center for the Performing Arts

Founded in 1972 and dedicated to excellence in the arts, The Denver Center for the Performing Arts (DCPA) is a showcase for live theatre, a nurturing ground for new plays, a preferred stop on the Broadway touring circuit, an award-winning multimedia production facility, a national training school for actors and the site of a voice clinic and research facility. It is just steps away from Four Seasons Hotel Denver.
Sports Authority Field at Mile High

Take in an unforgettable concert, throw a tailgate party, cheer on the Broncos (every home game sells out!) or the Outlaws, and stomp your feet on the steel decks to create "Mile-High thunder." Sports Authority at Mile High, located in downtown Denver, is a 76,000-seat stadium with a natural grass field, and is also home to the Colorado Sports Hall of Fame Museum. For a small fee, you can take a guided, 75-minute walking tour to discover the ins and outs of the stadium.
Downtown Aquarium, Denver

The Downtown Aquarium is a complex featuring more than one million gallons of underwater exhibits that house more than 500 species of animals, an interactive sting ray touch tank, sharks and more. The Desert section has rattlesnakes, and the Rainforest section has beautiful birds and Sumatran tigers.
Denver Tours

Enjoy sightseeing tours, white-water rafting trips and other fun activities in and around Denver.
Gray Line Tours

Experience two sides of Denver – a historic western town and a thriving modern city – all in the same trip. Travel through the quiet, tree-lined streets of Denver's residential neighbourhoods and journey back to the 19th century. Witness the elegance of historic Larimer Square and the Victorian mansions of "unsinkable Molly Brown" and others. At the end of this journey, you will no longer be a stranger to the Mile-High City.
The Colorado Sightseer, Inc.

The Colorado Sightseer, Inc., is an exciting and fun service that provides tours of Denver, other parts of Colorado and the Rocky Mountains. Tours are designed to encourage visitors to "get off the bus" to see, learn and explore the treasures that Denver and Colorado have to offer. Colorado Sightseer specializes in having fun, which means tours are arranged so guests have a full experience without feeling rushed during their visit.
Central City and Black Hawk, Colorado

Once called the "richest square mile on Earth," Central City and Black Hawk are two historic old mining towns from the 1870s that have come alive. Just 34 miles (55 kilometres) west of Denver, the two towns offer more than 30 casinos with more than 10,000 slot machines, blackjack tables and poker games. The towns are also known for having some of the best-preserved Victorian architecture in the West. Other attractions include mine tours, the Teller House Hotel and the Central City Opera House.
Estes Park and Rocky Mountain National Park

Picturesque and tourist-friendly, Estes Park is popular with travellers during summer, but any time is a great time to visit. The nearby Rocky Mountain National Park flaunts its rugged beauty with columbine-covered meadows, shimmering turquoise lakes, inviting streams and awesome views of craggy, snow-capped peaks. During the fall, bulls bugle and battle as they compete for rank. Summer brings out alpine wildflowers, campers, backpackers and outdoor enthusiasts in general.
Glenwood Springs

Glenwood Springs boasts the world's largest natural outdoor hot-springs pool. Relax in the steamy, soothing waters as you gaze out on the mountainous backdrop, or indulge in an herbal whirlpool at Vapor Caves. The town's Hotel Colorado is known for its historic stateliness, while the renovated Hotel Denver has its own brewpub. The region offers a wealth of sports activities that include golf, rafting and fishing during summer, and skiing, snowmobiling and ice fishing during winter.
Children's Museum of Denver

Since its inception in 1973, the Children's Museum of Denver has served the metro Denver community as a learning institute dedicated to the education and growth of young children, newborn through age eight, and their caregivers. The museum provides rich play experiences and a dynamic learning environment for children to discover, explore and enjoy. The museum offers innovative and interactive Playscapes (hands-on exhibits), engaging daily programming and exciting year-round special events.
Denver Museum of Nature and Science

Founded in 1900, the Denver Museum of Nature and Science traces its origins back more than 100 years. The DMNS is the Rocky Mountain region's leading resource for informal science education. A variety of exhibitions, programs and activities help museum visitors experience the natural wonders of Colorado, the earth and the universe. Rotating exhibitions, an IMAX theatre and a planetarium provide educational entertainment for all ages.
Museum of Contemporary Art Denver

MCA Denver was formed to provide the city with its first contemporary art museum. Unlike many other such institutions that have modular, easily alterable interiors, MCA Denver's 27,000-square-foot (2,500-square-metre) building has five principal galleries, each geared to works of specific sizes and media. Solo-artist exhibitions take place on a rotating basis, so there are always things for visitors to see.
16th Street Mall

The 16th Street Mall is Denver's hub of shopping and entertainment, stretching for 16 blocks in the heart of downtown. An environmentally friendly free shuttle service stops at every intersection to transport shoppers to more than a mile (1.6 kilometres) of Denver's best shops. Conveniently located near many of Denver's top attractions, the 16th Street Mall is an excellent place to stop before or after a game or show.
Cherry Creek North

This shopping district is Denver's version of Rodeo Drive, with diverse, multifunctional shopping and entertainment. Hip restaurants and chic boutiques attract a see-and-be-seen crowd, but there are plenty of casual shops and Birkenstock-friendly cafés as well. The monthly Art Walk gallery tour brings out the artsy crowd, who indulge in window shopping and long café conversations.
Denver Pavilions

This Denver shopping area offers three levels of shops as well as various street performers.
Highlands Square

The Highlands is one of Denver's hippest neighbourhoods, boasting a variety of boutiques, restaurants and events, including concerts.
Pepsi Center

The Pepsi Center, one of the nation's finest sports and entertainment facilities, represents the best of Colorado and the Rocky Mountain West. With clear sight lines, dramatic views and open space, the Pepsi Center is home to the Denver Nuggets, Colorado Avalanche, Colorado Crush and Colorado Mammoth. There are over 200 events scheduled each year, including sporting events, concerts, ice shows and family shows.
Comedy Works

Located just off the corner of 15th and Larimer streets sits a comedy club championed by USA Today as one of the Top Five Comedy Clubs in the country. Since 1981, the club has operated downstairs in the basement of the Granite Building on Larimer Square, Denver's most historic block.
Lannie's Clocktower Cabaret

Lannie's Clocktower Cabaret is located underground in the historic D&F Clocktower in the heart of the Denver theatre, hotel and shopping district. Sensual décor and the most eclectic entertainment around make Lannie's the coolest room in town.