FIND YOUR HAPPINESS IN COSTA RICA.
In Costa Rica, pura vida is more than just a phrase. It's a philosophy, one that runs many generations deep. Here at Four Seasons, we do everything we can to do right by it. Now, we invite you to do the same. With the guidance of nutritionists, trainers and tour guides alike, our holistic wellness program gives guests from all walks of life the once-in-a-lifetime chance to get in touch with their mind, body and soul—all just steps away from the beach.
WELLNESS
The path to health and wellness begins with a Wellness Concierge, here to set and achieve your personal goals for the duration of your stay, whether you're hoping to lose weight, gain muscles or simply de-stress.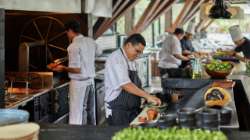 NUTRITION
Taught by the resort's top chefs, our on-site cooking classes help home chefs of all levels of expertise prepare a wide variety of hearty, healthy Costa Rican entrées so versatile and easy to make that you can recreate them at home.
SPIRITUALITY
Rediscover inner peace one chakra at a time during a guided meditation class of your choosing. Taught by wellness experts, each hour-long session will teach you relaxation techniques that you can take home with you.
VOLUNTOURISM
The best way to get to know Costa Rica is to get to know Costa Ricans. Through our partnership with Creciendo Juntos, you can paint schools, buy school supplies, meet and befriend local families and give back to the community around you.
FITNESS
Learn to navigate the great outdoors with the assistance of a top fitness expert. Together, you will set off on bicycle rides through beaches, jungles and hiking trails, learning how and when to move along the way.
BRING PURA VIDA HOME WITH YOU
Shop the perimeter of your local supermarket to find the healthiest ingredients.
Seek out local hiking and biking destinations.
Meditate for ten to fifteen minutes a day.
Turn off your devices at least a half an hour before bedtime.
Set personal goals and track your progress regularly.
1. YOU DESERVE IT!
Time is of the essence these days. Usually we put our family affairs or job meetings first, before our own well-being. It is extremely important to take time out of our busy schedules (at least twice a year) to really evaluate our state of health mentally, physically, emotionally, nutritionally and spiritually. Our wellness program will take the time to go over and set personal goals, address concerns and supply you with valuable life tools will give you that much needed quality time for you is a great way to get started on the right path. You can now start your healthy lifestyle while still enjoying your vacation.

2. IMPROVE ENERGY FLOW
According to traditional Chinese medicine, the body encompasses meridian lines of energy that are naturally mapped out from head to toe. When these lines encounter a blockage and there is a lack of energy in a certain part of the body, this causes an imbalance, which brings about illness. Flow of energy can become blocked from stress and poor life habits. Our energy
flow affects how we feel, how we think and the overall condition of our health. Four Seasons Resort Costa Rica has designed a specialty spa treatment for every client called "Rebalancing Energy Treatment." This incredible experience starts with a hot stone massage and then continues with a chakra treatment, where a Tibetan bowl is rung to unblock energy and promote clarity.

3. TASTE NATURAL REMEDIES
Costa Rica has an incredible array of nutritious, exotic fruits and foods that contain amazing health benefits. Indigenous fruits such as guanabana and noni hold cancer-fighting, immune-boosting properties that are everyday staples in most Costa Rican diets. One of our activities is a class called "Local Natural Remedies." In this class, we will taste and learn about all the wholesome foods Costa Rica has to offer, so that you can go home and continue implementing superfood items into your daily diet for maximum health and longevity.

4. GET MOVING
The most important goal on the path to wellness is to start exercising. Life usually gets in the way of our plans to get to the gym, go for a run, attend a class, etc. Our tropical, secluded location, with 360 degree views of exotic landscapes, poses as an ideal spot to kick start your new life of wellness and exercise. You will have access to all of our various 21 classes, such as, pura vista climb, spinning, yoga, SUPfit, pilates and boot camp per week. Enjoy the amazing views of our property, taking you
outdoors for some of these classes!

5. EXPERIENCE LA PURA VIDA
Relax, stress less and live longer! This is the way of life in Costa Rica, and they call it "pura vida," which means "pure life." This healthy lifestyle contributes to the longevity and extreme happiness Costa Ricans are known for. We are located 57 miles north of Nicoya, one of the longest living communities in the world. The Four Seasons Resort Costa Rica encourages you to live a healthy lifestyle, in tune with your spirit, nature and community. Our goal is to inspire you to live in a more mindful way, developing a deeper awareness of your body while nurturing your mind and soul. Just like the Costa Ricans do, we'll inspire you to live PURA VIDA!