All Food and Drink
Inside or on the terrace? There are no wrong decisions here. Every item on our Asian-inspired fresh seafood menu comes with unbeatable beachfront views.
Everyone gets what they want at Suq, our casual, market-style restaurant where Arabian specialties and international favourites are prepared à la carte, and a special children's play area keeps the kids entertained.
Make yourself at home beneath the intricate lattice ceiling in our salon, the ideal place to sip fresh-brewed coffee or tea, snack on meze plates and relax.
Our gentlemen's-style cigar club is manned not from behind the bar, but by our stylish trolley servers who prepare cocktails tableside. Explore the most extensive gin list in the city and the journal of our namesake world traveller, Sir James Hendricks.
Take in Dubai's iconic skyline and watch the waters of the Arabian Gulf dance in the moonlight – handcrafted cocktail in hand – during a visit to our glamorous rooftop lounge.
Take a seat at the bar overlooking the beach, or relax in the sunken lounge by the fire pit. Refreshing lemongrass martinis and lychee sake pair perfectly with our spicy prawns or Akami Pizza with fresh sashimi tuna.
Opposite the Hotel's main entrance, a cutting-edge curved building is home to four independently operated venues, including three specialty restaurants and a nightclub. (Restaurant Village reservations are managed independently by each outlet.)
For breakfast in bed, impromptu business meetings or romantic meals on your private terrace, we've got you covered, day or night. Have an exceptional Dubai dining experience delivered right to your room, whenever you like.
FOLIA

Coming Soon: Located in its own secluded garden oasis surrounded by lush shady palms in the heart of the Resort, Folia has a perfect ambiance for plant-based cuisine.
Restaurants at Four Seasons Hotel DIFC
At our sister property Four Seasons Hotel DIFC, MINA Brasserie is a lively and modern space to graze on delicious brasserie-style sharing plates, crafted by award-winning Chef Michael Mina. Come for a business lunch, or linger into the evening over craft cocktails with friends on our lounge-style terrace.
Relax at the luminous rooftop lounge at Four Seasons Hotel DIFC, designed by Adam Tihany, with spectacular skyline views, elevated cocktails and a modern Asian menu.
Events
Coming Soon

FOLIA

Located in its own secluded garden oasis surrounded by lush shady palms in the heart of the Resort, Folia has a perfect ambiance for plant-based cuisine. The new stand-alone menu, with its refreshing dishes, proves healthy eating is delicious.

Menu

FRIDAYS, 1:00 PM – 4:00 PM

BRUNCH AT SUQ

Indulge in our family-friendly brunch in the warm, inviting atmosphere at Suq, complete with a buffet of international dishes and live entertainment. For reservations, contact +971 4 270 7803

CONTACT

EVERY SATURDAY, 1:00 pm – 4:00 pm

Seaside Omakase Brunch

Chic, modern and right on the beach, Sea Fu presents brunch with an array of authentic Asian delicacies served alongside traditional sake cocktails and live DJ music. Spend an afternoon with us, enjoying brunch with friends and family in the laid-back atmosphere.
The Team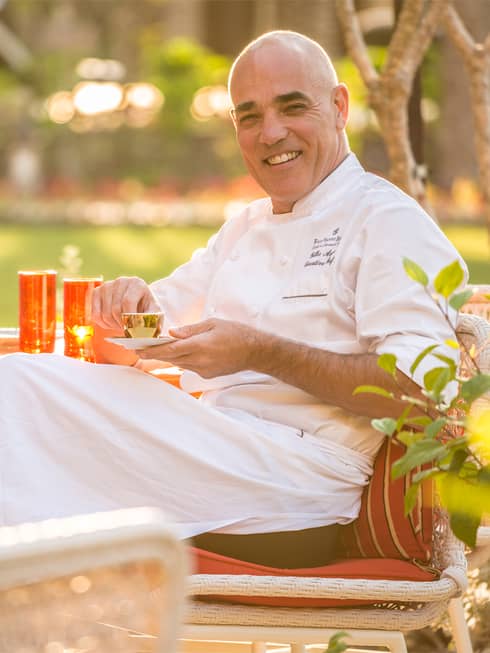 Executive Chef Gilles Arzur
Chef Arzur has plenty to be passionate about in Dubai, where he oversees five restaurants as well as in-room dining and banqueting. Raised in a small oceanside community in Brittany, he began cooking for his family at an early age, and his talent for contemporary cuisine is continuously inspired by the joys and challenges of creating menus with locally sourced ingredients.
"It is not just about getting the food to the table, but using service to share our passion for the food."
Culinary Experiences
Food is a fundamental extension of identity through which we are able to learn about new cultures. Dubai links the East and West, with influences from every corner of the globe.

Roger Geadah

Chef Concierge
Sit down to an intimate, customized dinner menu paired with panoramic skyline views in one of our open-air majlis, set within the tower above the Mercury Lounge.

A Meal You'll Always Remember

Toast the sunset with Champagne as we prepare a special dinner for two in our private villa overlooking the adults-only pool.

Details