Newly Renovated
Jiang-Nan Chun
Award-winning Cantonese restaurant Jiang-Nan Chun presents exquisite gastronomy with authentic chef-crafted dim sums, nutritious double-boiled soups and its one-of-a-kind signature Peking Duck roasted in a mesquite wood-fired oven and served with caviar. Embodying the concept of Xiang Le Zhu Yi or "the principle of enjoyment and happiness," only the most exalted flavors, premium ingredients and special preparation are used to seduce the palate. Experience the beauty of Jiang-Nan with its elegant interiors and furnishings that is evocative of the paradise-like region.
To make a reservation, please call (65) 6831 7220 or email us.
| | |
| --- | --- |
| Lunch (Daily) | 11:30 am — 2:30 pm |
| Dinner (Daily) | 6:00 pm — 10:30 pm |
Jiang Nan ("south of the Yangtze River") has been the inspiration for many artisans, the beautiful architecture of the river villages unique in its manifestation of the balanced harmony between man and nature. Famed for its literature, art, and craftsmanship (wood, stone, brick carvings), this juxtaposition of artisanal culture and rustic livelihood is gorgeously evoked in Jiang-Nan Chun.

Fine traditional wood carvings contrast with rough fishermen baskets, while rich wool carpets and handmade ceramic floor tiles complement the medical drawers and bespoke entrance centrepiece made of over 600 chopstick holders: symbolic of the relationships and day-to-day sustenance that the residents held dear to their hearts. Ninety-six hand-carved bird figurines perched on the window and entrance screens add playful, lively reference to the pastoral lifestyle of Jiang Nan.

The quaint and nostalgic spirit of Jiang-Nan is also embodied in the rich yet misty colours inspired by local painter Yang Ming-Yi's works – renowned for combining traditional Chinese ink paintings with European school of perspective painting techniques. Touches of rich jade and ox-blood for craftsmanship and culture appear throughout the carpets and furnishings, while soft grey for walls reflect the local architecture.

Early chinese writings and archaeological research indicates that Chinese rice originated in the region of the middle-lower Yangtze River more than 10,000 years ago. The Jiangnan plain has the highest density of streams in China, crisscrossed with canals, ponds and lakes to form an elaborate network of flowing water. From as early as 2600 BC, the people of the area created gorgeous and complex jade pieces, and their economy consisted of rice cultivation and fishing.

The intricate terraced pattern of the green feature wall evoke the verdant lushness of paddy fields, with rich-blue ground tiles representative of the Yangtze river. This flows beautifully toward the private dining walls dotted with white ceramic tiles, emblematic of one of the most important life-giving produces of China: rice grains. Together, these elements transport guests into the flourishing season of springtime and hope – an evocative immersion into the paradise of Jiang-Nan.
Quick Reference
Location
Second floor
Attire
Smart casual
Indoor seating
78
Private dining rooms
4
Private dining room capacity
8 – 12 persons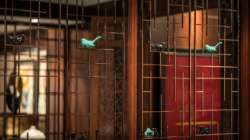 Evocative DÉCOR
Evocative of the verdant Jiang-Nan region, the restaurant's interior is inspired by the beautiful architecture of the river villages. Elements such as fishermen baskets, rich wool carpets, medical cupboards and bird figurines are placed throughout the restaurant to reminisce the paradise-like region of Jiang-Nan.
EXQUISITE CUISINE
Driven by the concept of "Xiang Le," which propounds that only the most exalted flavours should reach the tongue of one's guests, 'Xiang Le' dishes such as Signature Peking Duck, Superior Bird's Nest in Thick Chicken Broth and Braised Two Head South African Abalone are handcrafted to perfection.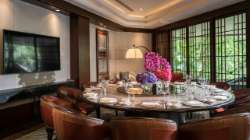 Private Dining Rooms
For a bespoke dining experience in an intimate space, dine in Jiang-Nan Chun's refurbished private dining rooms, complemented with personalized service and decadent menu selections.
Images on this page are for reference only.