At the award-winning One-Ninety Restaurant, authentic Western and Asian cuisine takes centre stage in an open-dining concept. The restaurant features a Theatre Kitchen – watch the chefs showcase their culinary magic à la minute over apple-wood fired grills, a brick pizza oven and a tandoor oven.
Taste hearty epicurean fare at the signature Market Fresh Semi-Buffet, where delectable appetizers, high-quality imported cheeses from France and Italy and decadent desserts are served free-flow on the table spread. The fare is changed daily according to the freshest and finest seasonal produce our chefs source for the day, and is complemented with a choice of extensive, chef-crafted entrées across three gastronomical selections on the menu: "From The Grill," "Italian Selection" and "Asian Specialties."
One-Ninety Restaurant & Jiang-Nan Chun: Listed in Singapore's Tatler Best Restaurants 2016 and Wine & Dine Singapore's Top Restaurants 2016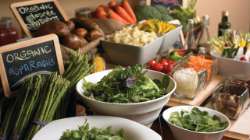 Events and Promotions
Discover more about our upcoming and ongoing events and promotions in
our restaurants and bar. Stay tuned to keep abreast with the latest happenings.
Takeaway Cakes
Satisfy your sweet tooth with exquisite cake creations by our talented Pastry team. These unique cakes, handcrafted to perfection, are available for takeaway. Call One-Ninety Restaurant at (65) 6831 7250 to find out more.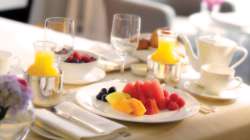 IN-ROOM DINING
For a fine-dining experience in Singapore within the comfort of your guest room or suite, select from an extensive menu featuring items from the Hotel's award-winning restaurants.
All prices quoted are subject to 10% service charge and applicable government taxes. Images on this page are for reference only.