Function Rooms
Fountain Terrace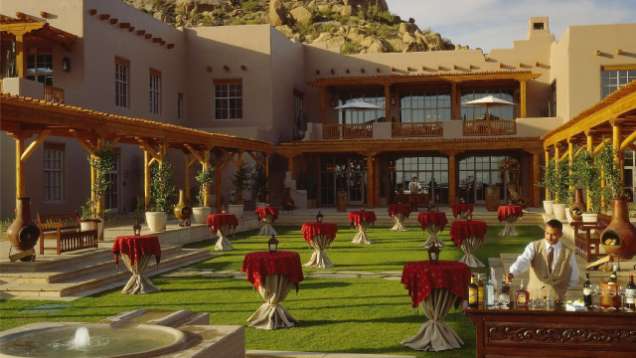 The trellised Fountain Terrace offers a spectacular venue for a multitude of events – from a lunch buffet in the sunshine to a starlit wedding reception under the Sonoran Desert sky.
Naturally Expansive
Welcome up to 300 guests for a charity gala or cocktail reception. A raised flagstone patio will bring all eyes on the bride before walking down the aisle past smiling guests.
Beauty Wherever You Look
Dazzle your guests with stunning vistas — Crescent Butte soars in the background, while Pinnacle Peak and the valley are showcased in views to the south.
A Desert Oasis
Manicured lawns, a sparkling fountain and bougainvillea-lined terraces highlight this picturesque setting, located just below the Onyx Lounge.
Seating
Reception
Banquet rounds

300
200

Location
OUTDOORS
Size
Area
Dimensions

360 m2 (3880 sq.ft.)
30 x 12.2 m (97 x 40 ft.)

Maximum capacity for Ceremony is 250.