The Hotel endeavors to highlight its three chefs and their unique talent, renowned experience and ability to each conquer a different culinary territory. In-house guests and local Parisians now have three dining options offering three different experiences.
Dining
EXPLORE THE MENU CREATIONS THAT HAVE EARNED THEIR MICHELIN STARS TO LE CINQ, LE GEORGE AND L'ORANGERIE, OR LINGER IN LA GALERIE BEFORE ENJOYING A COCKTAIL IN LE BAR.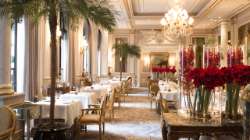 Le Cinq***
Le Cinq's restaurant menus draw upon classic French culinary techniques and also embrace newer, lighter cooking styles, always using the freshest regional ingredients. A children's menu is available on request.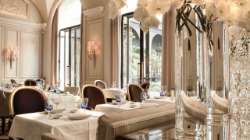 Le George*
Le George restaurant in Paris offers a light and modern Mediterranean-style cuisine designed for sharing, with many dishes available in half portions, and a balanced, healthy cuisine bursting with flavour and freshness. Elegant gourmet fare is perfect for special moments. The convivial, gastronomic experience takes guests on a journey between the French Riviera and northern Italy.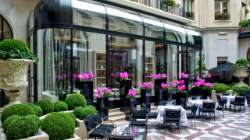 L'Orangerie*
L'Orangerie is an extension of La Galerie and our third signature gastronomical restaurant. Chef David Bizet's menu exemplifies the traditional French contemporary cuisine "of elegance, refinement, femininity and respect for nature."
La Galerie
Showcasing beautiful Flemish tapestries, 19th-century paintings and furniture, as well as many exquisite objets d'art, the chic La Galerie is the where the most fashionable Parisians gather for a drink or light bite.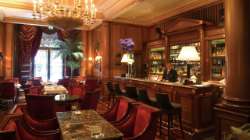 Le Bar
Le Bar is decorated in beautiful mahogany and cognac colour woods, large window opens on to the Avenue George V, and intimate conversations and enjoyable gatherings are welcome fare.
Private Parties
When you're planning a noteworthy celebration, consider one of our private banquet rooms – Salon Louis XIII, Salon Anglais or Salon Vendôme. Sumptuously decorated and supremely comfortable, they offer just the right mix of sophistication and intimacy for a most memorable occasion. Consult with our dedicated and experienced staff to create an elegant personalized menu and décor scheme.