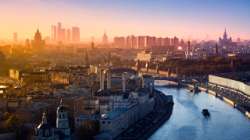 Discover Moscow in Every Season
The city of grandeur, Moscow is truly an iconic destination. Steps from the Kremlin, Red Square, St.Basil's Cathedral and the city's key attractions, Four Seasons Hotel Moscow puts you in the heart of one of the world's top capitals. Get inspired for your trip with these videos showcasing Moscow in winter and Moscow in summer.
Offers available at Moscow (9)
Offers available at Moscow (##)
Best Rate Guaranteed
Book direct and get the best rate, most favourable cancellation terms and our highly personalized service, guaranteed.
Room Rate
Best available room rate. Our most flexible option.
My Weekend to Remember – 20% Off
Immerse yourself in the energy of Moscow with 20% off our Room Rate, a complimentary room upgrade, parking, an early check-in and a late check-out, and more.
Minimum Stay: 2 Nights
Maximum Stay: 30 Nights
Dream Escape Package
Get away from it all in the heart of the city. We'll help you make the most of your time together with a three-course dinner from our chef.
Bed and Breakfast
Enjoy a perfect night's sleep followed by an expertly prepared meal from our top-rated chefs – a flawless way to start your day.
We're sorry, Moscow does not support online booking at this time. Please call +7 (499) 277 71 00 for assistance.