On-Site Reservations Specialists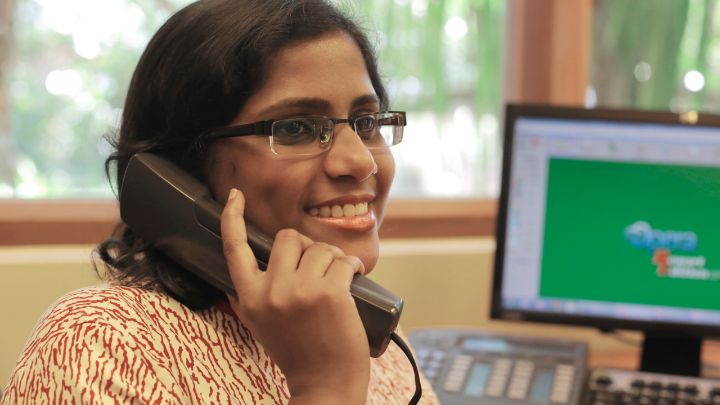 BENEFITS OF CALLING US TO RESERVE YOUR STAY
Your agent owns your reservation, from the first call up to your arrival.
You don't have to navigate an automated voice system.
You will speak with an agent who is on site and who has first-hand knowledge of the property.
You will get personalised insights from a local resident.
Your special requests will be noted and met.
On the ground and in the know, our Reservations Specialists are up-to-the-minute on everything "Maldives". Honest in their advice, intuitive in their questions, and insightful in their suggestions, they nimbly navigate their way through each enquiry to tailor every detail of your stay. Meet your personal reservations expert below.
On-Site Reservation Specialists
Shaima Ali, Assistant Reservations Manager
Start Year at Four Seasons Resorts Maldives: April 2010
"If you're travelling with children then they really must not miss out on blending their own oils with Kuda Huraa's Kids' Spa experience or completing their exciting 'Passport to Adventure' activities at Landaa Giraavaru."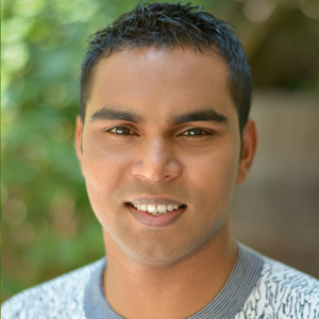 Abdulla Habeeb, Reservations Supervisor
Start Year at Four Seasons Resorts Maldives: December 2011
"You don't have to be good to join Kuda Huraa's surf team! We provide exciting surfing tours and courses run by Tropicsurf that can be enjoyed by all abilities."
Hassan Shiraz, Seaplane Transfer Coordinator
Start Year at Four Seasons Resorts Maldives: October 2010
"If you're interested in water sports, we've got the best selection in the Maldives, from Jetblades and Seabobs to wakeboard, kite-surfing, parasailing and all sorts of different fun tubes."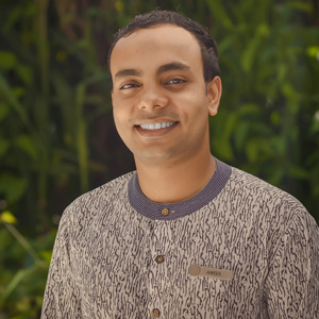 Ali Ameeg, Reservations Agent
Start Year at Four Seasons Resorts Maldives: October 2010
"Our Manta-on-Call service has got to be one of the coolest things we offer. Guests love the special manta phone that rings to tell you to head to the jetty to snorkel with these incredible creatures when they are seen nearby."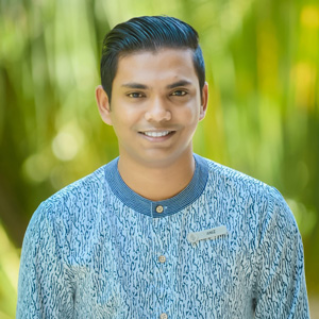 Ismail Aniz, Reservations Agent
Start Year at Four Seasons Resorts Maldives: April 2012
"The Maldives is an incredible place to learn to dive, but what makes us really special is the fact that we offer courses for everyone, from children as young as 8 to apprehensive adults, all the way up to PADI Dive Master."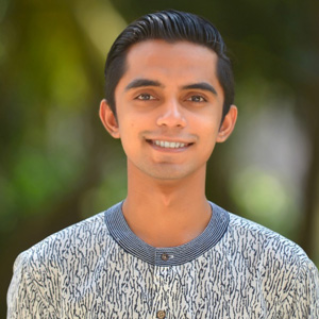 Nasrulla Adhil, Reservations Agent
Start Year at Four Seasons Resorts Maldives: April 2016
"Everyone loves Elsa's story. I use this to highlight our very own Elsa, the 'flying turtle,'as a way to start a conversation on all the amazing conservation work that we do here at the Resorts."
Kathma Mohamed, Reservations Agent
Start Year at Four Seasons Resorts Maldives: February 2017
"Just when you think our spas can't get any better, we launch something new, like Landaa's new Yoga Therapy Courses – effective personalized well being programs created by our Yoga Master."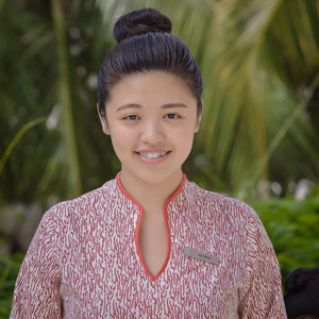 Gloria Yi-Kuang Chien, Reservations Agent
Start Year at Four Seasons Resorts Maldives: September 2017
"My favourite moment of the day is seeing families gather round for the nightly hermit crab racing, which the grown-ups enjoy as much as the kids!"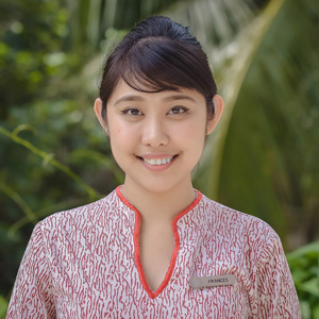 Frances Ann Bastillada, Reservations Agent
Start Year at Four Seasons Resorts Maldives: September 2017
"The Maldives isn't just sun, sea, and sand. People are often surprised to hear about the long list of adventures and family things they can do here."