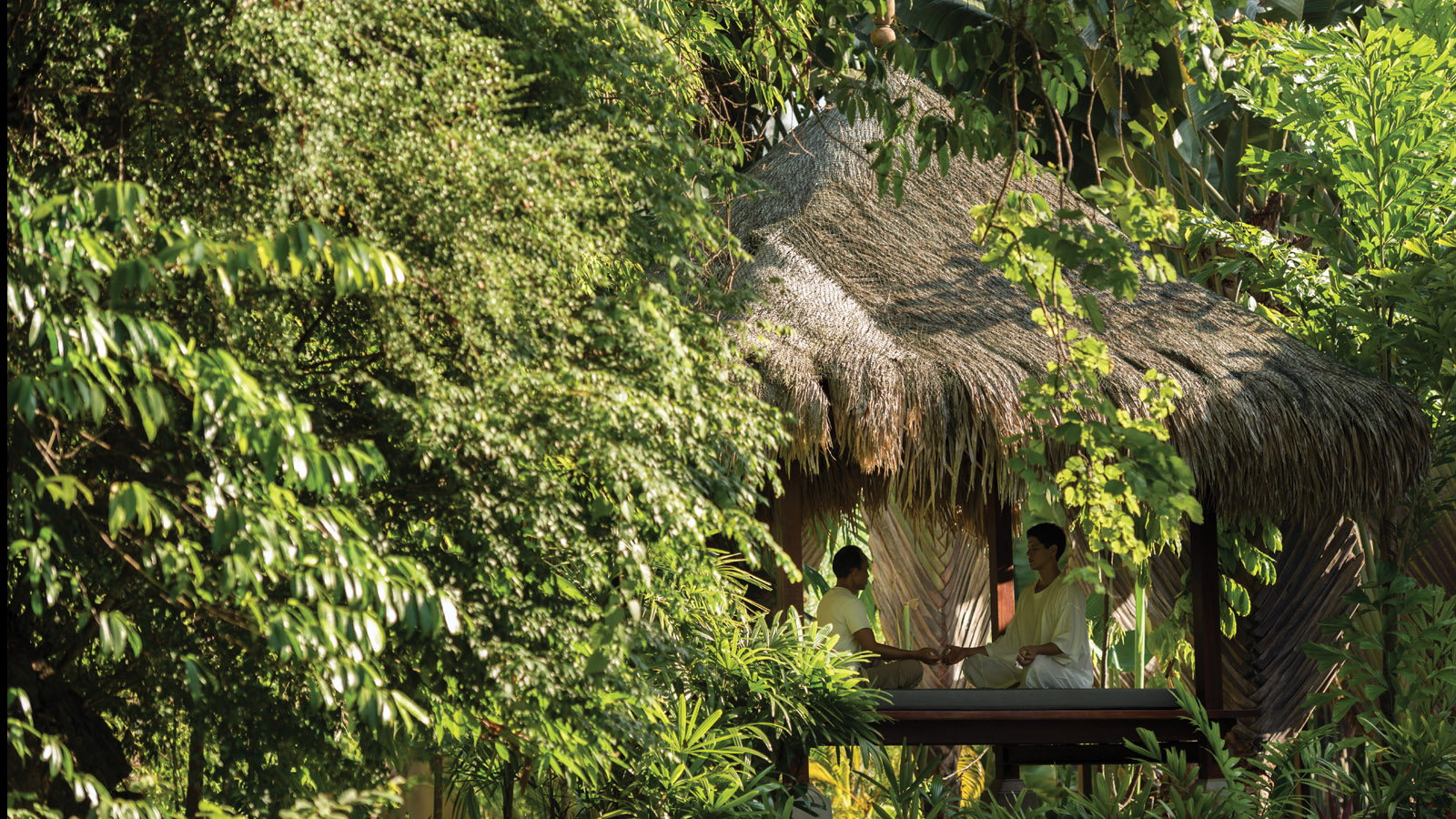 Air acts as an invisible, universal force on our lives. It represents what we cannot see, from purity of heart to clarity of thought. It also reflects the synergy between our own lungs and those of our planet, from the oxygen that trees produce to the carbon dioxide they absorb.

Inspired by the constant purification of air in Langkawi's abundant rainforests, our Air treatments pay homage to the relationship between man and nature, body and mind, and to the healing stillness that pervades when both are in perfect balance.
Kundalini Back Therapy
This gentle nurturing treatment activates the kundalini, the dormant energy base of the spine, to realign the body's rhythm and restore a balance state. A nourishing mix of tourmaline, jade, pearl, sapphire, amethyst and garnet gem poultices help remove blockages and strenghthen the body's energy fields. This treatment is ideal for emotionally exhausted souls and profoundly restorative for both the sympathetic and parasympathetic nervous systems.
Mother-to-be Treatment
Our ila ("mother earth") Mother-To-Be Ritual draws on the energies of the UNESCO Geopark to bring tranquility, balance and contentment to mother and baby during pregnancy. Safe extracts of lavender, rose and geranium combine with regenerative rosehip seed oil, vitamin E-rich argan oil and therapeutic herb poultices in a gentle scrub and massage that hydrates skin, reduces swelling and soothes aches and spasms. The tender therapy is further supported by specially devised mantras (Ganesh, Gayatri and Tara) to bring light, love and maternal energy.
From the Heart
The element of air is linked to the heart chakra, our centre of compassion and healing. This beautiful treatment combines focused heart work with pure ayer mawar and rose quartz to encourage deep understanding and the giving of love with sincerity. Equilibrium is restored, leaving you feeling at one with yourself and those around you.
Raja & Ratu Connect
A mejestic dose of love for ultimate couple ('King & Queen') connectivity. Designed for couples to experience together, this lovely ritual focuses on the three specific chakras - water, heart and crown - to maximize emotional and sexual connection, love and universal blessing. Exquisite oils of mawar (the oil of love), limau nipis (bliss) and bunga melur (for stimulating the flow of love) result in a beautiful union of mind, body and spirit. This journey of love concludes with a traditional blessing ceremony.
Rainforest Face Therapy
Inspired by the pure air and life-giving marvels of Langkawi's rainforests. A warm compress massage, deep lymphatic drainage and clay mask to soften, tighten and balance facial skin.
Rainforest Ritual
The mind is strongly influenced by and connected to the air element. This treatment realigns and rebalances the body/mind harmony, using vibrant rainforest herbs such as marapuama and pfaffia to help strengthen mental energy and clarity. The scrub and wrap are followed by a soporific Vichy shower, after which the marma massage helps connect body and mind, balancing the air element more strongly than any other form of massage.
Bliss Rose & Rhodolite Wrap
A pempering wrap and cream to blissfully relax the nervous system. Purest damascena rose otto and emotionally healing rhodolite restore peace and wellbeing.
Air Enhancer
Breast Beauty - A gentle rose-based treatment to tone the delicate breast area, and balance female hormones.
Bliss Scrub - A sensuous scrub to exfoliate skin, relax the nervous system, and balance mind, body and spirit.
Inner Peace Bath - A pempering saldalwood and jasmine soak to strengthen wellbeing and reveal skin's youthful glow.
Resort Activities to Support Air Treatments
Early morning rainforest trek
Bird watching
Jiva yoga
Note: Prices and treatments are subject to change without notice.