Get Away, Get More – 20% Off
Enjoy 20% off our Room Rate when you stay two or more nights.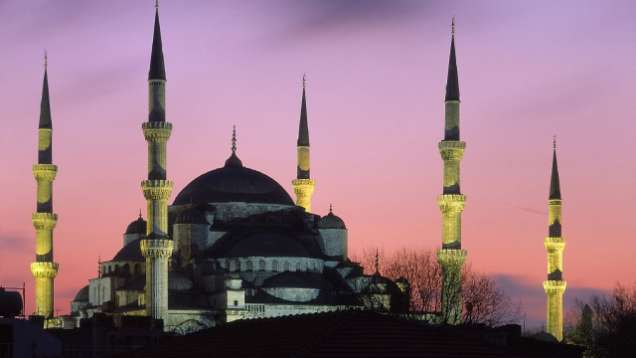 General Information
Istanbul has survived two millennia of extraordinary history. Formerly known as Byzantium, and then as Constantinople, it straddles the 35-kilometre (22-mile) Bosphorus Strait and is frequently described as the crossroads of Europe and Asia. Fought over time and again, the city became the centre of the Roman, Byzantine and Ottoman empires. Its historic heart – Sultanahmet and the bazaar quarter, with its great mosques, opulent palaces and Byzantine ruins – offers a fascinating glimpse into those tumultuous times.

The city holds appeal for all interests – architecture, art, culture, nightlife, cuisine and more. Encompassing three land masses – two on the European side of the Bosphorus, divided by the Golden Horn, and the Asian shores – it is best explored neighbourhood by neighbourhood. In the most historic quarter of this truly historic city waits Four Seasons Hotel Istanbul at Sultanahmet. A few minutes' walk in any direction leads to the wonders of the Old Town, including Topkapi Palace, the Blue Mosque, Haghia Sophia and the Spice Market.
Seasonal Highlights
APRIL – MAY
The International Istanbul Theatre Festival – featuring some of the year's best Turkish plays and performances by famous companies such as Britain's Royal Shakespeare Company – is held every other May. Most of the plays are performed in the city's various cultural centres, while a few are staged at venues such as the Harbiye Muhsin Ertuğrul Stage.
The Istanbul Tulip Festival will take place from April 11 until May 3, 2015. As part of the festival, millions of tulips will bloom throughout Istanbul, and the festival will also host many artists and works of art, including the art of marbling, which has a unique place in Turkish traditional arts. With live concerts by Turkish bands, Istanbulites and visitors of the city will enjoy the first blossoms of spring. Tulips will also be sold at sale points in certain parks during the festival.
Also happening:
JUNE – JULY
The International Istanbul Music Festival, the most prestigious event of the city's cultural calendar, offers performances of orchestra and chamber music, dance and ballet in stunning venues, including Haghia Eirene. The festival runs through June and July.
In July, the two-week International Istanbul Jazz Festival, which has featured the likes of Keith Jarrett, Dizzy Gillespie and Wynton Marsalis, is one of the best music festivals in the country.
Also happening:
Istanbul Shopping Fest, June 6-28, 2015
SEPTEMBER – NOVEMBER
The International Istanbul Biennial presents more than 80 artists from over 40 countries. The 14th Istanbul Biennial, organized by the Istanbul Foundation for Culture and Arts (İKSV), will be open to the public from September 5 to November 1, 2015, and will be a city-wide exhibition held in a variety of different venues.
Also happening:
Art International Istanbul, September 4–6, 2015
Mercedes-Benz Istanbul Fashion Week, October 2015
Contemporary Istanbul International Art Fair, November 12–15, 2015
International Istanbul Book Fair, November 7–10, 2015
Whether you need to know local public holidays or highlights through the seasons, we hope you will find the facts gathered below useful tools for your Istanbul travel planning. Please feel free to contact us if we can assist you further.
Quick Reference
Time Zone
GMT +2 hours
Eastern Europe Time
Language(s) Spoken
Turkish. English is widely spoken as well
Electrical System
Local voltage is 220 to 240 volts AC. Adapters available; please request through the Concierge.
Shopping Hours
Daily 9:00 am to 6:00 pm
Working Hours
Monday to Saturday 9:00 am to 6:00 pm