Allium Restaurant & Bar, led by Executive Chef Sean Murray, has been frequently named one of the top dining destinations in the Gold Coast. Start with popular starters, such as lobster nachos and a Chicago Dog with house-made everything and indulge in main courses, like Italian sausage stuffed chicken leg with kale polenta. Guests will find many seafood dishes, reflecting Chef Murray's time living on the coasts of Central America and the Pacific Northwest. Allium Bar, offering creative cocktails and gourmet bites, is an intimate gathering place and a favorite of locals and visitors alike.
Allium also offers an intimate private dining space on Chicago's Gold Coast for parties up to 40 guests.

Visit Allium's Official Website
What's in a name
Latin for the family of plants that includes onions and garlic, the name Allium is our homage to Chicago, whose name comes from the Native American word "Shikaakwa," meaning wild onion.
Learn more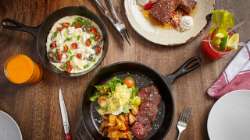 Brunch
Allium's brunch features an array of delicious sweet and savory options, along with popular daytime libations. Entress range from a Chicago Scramble to Cast Iron French Toast, and the Raw Bar is not to be missed.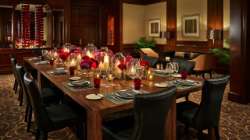 Private Dining in Chicago
Allium is Chicago's most distinctive setting for special occasions with our pre-eminent Michigan Avenue address and a stylish private dining space that holds up to 40 guests for cocktails or 22 sit-down guests.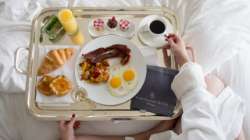 in-room dining
Choose from an extensive menu – day or night – that is ideal for time-zone-hopping travellers, impromptu meetings, or quiet, private dining.