My Four Seasons
Vows in Paradise: Bora Bora Now Welcoming Foreign Weddings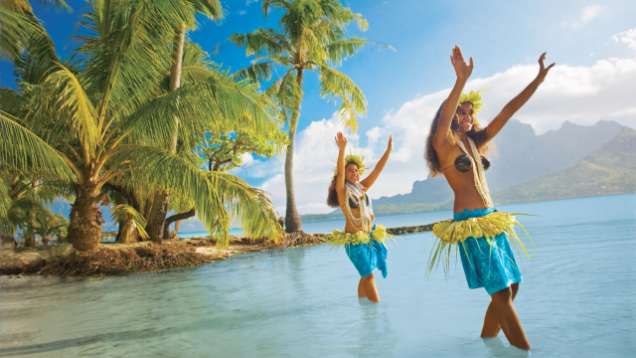 More Four Seasons Stories
Bora Bora has long been a dream honeymoon destination. Moonlit beaches, perfumed tropical flowers, and swaying palms radiate romance. But now that foreigners are permitted to marry in French Polynesia, it's become a wedding destination as well. In the past, non-resident couples had to apply for a visa and complete a 30-day residency before the ceremony could take place. The new law was passed in 2009, and when it was put into practice the following year, the Four Seasons became the proud host of the first foreign wedding on Bora Bora.

The newlyweds, both citizens of Switzerland, exchanged their vows at Bora Bora City Hall. In the afternoon, the wedding party gathered at Coral Beach for a traditional Polynesian ceremony. The bride and groom each put on a sarong-like painted garment called a pareu. The beach was adorned with flowers, palms and torchlights. Serenaded by Polynesian musicians and dancers, the bride awaited the groom's arrival by canoe. In front of a minister draped in full traditional headdress, the bride and groom exchanged crowns and leis. Wrapped in the traditional tifaifai wedding quilt, they were baptized with Tahitian names and presented with a wedding certificate.

The ceremony ended with a dance and a farewell song before the newlyweds posed for pictures under the setting sun. The wedding party then gathered for a private dinner on the beach, while a fire-dancer provided entertainment. Finally, the newlyweds returned to their bungalows to find a bottle of Champagne and a bed laid out with fragrant petals of hibiscus and plumeria.

Now that wedding ceremonies in Tahiti are recognized as legal, Bora Bora is attracting couples from all over the world. The first legal wedding of an American couple also took place at the Four Seasons. Whether couples choose to exchange their vows in traditional Tahitian fashion on a pure white-sand beach, or to say their "I Do's" aboard a catamaran, the setting promises to be unmatched.

The only thing couples have to do is to file papers with City Hall 45 days in advance, make their guest list, pack their bathing suits... and let Bora Bora do the rest.