Recently awarded the coveted Forbes Travel Guide Five-Star Award for the second year in a row, The Spa at Beverly Wilshire is an oasis of beauty and serenity in the heart of Beverly Hills, delivering a sensory journey that calms and revitalizes the mind, body and spirit. Utilizing the most elite skincare lines and spa technologies, each treatment is hand tailored
to celebrate the uniqueness of each guest, and honor their individual needs.

The award-winning Spa is home to the first-ever SPA/CLINIC from the renowned luxury line, 111SKIN, which was established by Dr. Yannis Alexandrides, a European and American board certified cosmetic surgeon, for his famous clinic on Harley Street in London - the Rodeo Drive of aesthetic medicine. Seeking a gentle yet effective topical treatment for post-surgical healing, Dr. Yannis collaborated with Space Scientists to create the unique NAC Y2 formula; a complex trio, which has antioxidant, anti-inflammatory, and brightening properties. Found in many products within the seminal Reparative Collection, it aids damaged, dry skin, and early signs of aging, and produces revolutionary results.
Additionally, The Spa features products and therapies from ELEMIS, a carefully crafted, innovative line that blends science with the chemistry of nature. Powerful biological actives combine with high-performance formulations, and the ELEMIS Biotec Machine - a cutting-edge spa technology, and the only one of its kind in the world - for remarkably transformative results.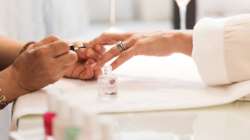 The Nail Bar
The Nail Bar offers fully customized manicure and pedicure services in an intimate, stylish environment.
JOIN US FOR HAPPY HOUR AT THE SPA

Please join us for Spa happy hour, offered Monday through Thursday from 1:00 pm to 4:00 pm. Guests of Spa happy hour will enjoy 20 percent off any 60-minute or longer massage, body treatment or facial treatment. For additional information or to make a reservation, please call +1 (310) 385-3960. Note: Prices and treatments are subject to change without notice.