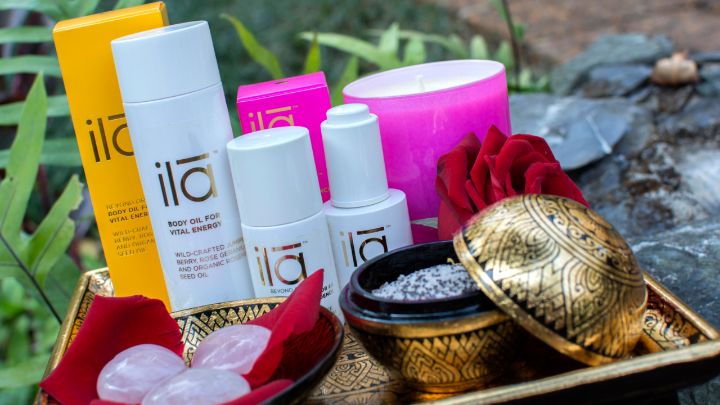 Aiming to bring purity, energy and balance into everyday life, ILA, a beyond organic luxury skincare brand from England has once again designed four new exclusive spa treatments for The Spa at Four Seasons Hotel Bahrain Bay. Central to ILA's healing potential is the high natural energy present in each and every ingredient. The purity and high levels of vibrational energy are absorbed by the skin, bringing powerful healing benefits to the subtle energies within our bodies. These four new spa treatments are focusing on the essence of natural potent ingredients, traditional techniques and authentic healing journey promoting deeper sense of relaxation and connection.
Gold Cellular Treatment
This nourishing and anti-aging facial is a blend of world's most undiscovered, potent and powerful ingredients that have been proven to heal and protect the skin from many natural signs of aging. Three types of naturally-occurring gold and the rarest of Frankincense from the Gardens of Ethiopia are combined to instantly increase collagen levels for results driven anti-aging ritual that restores, nourishes and stimulates the skin's natural ability to rejuvenate for a plumped, youthful and flawless complexion. The use of Sonic Wave Therapy helps to enhance the performance of the Ila Gold Collection. Sonic Wave Therapy is used to stimulate the absorption of the 'plant-derived' hyaluronic acid to be utilized by the cells which results in renewed, nourished and glowing skin.
90 Minutes - 83 BHD
90 Minutes
BHD 83
Call (973) 1711 5000
Royal Hammam RItual
Flying across different time zones usually causes jet lag that disturbs the body's natural flow of energy. The natural flow of the body's biorhythm is closely linked to the body's magnetic energy field. This electrical magnetic field is made up of negative and positive ions. Negative ions charge the body with energy and the feeling of wellness where positive ions deplete the level of energy and leaves the body feeling drained, tired and stressed. Travelling unbalances the magnetic field and fills it with positive ions; therefore, this treatment helps to restore the body's natural biorhythm and deeply relaxes the nervous system. The treatment starts with pearl and jasmine renewal body scrub that has an immediate effect of restoring energy, mental clarity and strength, followed by an amethyst gel body wrap for a gentle sedative effect to relax the nervous system, stimulate circulation and renew skin cells. The treatment ends with an express facial that hydrates and nourishes the skin and a relaxing back massage to relieve tension and stress.
120 Minutes - 130 BHD
120 Minutes
BHD 130
Call (973) 1711 5000
Mother-to-be
Pregnancy is a sacred time of grace for a woman, a time when her heart and soul are open, receptive and very sensitive. It is also a time of nurturing love, peace and stillness. As balance is essential for the healthy development of the baby, this Mother-To-Be treatment will focus on creating a soothing experience for the mother and baby that will help support and nourish the body as well as release tension during pregnancy. The treatment begins with a gentle scrub using black currant and rosehip seeds which are rich in anti-oxidants that offers non-abrasive exfoliation and an uplifting effect on the mother-to-be while strengthening her bio-energy field. The treatment is then followed by a soothing body massage using light technique and poultices applied to each marma point to bring deep peace and bliss. A special oil blend with herbal extracts such as lavender, rose and geranium has been created for gentle healing energy.
90 Minutes - 80 BHD
90 Minutes
BHD 80
Call (973) 1711 5000
Note: Prices and treatments are subject to change without notice. Prices are inclusive of applicable government tax and service charge.