My Four Seasons
Shisha: A Puff Enjoyed Around the World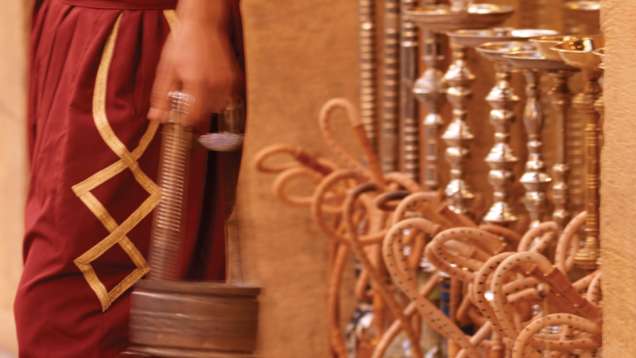 In cafes and bars from London to Karachi, one can look across the room to groups of people gathered around a tiny table, laughing and talking as a glowing ember from a shiny metal bowl lights up the night.

They're taking part in the ritual of the hookah, a multi-stemmed water pipe used to smoke tobacco, or shisha as it's called in most parts of the Middle East, including Alexandria.

But shisha is not your ordinary tobacco. It's a fragrant blend of tobacco, fruit pulp, molasses and flavourings. You can smoke a banana shisha, a rose shisha or even a pina colada shisha for those looking for something more exotic.

Shisha can be found almost everywhere in Alexandria, including the Four Seasons. Fresca and Byblos terrace offer a shisha menu all year; Bleu features one during the summer months with an impressive list of flavours. Guests can order a hookah filled with the shisha of their choice and take turns puffing on separate (disposable for sanitary reasons) plastic mouthpieces.

But what about the hookah ritual in the rest of the world? Here's a quick look:

India – This is where many say hookah as we know it got its start as a status symbol among the Indian aristocracy.

Iran – Hookahs here have a distinct shape and design that makes them different than those of other countries and have periodically been banned by the government.

Nepal – Wood is the traditional material for hookahs in this area, though more modern hookahs that use metal and glass are widely available.

Philippines – Once popular only in the Muslim community, hookahs are now enjoyed by youth in high-end bars and clubs.

Though traditions and tastes may vary, the pleasure the hookah brings is universal. It's an experience that's both relaxing and social and a great way to pass time with friends.