Function Rooms
Boardrooms (4)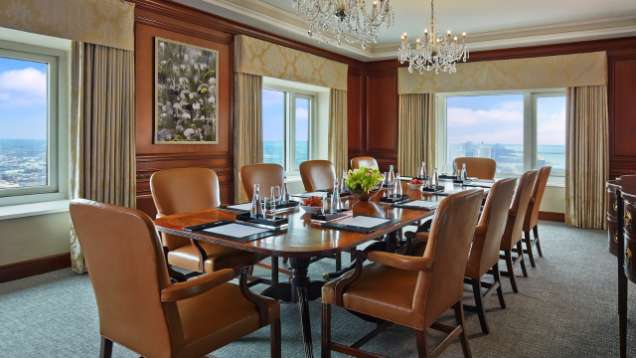 All four of the Boardrooms, situated on higher floors of the Hotel, offer both privacy and spectacular views of Chicago and its lakefront. The rooms, which seat up to 12 people, feature formal boardroom tables with executive-style chairs.
Separate parlour areas with beautiful furniture are perfect for making relaxing conference calls or holding smaller break-outs. Additionally, each Boardroom features a private restroom and entranceway.
Décor
The Boardrooms are decorated in neutral colours and provide a welcoming setting for meetings.

State-of-the-art AV Equipment
Microphones, mixers, amplifiers
Video conferencing and webcasting
Technical Assistance
On-site technician
IT lines available
Seating
Conference/Boardroom
U-shape
Reception
Banquet rounds

12
11
20
12

Room Features
Wired or wireless, high-speed e-mail and Internet access

Size
Area
Dimensions
Height

44 m2 (472 sq.ft.)
5 x 8.8 m (16.3 x 29 ft.)
2.4 m (8 ft.)