Journey to Wellness Residence Package
with Two Bedroom with Plunge Pool Booking
Refresh your body, mind and spirit with a four-night retreat in tropical paradise – with the utter bliss and peace of mind that come with signature Four Seasons service and security, 24 hours a day. When you book a Two-Bedroom with Plunge Pool Residence Villa, you'll also enjoy the benefits of this Journey to Wellness experience.
When was the last time you went on vacation with your best friends, shared new experiences and created lasting memories together? Now we've got the perfect motivation for you: Go on this blissful journey of wellness together! The expansive two-bedroom Residence is set amidst resplendent gardens and terraced rice fields.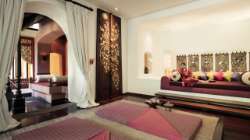 World-renowned spa
The Spa at Four Seasons Resort Chiang Mai is a sanctuary of indulgence, where the ultimate goal is your relaxation and well-being. Spacious treatment suites, outdoor soaking tubs, rituals inspired by ancient Thai beauty secrets, organic ingredients, experienced therapists…what's not to love?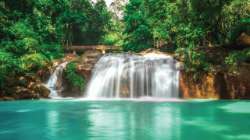 Relax with friends
Those who rejuvenate together, have great vacations together! Enjoy a getaway with like-minded friends – the perfect escape from the bustle and predictability of daily life. Explore Northern Thailand together, indulge in some friendly competition and take back unforgettable memories (and photographs)!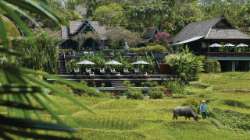 Stunning surroundings
The landscape of the Mae Rim valley is magical: indigenous tropical flora, rice paddy fields cascading across terraces, majestic mountains in the distance… The elements of nature come together to breathe new life into city-weary muscles and hearts.
Splash around in the turquoise waters of your very own plunge pool and enjoy pampering treatments in the private open-air spa sala.
There's inspiration all around. A few steps away lies the Yoga Barn, magically suspended over the lake – the heart of the Resort's agricultural and natural life. Practice breathing, yogic movement and asanas in this spiritual setting. For those who want to strengthen their core, our resident yogi is also an expert Pilates teacher. Later, put your muscles to work with Muay Thai, the ancient Thai art of kickboxing. Perfect your moves on the lush lakeside lawns – the fresh air and soft grass will keep you going! Rediscover the joy of your favourite routines in the picturesque environs of the Resort and its surroundings, which offer plenty of trails for jogging, running and cycling enthusiasts to explore.
Between intensive workouts, soothe your weary muscles and find your equilibrium at The Spa. Go on a journey with six unique treatment collections that celebrate the wonder of Thailand's social groups. Explore the different gifts offered by each group: from Farmer treatments to connect and rejuvenate, to Craftsman treatments that spark creativity and freedom, to Nobleman treatments for energy and harmony.
Dive deeper into the Thai way of life through cultural and spiritual experiences. Visit a Buddhist temple in Chiang Mai and talk to the monks for an insight into their philosophy and way of life. Plant rice saplings with the local farmers at the Resort and release a Loy Krathong lantern into the lake – an age-old blessing ritual.
The Chef will create a personalized menu for your stay, featuring fresh produce and appetizing flavors. The meals will be designed to cleanse the toxins from your body, while providing nourishment and sustenance. The Executive Chef would be happy to show you around his organic garden and share his passion for clean food – you can even pick your very own garnish!
Hidden away in the mountainous tropics of Northern Thailand, the Four Seasons Journey to Wellness Residence in Chiang Mai offers a luxuriously healthy getaway – without having to compromise on thoughtful service, easy accessibility and complete security.
THE JOURNEY TO WELLNESS RESIDENCE PACKAGE INCLUDES:
Accommodation at Two-Bedroom Residence with Plunge Pool
Daily breakfast to be served at Residence or Khao Restaurant
Round-trip transfers to and from airport by luxury van
Daily one-hour private yoga class
Daily meditation session with yoga instructor
Use of mountain bikes throughout stay
Four 90-minute spa treatments of your choice
One-time rice planting activity
Cooking class at Rim Tai Kitchen
Chef's Table at Rim Tai Kitchen
Total of 10 hours usage of luxury van during stay
Please contact Director of Sales, Bikramjit Bhangoo by email or call 662-207-8904, for this special package or a tailor-made package for your party.
Notes:
Guests will have access to the exclusive Residences Pool.
Children under 12 can stay in the junior bedroom, which has twin beds.