Culinary Adventure Residence Package
with Two Bedroom with Plunge Pool Booking
Book our Two-Bedroom with Plunge Pool Residence Villa in order to enjoy this exclusive Culinary Adventure Package. Start your day in lush green rice fields with a delectable home-style breakfast. Inspired by childhood memories of grandma's breakfasts back home in France, our chef serves treats such as tartines, crispy baguettes and Madeleine cakes featuring warm bee pollen. A range of exotic, luscious fruit adds a uniquely Thai touch. Try your hand at cooking Thai favourites with fresh, indigenous ingredients at the open-air cooking school. Discover the wonders of pure produce at Chef's organic garden. Say hello to Thai basil, lemongrass and European rosemary – you can even pick a few sprigs to garnish your next meal.
Continue your journey into the origins of food with a rice planting activity. Don your traditional farming costume and join the local farmers as they transplant delicate rice sprouts. Ratree Bar serves up bespoke drinks in laidback style – a DRY Martini experience. Surprise your palate with signature cocktails crafted by master mixologist, Javier de las Muelas.
Bid farewell to the setting sun with the vivid, intricate flavors of a Spicy Mai Tai with Chili or a Passionfruit Mojito. Along with activities and feasts at the Resort, the region holds rewarding experiences for those who live to eat. Embark on a private tour to meet the food-makers of Chiang Mai and sample their specialties – feta cheese, yogurt, coffee and honey. All within a hundred-mile radius!
Wrap up the day with a Lanna-style dinner and a night safari. For a closer look at Thailand's growing clean-food trend, take a trip to the nearby Royal Project farm. Located among the sparkling rice terraces of Northern Thailand, the Four Seasons Culinary Adventure Residence in Chiang Mai offers a delectable and luxurious getaway – without having to compromise on thoughtful service, easy accessibility and complete security.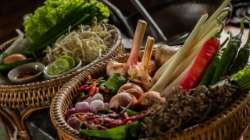 Find another side of Chiang Mai
Go beyond the temples and elephants to unearth the tasty treasures of Northern Thailand. Interact with local food-makers and sample genuine regional specialties, guided by a resident expert. After all, food is the best way to truly understand a culture!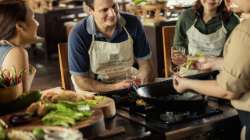 Spend time with fellow foodies
Those who feast together, have great vacations together! Enjoy this holiday with like-minded friends or family – an ideal escape from the predictability of everyday life and food. Go on a culinary adventure together amid picturesque environs, and take back unforgettable memories (and photographs)!
THE CULINARY ADVENTURE RESIDENCE PACKAGE INCLUDES:
Accommodation at Two-Bedroom Residence with Plunge Pool
Daily breakfast to be served at Residence or Khao by Four Seasons
Round-trip transfers to and from airport by luxury van
Babysitting service available during stay
Breakfast in the rice fields
Tour of Chef's organic garden
Guided tour of local food-makers
Lanna-style dinner and night safari
Visit to Royal Project farm
Thai cooking class and carving class at Rim Tai Kitchen
One-time rice planting activity
Please contact Director of Sales, Bikramjit Bhangoo by email or call 662-207-8904, for this special package or a tailor-made package for your party.