Meetings & Events
Conference Planning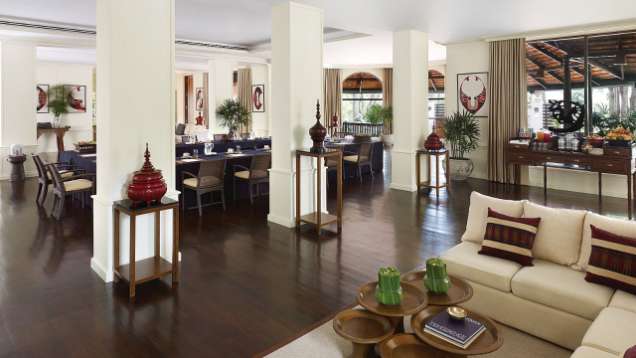 Our conference facilities are unique, combining the tranquillity of the Resort with effective conference settings, making them conducive for executive conferences, weekend retreats and incentive events. The exotic setting of the Resort also makes it a wonderful location for private celebrations and weddings.
Four Seasons Resort Chiang Mai specializes in theme nights that will make any celebration dinner truly unforgettable. The creatively themed events include the exquisite Floral Extravaganza, Lanna Night, Chiang Mai Night Market, Night Under the Stars and Tropical Fiesta.
Technical assistance
All meeting spaces at Four Seasons Resort Chiang Mai are fully equipped to support the most demanding presentation and communication requirements. Voltage is 220. State-of-the-art audiovisual equipment includes:
Laser pointers

LCD projector

LCD remote control

White screen

Wired or wireless Internet access in meeting rooms
Music and entertainment
The Resort can arrange a variety of local dancers and musicians to suit your requirements.
receiving and maintenance
Receiving
Group conference material that includes packages and large shipments can be sent ahead of time to the Resort. Please arrange shipment of your packages to coordinate with your arrival date at the Resort, as space is limited for large items. Please inform the Resort of your intended shipments, which should have full customs details attached along with the name of your group or company. Shipments should be addressed to the attention of the assisting Conference Organizer at the Resort.
Post-conference shipping
Your Conference Organizer or the Concierge at the Resort will be more than happy to help you arrange the shipment of your post-conference material.
Maintenance
The Engineering Department is available for general assistance with lighting, room temperature control and minor repairs.
Welcome amenities and VIP gifts
Special arrangements can be made for clients to purchase welcome amenities for their important guests. The Concierge will be happy to assist with these arrangements.
Spouse programs
Four Seasons Resort Chiang Mai offers many leisure activities to companions of meeting participants, including:
The art of traditional Thai massage

Teatments at the Spa

Yoga lessons

Northern Thai cooking classes

Tennis tournaments/round robins

Garden tours

Special sightseeing and shopping tours

Rice-planting program
Family programs
We would be pleased to help arrange appropriate on-site or off-site activities for visiting families, such as swimming or mountain biking. The Resort also offers services and complimentary items for children, including:
Gecko Club

Welcome amenity

A DVD library at the Concierge
At Four Seasons Resort Chiang Mai, discover flexible spaces that adapt perfectly to your meeting goals and accommodate the most demanding presentation and communication requirements. Experienced Four Seasons support is on site to promptly respond to your every need.
Quick Reference
Time zone
GMT +7 hours
Language(s) spoken
Thai
Electrical system
Local voltage is 220 to 240 volts AC. Adapters available; please request through the Concierge.
Shopping hours
Sunday to Saturday 9:00 am to 9:00 pm
Note: Hours for street shops vary.
Most stores are open seven days a week, except gold shops. Some stores are closed on Sundays.
Working hours
9:00 am to 5:00 pm