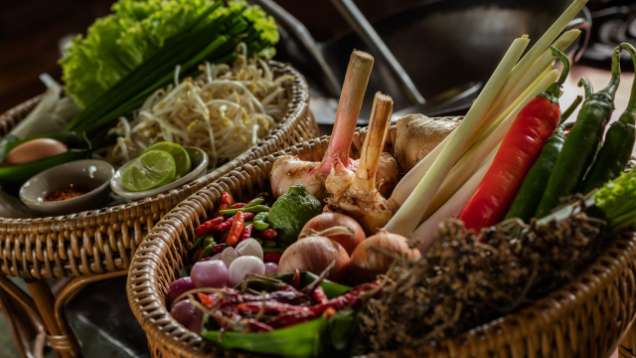 Did you know pressing a bulb of lemongrass helps release its zesty notes? Or that a sprig of Thai basil can breathe new life into your cup of tea? Or that steeping galangal in a sweet and sour soup softens its pungency? Thailand is a treasure trove of aromatic herbs – and they're full of surprisesThe Cooking School experience at the Four Seasons Resort Chiang Mai is a great way to explore the world of Thai herbs – the heart and soul of the region's flavorful food. Begin your day with a visit to the local market, where your guide will help you choose fresh ingredients for the class – and snag you some delicious morning snacks as well.
At the Cooking School, Chef will demonstrate insider kitchen techniques and reveal the secrets hidden in local herbs. Whip up authentic Thai specialties and, later, enjoy the fruits of your labor at a specially laid table overlooking tree-lined mountains. Take your new-found expertise (and recipe pack!) back home and wow your family and friends with a true-blue Thai meal.
For more herbal goodness, visit Chef's charming Organic Garden, which stars Thai basil and lemongrass. Pick your own garnish for dinner at Rim Tai Kitchen or a stalk of lemongrass to liven up your evening cuppa!
The Four Seasons Resort Chiang Mai offers a Culinary Package for food lovers, which includes a market visit and a class at the Cooking School.