Set in the Mae Rim Valley, Four Seasons Resort Chiang Mai is a place where you and your family will be immersed in authentic Thai culture.
Chiang Mai, often called the Rose of the North, is the country's cultural capital. It is also a verdant oasis, just a one-hour flight from Bangkok. Whether you go in April to join in on the celebration of Thai New Year or in November for the Loi Krathong festival of lights, your family is in for a treat.
Why go
Relaxation. Chiang Mai is perfect for enjoying family bonding time at a calming pace.
The cultural capital. This city is the spiritual and artistic heart of Thailand, making it a must-visit for a taste of local culture.
Rich history. Stroll by more than 300 Buddhist temples—many dating back to the 13th century—in the area of the old walled city on the Ping River, a major trading route.
What the kids will love
Photography Wacharachat Vaiyaboon / Alamy Stock Photo
The exotic setting. Surrounded by rice fields and picturesque views, the kids will love exploring the area. They'll release their energy and feed their curiosity as they make their way through 32 acres of sprawling grounds.
Engaging with the culture. The Kids for All Seasons Gecko Club , at the Resort, provides plenty of opportunities to learn about Thai culture, from constructing Sa paper fans and umbrellas to dabbling in the Thai language.
Meeting the animals. The kids will love visiting Mr Tong, the Resort's resident water buffalo.
What you will love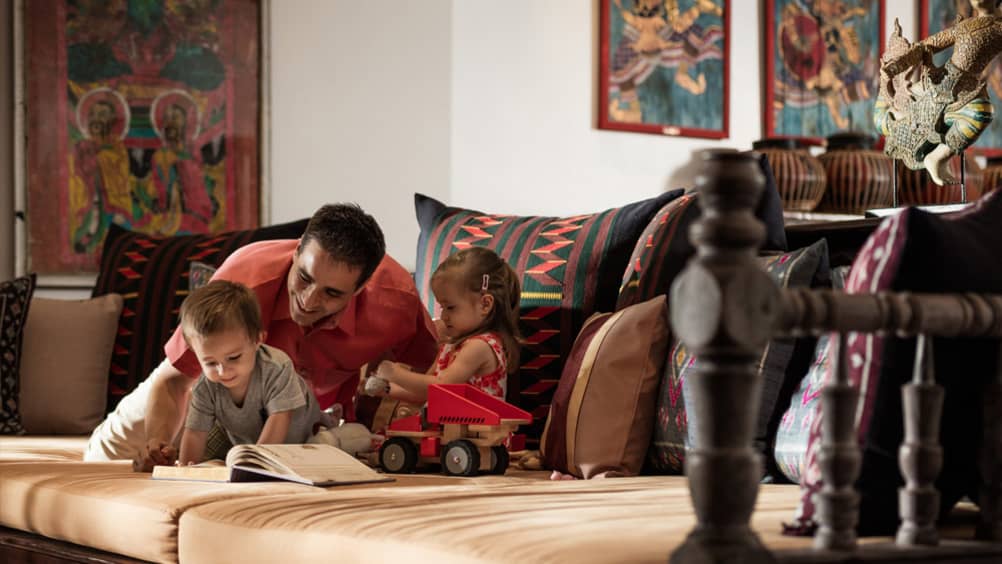 Photography courtesy Four Seasons Hotels and Resorts
Room for the whole family. Enjoy spacious villas with private pools and seamless inside-outside living.
The infinity pool . Set in the middle of a rice paddy field, the infinity pool offers some of the most scenic views.
A round of golf. Take a five-minute drive from the Resort for an unforgettable game of golf at world-class Summit Green Valley Country Club .
The Spa . Experience treatments inspired by ancient Thai rituals. An added bonus: The Spa also has treatments for kids .
Look for this
Make time for an afternoon celebration. Every evening around 5:00 pm, gather around the Resort's lower pool to watch the procession of gardeners heading home through the rice fields. Some dance, some wave, and some even play traditional drums. It is a small celebration of their hard work each day, and you are welcome to join.
Dine in
Enjoy lunch at Terraces , a perfect open-air setting just beside the main swimming pool. Kids will love the crispy spring rolls and noodle soup with prawn wontons.
Ratree Bar is the go-to spot for an afternoon tea or evening cocktail. Grab a seat under the large Thai umbrellas and take in the beautiful views.
For authentic Thai cuisine, head to Khao by Four Seasons. Try the pad thai goong (wok fried rice noodles with prawns), gai hor bai toey (fried marinated chicken wrapped with pandanus leaves) and tom kha gai (chicken soup with fresh coconut milk and galangal).
Dine out
Baan Suan restaurant. Enjoy Thai cuisine in this quaint but scenic restaurant.
Ginger & Kafe. Whether you want to go for afternoon tea or a delicious Asian-fusion meal, this local spot provides a fun and relaxing atmosphere for the whole family.
The Duke's Grill & Bar. This inviting restaurant is perfect for families as it specializes in a range of dishes. Kids will want to try one of the delicious Chicago-style pizzas.
4 family activities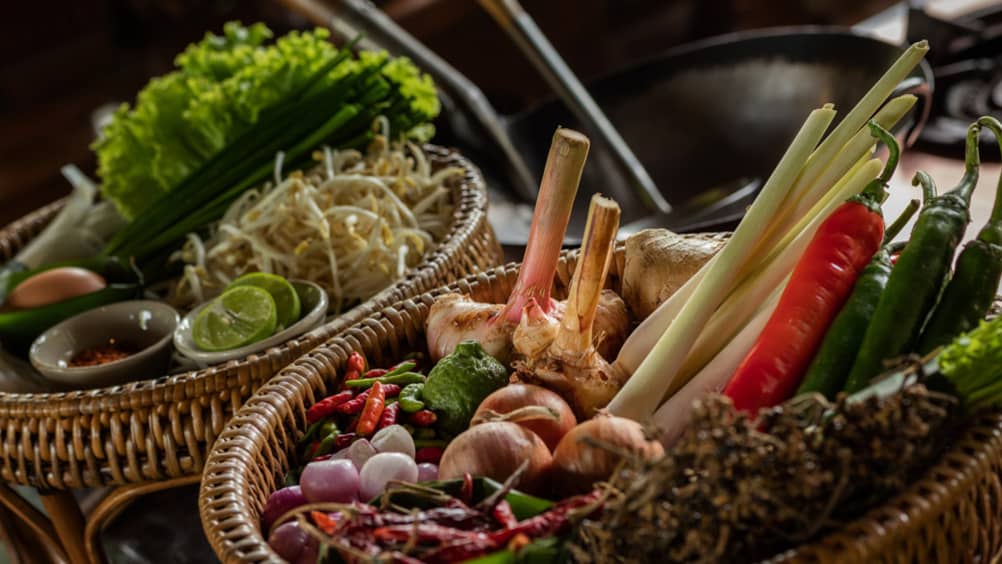 Photography courtesy Four Seasons Hotels and Resorts
1. Mountain biking. Wake up early, choose a complimentary bike the Resort's Health Club and explore the Mae Rim neighbourhood. See charming villages and the local temple, Wat Pa Darapirom, where you can offer food to the monks.
2. Be a local farmer. In the land of a million rice fields, you can learn how rice is planted right alongside the farmers. Your family will learn about rice in Thai culture and take part in the harvesting process, all while wearing the traditional mor hom. Join in on this experience every Tuesday and Saturday morning.
3. Family cooking class. Sign up for a family cooking class at the Resort's Cooking School . Group classes are in the morning and private classes are in the afternoon.
4. Hit the road. Chiang Mai has so much to discover on foot, especially with kids. Wander around the Old City to discovery northern Thai history and culture before heading up Doi Suthep mountain to visit one of the most sacred temples, Wat Phra That Doi Suthep. Pay your respects to a holy Buddha relic, and enjoy a panoramic view of the city from the mountain top. (It's also the perfect spot for watching the sunset.) After dark, try a Chiang Mai Night Safari—a fun and unique chance to see rare wildlife.
Four Seasons Resort Chiang Mai