Sitting on the Atlantic coast, Casablanca is Morocco's most cosmopolitan city and its economic anchor. Settled by the Berbers and successively inhabited by the Phoenicians, Romans, Portuguese and French, the dynamic port fully embraces its cultural diversity. The result is a mix of whitewashed medinas and Art Deco landmarks, long-standing
souks
(markets) and edgy galleries, which together reflect the buzzing face of modern Morocco. Here, uncover the best things to see and do during your next visit.
Visit a monumental Moroccan mosque
Photography Four Seasons Hotels and Resorts
Casablanca's inescapable signature landmark is the epic Hassan II Mosque. Everything about the Mosque is big, from its 650-foot-high (198 metre), green-tiled minaret, to the prayer hall that can squeeze in 25,000 worshippers.
It is one of only two mosques in Morocco that non-Muslims can enter so long as they are dressed fittingly (long pants or dresses; no exposed shoulders). That means visitors are free to marvel at the marble fountains, wood carvings and tilework that make the mosque a masterwork of Moroccan artistry.
Toast Moroccan café society
For film buffs, there is nothing more synonymous with this city than the 1942 cinematic classic Casablanca. Apart from Humphrey Bogart and Ingrid Bergman, the movie's real star was Rick's Café, where much of the action took place. While the original café sat on a Hollywood soundstage, a duplicate Rick's Café was opened on the edge of Casablanca's Old Medina in 2004. Faithfully modelled after its celluloid twin, Rick's is a combination bar, lounge, jazz club and restaurant known for its stellar Negroni cocktails, Sunday jam sessions and resident piano player, who plays out the film's theme song, "As Time Goes By."
If time feels a bit frozen at Rick's, head to less nostalgic local hangouts like Le Sphinx or the waterfront Le Petit Rocher, which offers a retractable roof terrace and a Med-meets-Moroccan menu (think lobster ravioli).
Admire Casablanca attractions and architecture
European architects were given license to build their most exuberant designs in the first decades of the 20th century, when Casablanca was a French protectorate, and the result is a showcase of Art Deco landmarks. For the best display, walk down Boulevard Mohammed V under buildings sporting wrought iron balconies and floral friezes, past the Petite Poucet café where Edith Piaf once hung out. The best Deco jewel is just around the corner on the Rue Mohammed el-Qory, where you can still catch a movie at the circa-1930 Cinema Rialto, whose curved front juts out like the bow of a ship.
Go shopping in Casablanca's Old and New Medinas
If you're looking for serious Moroccan antiques, or just a good souvenir, head to Casablanca's two shopping meccas. Start near the harbour at the Old Medina, a 19th-century maze of whitewashed alleys where the vendors sell pottery, brass work, leather bags and jewellery.
Afterward, pick up unique finds at the Quartier des Habous, known as the New Medina, southeast of the city centre. Constructed by the French, the shops at the New Medina are stocked with authentic vintage Arabic books, Berber rugs and handicrafts. The best treasure to be had is found at the venerable Patisserie Bennis, famous for its almond pastries sprinkled with orange and rose water.
Tour the local gathering place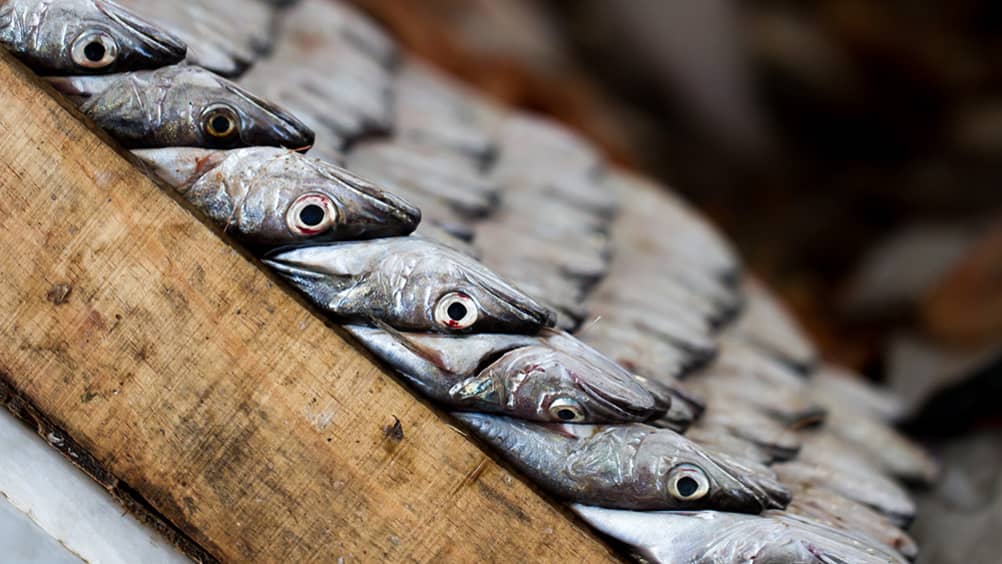 Photography Chaitanya Deshpande
The Central Market, or Marche Central, in the heart of Casablanca may be the best place to stock up on regionally-produced goods and join a genuinely local crowd. The city's housewives head here daily, looking for shade under the overarching roof and stopping at the stalls stocked with pyramids of dates, nuts, figs, oranges, nectarines and artichokes, and the freshest catch of the day.
Sample from one vendor's amazing selection of olives before turning your attention to a rainbow of jewel-toned tagine pots on display nearby. The classic market souvenir, however, is a bottle of argan oil, made from the kernels of the Moroccan argan tree.
Spend a day on the coast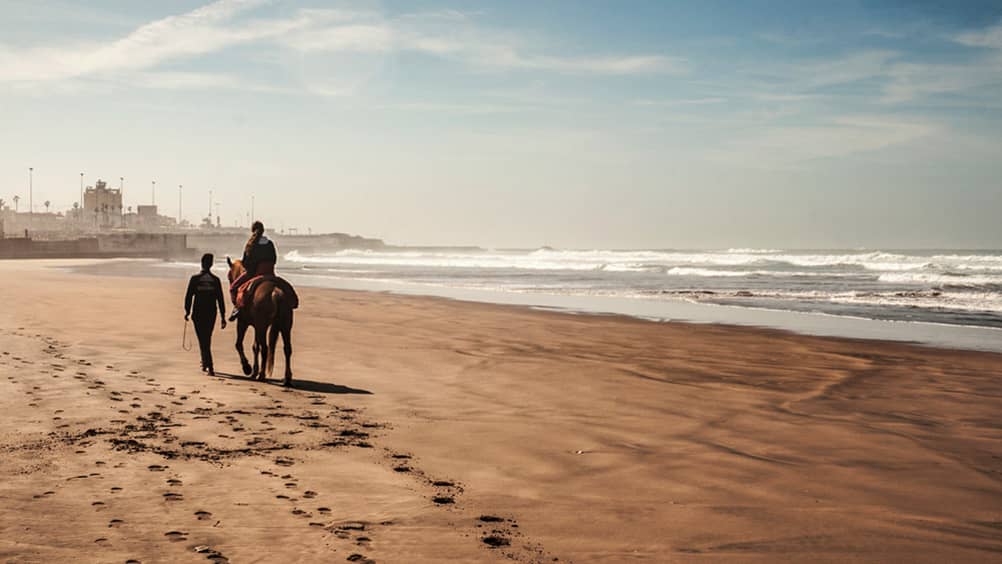 Unlike some of Morocco's better-known landlocked cities, Casablanca hugs the Atlantic coast and takes full advantage of its locale. La Corniche is the city's seaside promenade, a row of cafes, restaurants, beach resorts and night clubs where locals hang out day and night.
Join the crowds at a beach club like Miami Plage, one of the largest, where a day pass buys you a clean stretch of sand, an umbrella and access to the pool, basketball courts, restaurant and bar. After spending the day in the sun, bar-hop to one of the clubs overlooking the sea—a favourite is SocialClub—where DJs spin dance classics.
Enjoy fine dining in Casablanca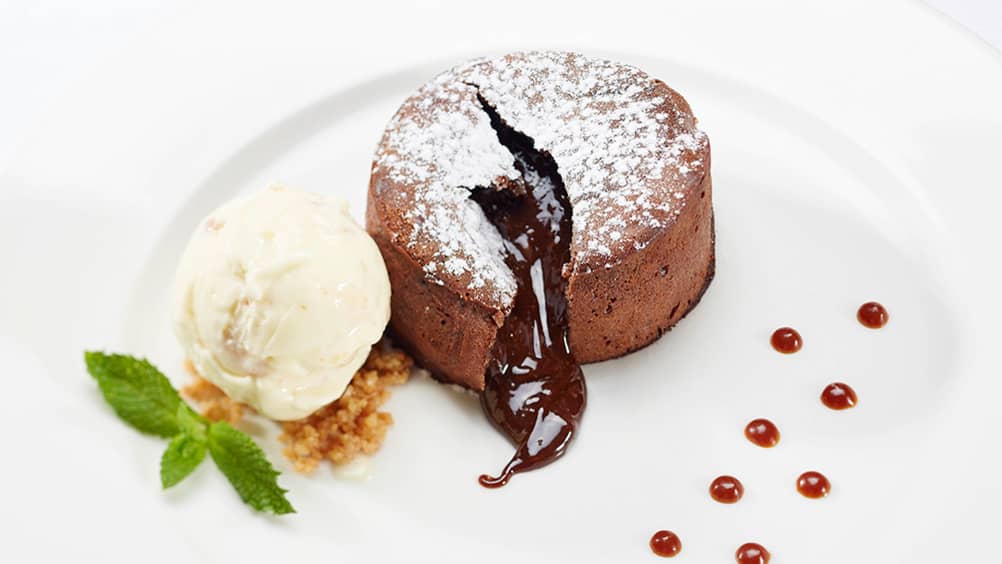 Photography Philippe Sautier courtesy Le Relais de Paris
Casablanca's traditional cuisine stirs in all the city's cultural legacies: Arab, Berber, French, Mediterranean, Spanish, Portuguese and Jewish. Among the best spots for native Maghreb food are the small cafés and stalls surrounding the Central Market, where the daily catch is grilled before your eyes and served al fresco.
More formal Moroccan restaurants (long-standing favourites include La Sqala and Al-Mounia) offer signature dishes like tagine, spit-roasted lamb and pastillas, the local meat pies. The city's French dining rooms, such as Le Relais de Paris, plate foie gras and duck confit dinners reminiscent of the Left Bank. For a blend of Mediterranean and Provençal cuisine, dine at Bleu, or try Latitude 33 for tapas and finger foods inspired by cuisine from countries on the 33rd parallel.
Retreat to a local hammam
The city's hammams, or public baths, are the best way to escape the heat and noise of central Casablanca for a few relaxing hours, and the entry price is a bargain. Most hammams also sell the requisite black soap (given its dark hue by a mix of oil and olives), buckets and exfoliating gloves for an extra fee.
After disrobing to your undergarments in the changing room, enter the single-gender hammam and begin with a deep cleanse, slathering on and rinsing off the black soap. Then soak in the steam room as a prelude to the hammam's main event: a zealous, exfoliating scrub by a same-sex attendant. Upscale hammams such as Gauthier Bain Turc will follow that with a massage, so you leave glowing.
Moroccan art boom
Casablanca's status as the most modern city in Morocco has been reinforced by a fresh wave of theatre spaces, exhibition halls and galleries showcasing edgy contemporary art work. Among the best of the bunch: Le Studio des Arts Vivants, the first multidiscipline art space in Morocco, featuring weekly musical and theatre performances as well as art exhibitions; the Matisse Gallery, which highlights the work of young Moroccan artists and is already known for its neon-coloured pop art; and Galerie 127, a photography gallery favouring black-and-white images of Moroccan landscapes.
For a taste of Casablanca's more traditional treasures, stop at the Abderrahman Slaoui Museum, where the collection of jewellery, including headdresses crusted with pearls and gems, is a study in fine arts.
Take a day trip from Casablanca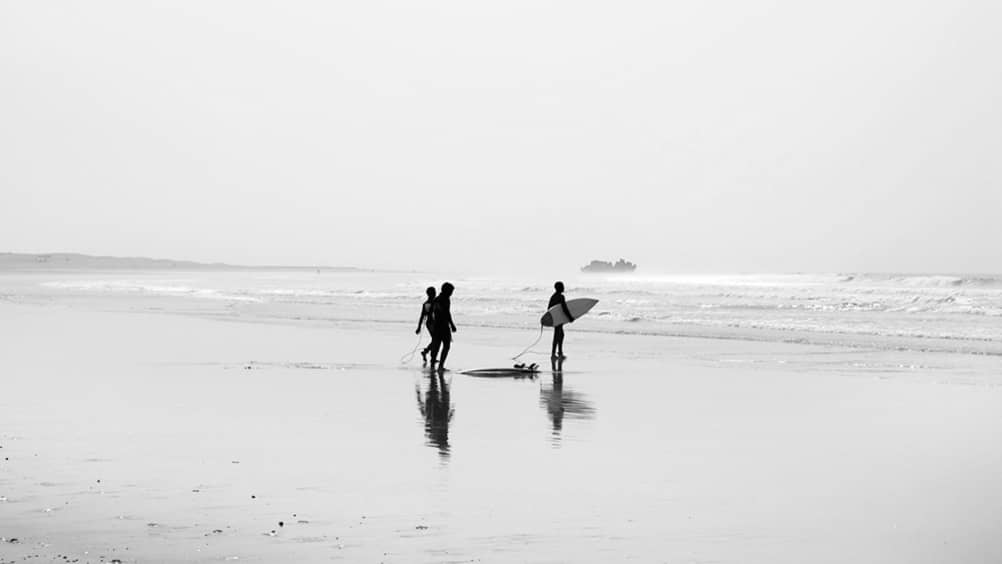 Casablanca is surrounded by destinations that allow for easy excursions. Dar Bouazza, 13 miles southwest of the city, is a sublime sun, sand and water sport stop. Perched on a prime break point, the beach town's steady, year-round waves make it Morocco's surfing centre. The seafront is lined with surf shops and operators pitching everything from windsurfing to kitesurfing. If you just want to watch the waves roll in, there are long stretches of public beaches and rows of waterfront cafes with al fresco seating.
For an art-filled day out, visit Azemmour, 50 miles south of Casablanca. The city was built by the Portuguese in the 16th century, and areas like the Portuguese medina, a section of which embraces the old Jewish quarter, showcase that legacy. Because Azemmour has become something of an artist colony, its medina features walls splashed with contemporary murals and wind around studios and galleries displaying the work of local artists.
Four Seasons Hotel Casablanca