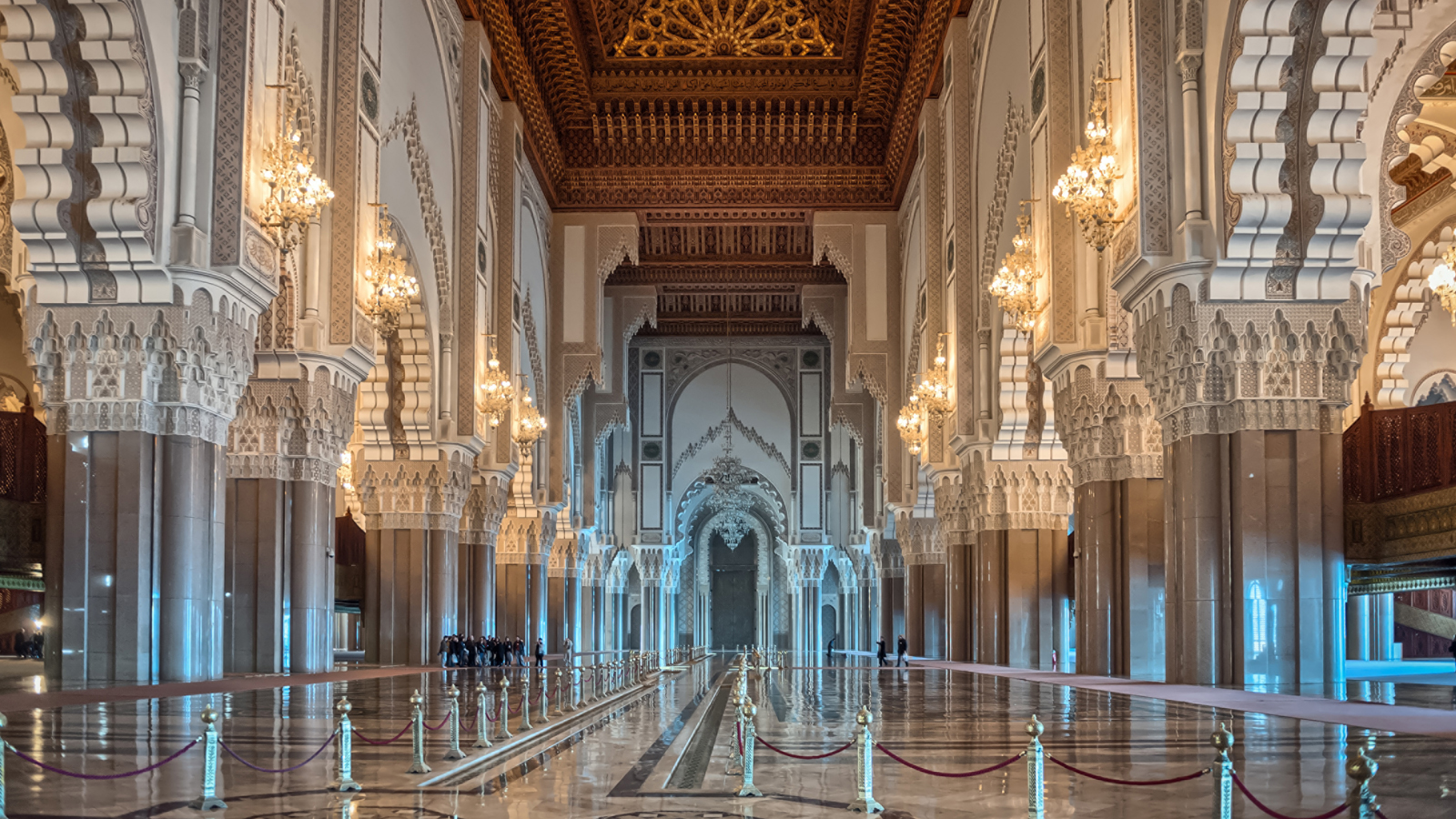 General Information
In 1942, Michael Curtiz's movie Casablanca, starring Ingrid Bergman and Humphrey Bogart, amplified the reputation of the city internationally and made it the only town to have a movie with its name. In 1943, the city welcomed the Casablanca Conference during World War II.
Today, the historical city centre is like an open-air museum offering beautiful art deco buildings, precious heritage from French architects highlighting neo-Moorish art deco styles, as well as avant-garde style from the 20's to the 50's later on.
The Habous Medina, built in the 30's on the traditional medinas model of the imperial cities of Fes and Meknes, is a pleasant district to explore. Enjoy walking through the souks and discover the best of Moroccan artifacts, the renowned olive market and a divine Moroccan pastries shop. The Habous is the perfect place for picking up traditional souvenirs. Also be sure to check out the minaret of the Moulay Youssef Mosque, inspired by the style of the famous 12th century Koutoubia Mosque of Marrakech.
The Hassan II mosque, built in the late 80's over the Atlantic, boasts a 200-metre (656-feet) minaret, the tallest in the world. From magnificent zelliges to carved cedar wood, impressive marble floors and granite columns, the best craftsmen and architecture experts designed this Casablanca landmark. The mosque is definitely one of the city's must-sees.
Whether you are here for a business trip or a longer vacation, the team at Four Seasons Hotel Casablanca would be delighted to personalize your stay in the city, combining historical architecture and art tours, outdoor activities and local cuisine.
We hope that you will find the facts gathered below helpful when planning your travel. For any additional information, please contact the Hotel.
Public Holidays
| | |
| --- | --- |
| New Year's Day | January 1 |
| Anniversaire de l'Indépendance / Independence Manifest | January 11 |
| Labour Day | May 1 |
| Fête du Trône / Throne Celebration | July 30 |
| Libération de Oued Eddahad / Oued Eddahad Liberation | August 14 |
| Révolution du Roi et du Peuple / King and People Revolution | August 20 |
| Fête de la Jeunesse / Youth Celebration | August 21 |
| Anniversaire de la Marche Verte / Green March Anniversary | November 6 |
| Fête de l'Indépendance / Independence Day Celebration | November 18 |
Situated on the Atlantic coastline and referred to as the White City, Casablanca is a vibrant and cosmopolitan town where tradition and modernity coexist.
Quick Reference
Time zone
GMT +0 hours
Language(s) spoken
Arabic, English, French, Italian, German, Portuguese and Spanish

Electrical system
Local voltage is 220 to 240 volts AC.
Shopping hours
Stores open between 10:00 am and 11:00 am. Closing times vary from 7:30 pm to 9:00 pm. Some shops may close during lunch time.

Working hours
Monday to Friday 9:00 am to 6:00 pm. Some offices may close during lunch time.

Seasonal highlights
Spring
Jazz Blanca – Since its first edition in 2006, this annual jazz festival, one of the largest in Morocco, welcomes renowned musicians from all over the world for a memorable week of concerts, learning and creative exchange.
Journées du Patrimoine (Casablanca Heritage days) – Organized since 2009 by the Casamémoire association, this cultural event takes place over a week in April and has become an annual institution not to be missed. Tours with specialized and passionate guides invite you to explore the city with a different perspective. From the Habous Medina to the Mohammed V square, you are invited to discover the best of the historical treasures of the White City, including Casablanca's culturally rich art deco buildings.
Festival Théâtre et Cultures (Theatre and Cultures Festival) – Catch an international or Moroccan show at a participating Casablanca theatre during this festival of the arts.
Grand Prix Hassan II – In May, the city is proud to welcome this international tennis tournament, part of the ATP World Tour.
Autumn
Salon du Cheval d'El Jadida (El Jadida Horse Show) – About an hour's drive from the Hotel is the coastal city of El Jadida. Recognized for its unique Portuguese heritage, El Jadida is proud to host this major horse show. Equestrian professionals and aficionados gather to attend the entertaining horse shows, competitions, lectures and exhibitions.

Winter
SIEL (International Book Fair of Casablanca) – Hundreds of publishers from a variety of countries head to Casablanca each year for this major book fair, complete with speakers and book awards.
Religious Celebrations
* Note : The dates of the religious celebrations vary every year. Official dates are confirmed a few days prior to each celebration by the local authorities.
As a reference, the approximate 2015 and 2016 dates are:
| | |
| --- | --- |
| First Moharram | October 15th, 2015 |
| Aid Al Mawlid | December 25th, 2015 |
| First Ramadan | June 7th, 2016 |
| Aid Al Fitr | July 7th, 2016 |
| Aid Al Adha | September 13th, 2016 |
| First Moharram | October 4th, 2016 |
| Aid Al Mawlid | December 14th, 2016 |