Function Rooms
Salon Ferrat
Situated at the entrance of La Residence, Salon Ferrat is ideal for all kinds of events. Divisible in two, the space offers natural light and opens to a wide terrace with a lush green view of the pine grove. This venue hosts up to 140 people – making it ideal for private cocktail receptions and gastronomic events.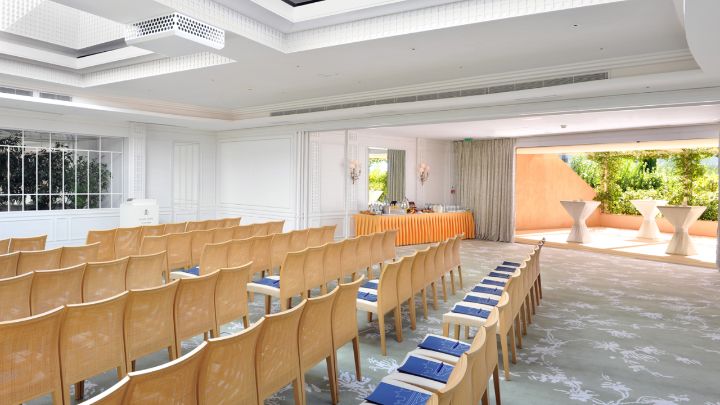 Versatile Space
The venue may be divided into two sections, serving as a versatile space for a variety of events.

Advanced Equipment
State-of-the-art audiovisual equipment is included for your event. Our Concierge would be happy to assist you with any special technology needs.

Inviting Atmosphere
Welcoming and private, this room combines classic design with contemporary lighting, enhanced by plenty of natural sunlight.
Seating
Banquet rounds
Reception
Theatre
Classroom
U-shape
Conference/Boardroom

100
165
90
60
36
44

Room Features
Wired or wireless Internet access

Location
GROUND FLOOR
Size
Area

145 m2 (1,561 sq.ft.)

In addition to 145 m2 (1,561 sq. ft.) of indoor space, Salon Ferrat also has a terrace measuring 50 m2 (538 sq. ft.).
Reception setup is cocktail-style.