Located on France's stunning Côte d'Azur, Saint-Jean-Cap-Ferrat is a secluded seaside village and a refuge for those looking for an idyllic getaway. To help make the most of your time here, we asked Christiane Grun, Chef Concierge at Grand-Hôtel du Cap-Ferrat, A Four Seasons Hotel, to share recommendations for the best things to see and do throughout this exclusive enclave of the French Riviera – from day trips to nearby Nice, Monaco and Cannes to Michelin-starred dining.
Secluded villas on the water's edge
The French Riviera has long been a playground for the rich and famous, many of whom built impressive residences there. Have the Concierge arrange for a private tour of a few of these villas. Villa Santo Sospir is the former home of socialite Francine Weisweiller, whose good friend Jean Cocteau, the artist and film director, made a 13-year "visit" here. During your tour of the property, you'll see colourful murals and frescos done by Cocteau himself, and a few by Picasso.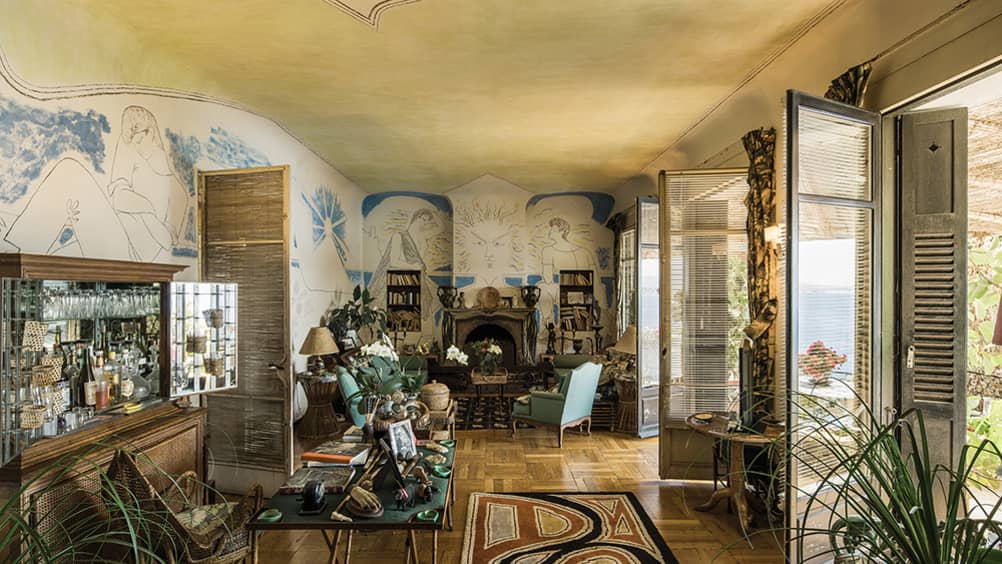 Photography Martin Morrell
Irish designer Eileen Gray's villa—code-named e.1027 —was designed by Gray and completed in 1929, but she lived there for only two years. Located in Roquebrune-Cap-Martin near Menton, the villa was abandoned for years before a recent renovation brought this exceptional jewel of Modernist architecture back to life.
A 40-minute drive from the Hotel, the Musée Renoir now occupies the house in Cagnes-sur-Mer where the famous painter resided for the last 12 years of his life. Original paintings, photographs and personal artefacts are on display throughout the house, and a stroll through the picturesque olive and citrus groves on the property will make you feel as though you've stepped into one of Renoir's works of art.
Arts and culture
Saint-Jean-Cap-Ferrat, with its tranquil setting and unspoiled natural beauty, may seem far removed from the rest of France, but in fact this seaside enclave is only 25 minutes from Monaco, 25 minutes from Nice and 55 minutes from Cannes. This central location makes it easy to visit museums, or take in an opera, ballet or theatre performance.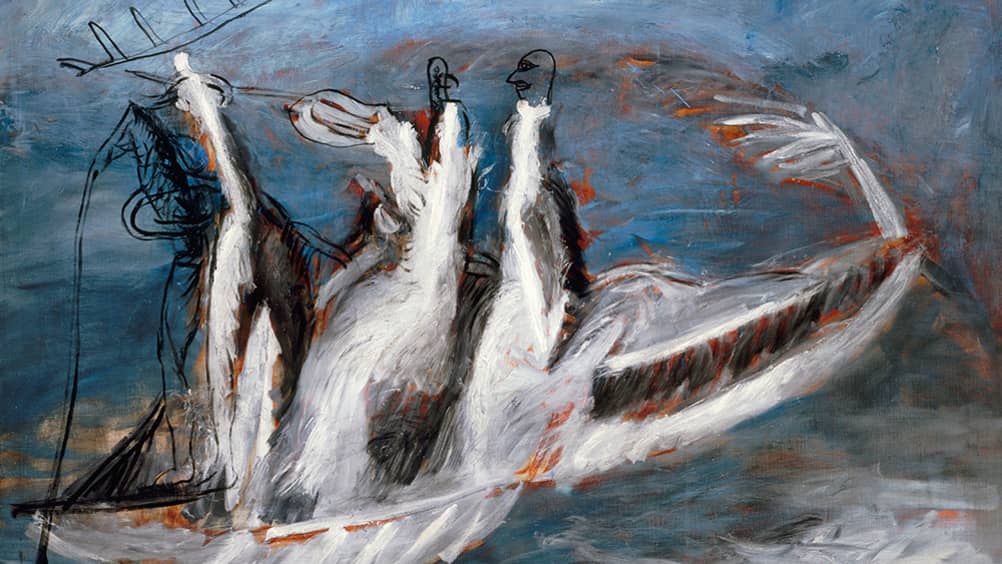 Photography Photo Centre Pompidou, MNAM-CCI, Dist. RMN-Grand Palais / Christian / Bahier / Philippe Migaet / Adagp Paris 2015 / Service Presse / Fondation Maeght
Head to Nice for an evening of classical music at the Opera de Nice or a play at the Nice National Theatre. In Monaco, see the Monte-Carlo Ballet—one of the best ballet companies in the world. Dedicated to the works of (and named for) two of acclaimed French painters, the Musée Matisse, perched on the hill of Cimiez in Nice, and the Musée National Marc Chagall should not be missed. For modern art, visit the Fondation Maeght in Saint-Paul-de-Vence.
Historic landmarks on the French Riviera
Step back in time with a visit to Nice's Old Town neighbourhood (Vieux Nice) to see the Baroque churches and pastel houses that haven't changed much since the city belonged to the Kingdom of Sardinia in the 1700s. Take a quick 20-minute drive from the Hotel to the commune of Eze to admire one of the best-preserved French medieval villages, now filled with charming shops, art galleries and restaurants.
The French Riviera is also home to remarkable forts, fortresses and castles. While in Eze, a hike up to Fort de la Revère will yield incredible views of the Mediterranean coast below and lead to a lovely picnic spot. History buffs should pay a visit to the star-shaped Fort Carré in Antibes, where Napoleon was briefly imprisoned during the French Revolution.
Palais Princier de Monaco, on the historic Rock of Monaco, is the private residence of the ruling prince, but the State Apartments are briefly open for public visits part of the year. The 17th-century Palais Lascaris, in the heart of Vieux Nice, is a former aristocratic residence that has been transformed into a museum of ancient musical instruments.
The French Riviera's culinary scene
From quaint cafés to high-end bistros, you'll find an assortment of quality restaurants practically anywhere you go on the Riviera, particularly in Nice and Monaco.
Gourmet French fare is on the menu at Bistrot d'Antoine and La Petite Maison in Nice, and refreshing cocktails are served right on the beach at Cap d'Ail's Eden Plage Mala Beach Club. Dine with the locals at Chez Pipo for authentic Niçoise specialties such as socca, pan bagnat, pissaladière and tapenade, or at Aphrodite for modern, conceptual cuisine by renowned and visionary Chef David Faure.
In Saint-Jean-Cap-Ferrat, both Paloma Beach and La Cabane de l'Ecailler serve deliciously fresh seafood, while our our Michelin-starred Executive Chef Yoric Tièche offers unique seasonal menus at the Hotel's elegant gastronomic restaurant, Le Cap.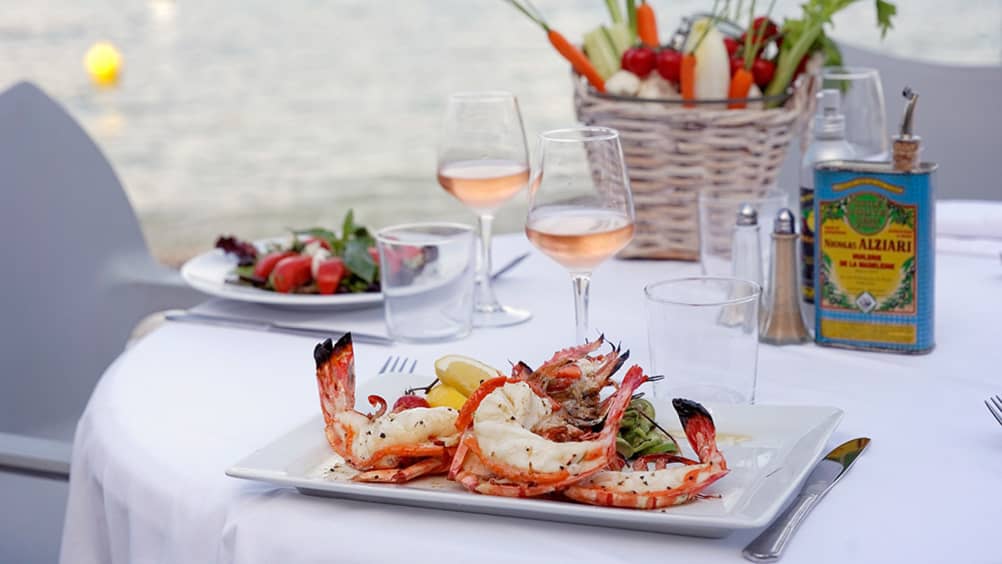 Photography courtesy Paloma Beach
Designer shopping in Monaco, Nice and Cannes
Luxury boutiques and shopping opportunities abound in nearby Monaco, Nice and Cannes. In Monaco, the new Monte-Carlo Pavilions, set up in the Boulingrins Gardens near the Place du Casino, is home to 20 designer shops housed in futuristic structures that stand out against the garden's traditional Belle Époque architecture. The five spacious pavilions are the temporary home of luxury designers such as Alexander McQueen, Balenciaga, Chanel, Miu Miu and more during the area's four-year renovation.
In Nice, Le Carré d'Or, close to Jardins Albert 1er and Place Massena Square, has a concentration of luxury brands such as Louis Vuitton, Chanel, Lacoste and numerous other boutiques. In Cannes, you'll find the most prestigious shops on La Croisette and Rue d'Antibes. Back at the Hotel, two boutiques are conveniently on-property: Purchase an elegant watch or piece of jewellery from Arije as a memorable keepsake from your trip, or stock up on fashionable swimsuits and other swim essentials at the Club Dauphin boutique.
Scenic Riviera
Breathtaking scenic views are common while visiting the Côte d'Azur, and some of the best vistas can be found on the corniche road between Nice and Monaco. In Eze, perch yourself on a rocky outcrop facing the sea for a spectacular panorama. Or take a scenic stroll along Chemin des Douaniers, a coastal pathway that links Beaulieu-sur-mer with Saint-Jean-Cap-Ferrat and runs along the length of the cape as far as the bay of Villefranche-sur-mer.
Cap Ferrat water sports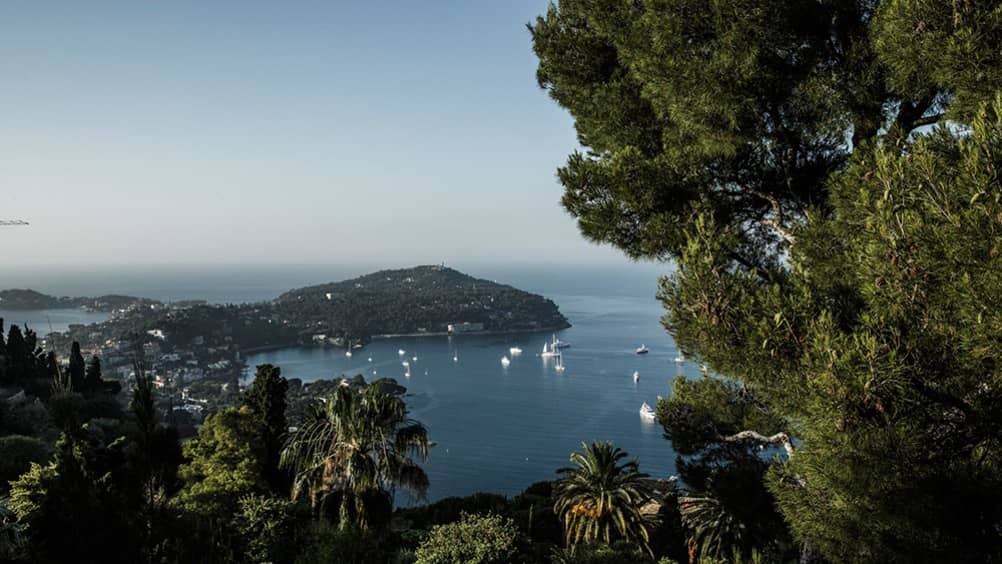 Photography Martin Morrell
The peninsula of Saint-Jean-Cap-Ferrat is part of the Pelagos Sanctuary for Mediterranean Marine Mammals, a protected marine area of 87,500 square kilometres (33,784 square miles) and thus a prime spot for whale and dolphin watching, especially in the summer months from May to October. And, of course, no trip to the Riviera would be complete without setting sail on on the Mediterranean on a sunny afternoon. Ask the Concierge to arrange for a sailboat charter to take you on a tour around the Lérins Islands, Cannes, Antibes, Nice, Cap Ferrat, Eze or Monaco, complete with a gourmet picnic to enjoy on board as you watch the sun set over the ocean.
Le Spa sublime
The Côte d'Azur landscape can be both exciting and serene. Make some time to unplug from the everyday by indulging yourself at the Hotel's Le Spa, where the ultra-refined, head-to-toe Sublime Lagoon Treatment will immerse you in a world of relaxation and sensory escape. Afterwards, take a stroll to the west side of the Hotel garden to reflect and admire the natural beauty that surrounds as you sit on the "meditation bench" facing the sea.
Family fun
The French Riviera isn't just a playground for the elite—it's also a family-friendly vacation destination offering plenty for the youngest travellers to see and do. Astrorama in Eze encourages children to discover astronomy through planetarium shows, the use of telescopes and more. Antibes Land Park has more than 30 amusement rides and attractions, while La Ferme du Far West—a U.S. Western–themed park within the Marineland complex—is a great place for kids to interact with goats and chickens and even go on adult-led pony rides.
Kids as young as 2 can get in on the fun at Le Bois des Lutins (the Elves' Woods), a one-of-a-kind playground in the high branches of 100-year-old trees outfitted with netted play areas, huts, slides and rope bridges to explore up in the forest canopy. Back at the Hotel, the Kids' Club chalet, housed in a sea-themed chalet and enclosed garden area, offers everything from Xbox and Wii to dolls and educational games led by a qualified activity leader. At the Hotel, kids even get their own Les Petits Dauphins play area at Club Dauphin where they can splash around and pretend to be pirates.
Riviera nightlife
Once the sun sets on the Mediterranean, head to Monaco for a fashionable night out. Grab a cocktail at the extravagant red-and-gold Buddha-Bar in the Place du Casino while mingling with the chic crowd, and enjoy some late-night dancing at the always-packed restaurant/piano bar Sass Café.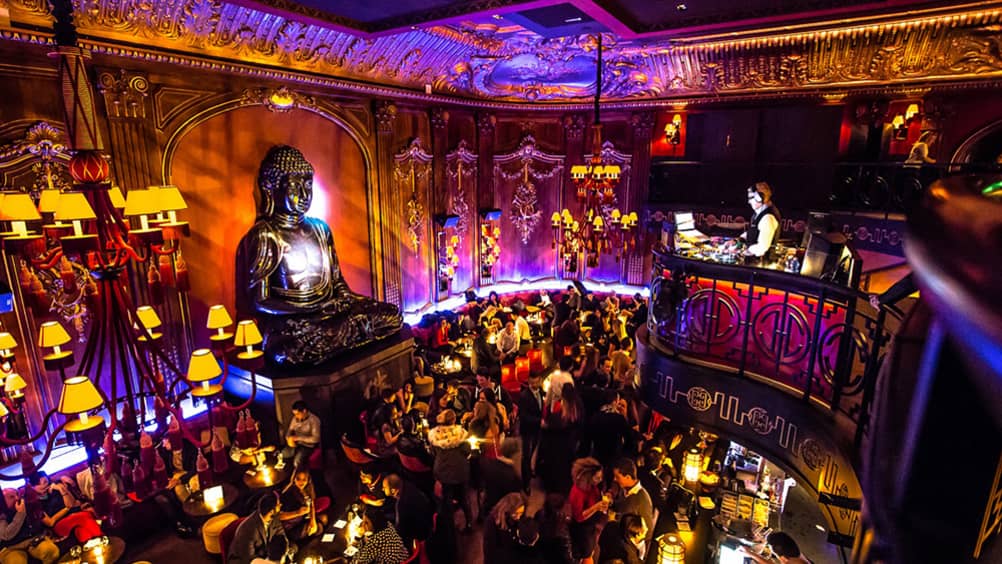 Photography courtesy Monte-Carlo SBM
Jimmy'z in the Sporting Monte-Carlo complex is open nightly from 11:30 pm till dawn—it's the best place to party beneath the stars and rub elbows with a celebrity or two. Summer is also a great time to check out a number of music festivals happening throughout the area.
A perfect day in Saint-Jean-Cap-Ferrat
Begin your morning with breakfast at La Véranda. Next, explore the peninsula with a walk on the Pointe de Saint-Hospice path. Take a small detour to admire the Saint Hospice Chapel, with its imposing statue of the Virgin and Child, and pause at the Belgian cemetery for the soldiers who died in Saint-Jean-Cap-Ferrat during World War I.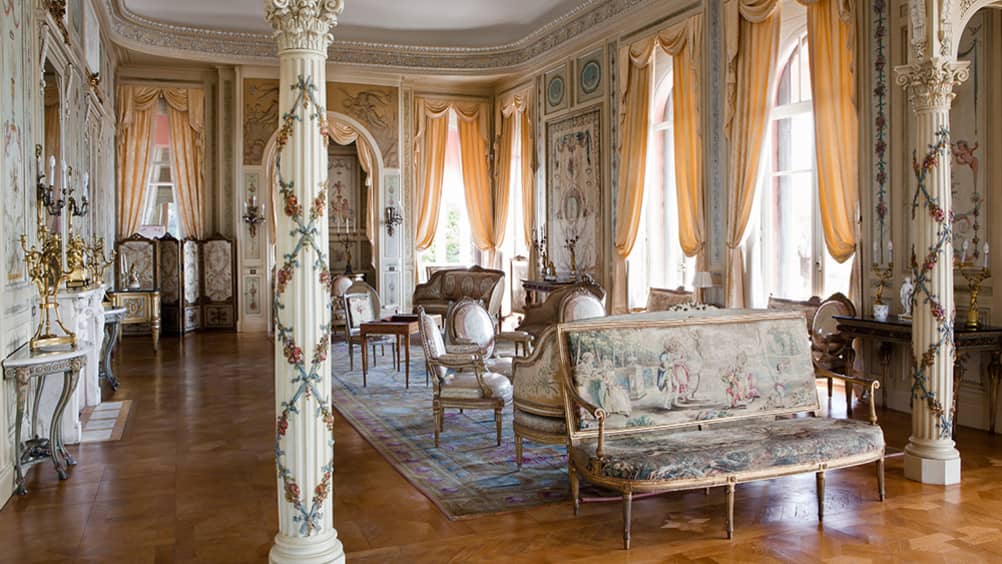 Return to the village via the bays of Plage des Fossettes and Plage des Fosses, and then pay a visit to the Musée des Coquillages (Seashell Museum) by the harbour. Take a break for lunch at one of the many restaurants in the village before walking the coastal Chemin des Douaniers pathway. Wrap up your day with a visit to the belle-époque Villa Ephrussi de Rothschild and its magnificent gardens, followed by a locally sourced meal at Le Cap.
Grand-Hôtel du Cap-Ferrat, A Four Seasons Hotel