My Four Seasons
A Day at the Spa, Ancient Egyptian-Style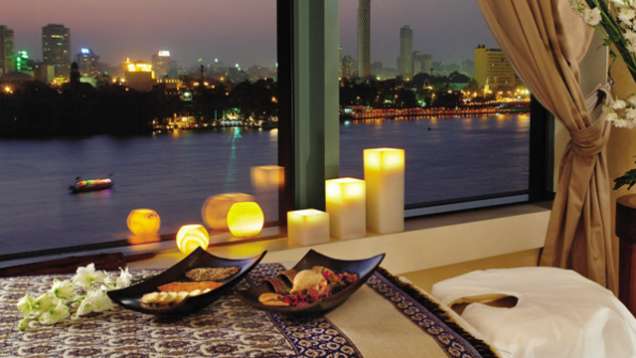 Sitting in bubbling whirlpool, wearing a facial mask of the latest high tech anti-ageing concoction, it can be difficult to imagine the existence of a spa in an era without running water or electric lights.
And yet, the ancient Egyptians had a number of beauty rituals, many of them strikingly similar (in spirit, anyway) to those offered at contemporary health and beauty havens, such as the Spa and Wellness Centre at Four Seasons Hotel Cairo at The First Residence.

The following is a brief look into some of the pampering indulgences of the queens and pharaohs:

Massage
The ancient Egyptians were among the first to use muscle and tissue manipulation as a therapeutic tool. Records of hand and foot massages have been found on temple walls, with reflexology and the application of essential oils sometimes taking the place of surgery.

Bathing & Moisturising
Hygiene was important in Egyptian society, and baths were treated as a ritual. Crocodile excrement and cleansing pastes made of natron (mineral salt) with sodium bicarbonate (baking soda) were popular. Afterwards, oils and creams were rubbed into the skin to protect it from the desert sun. So important were these substances made from animal fat and plant ingredients such as olive, sesame, and balsam that they were often used as a means of payment for employees.

Facials
Most are aware of the Egyptian penchant for eye makeup, but what about before the makeup goes on? Archaeologists have uncovered evidence of cleansing creams made of milk and honey as well as chalk and oil. Facial masks were made of ant eggs mixed with paint (thought good for clogged pores) and butter mixed with barley (for acne spots).

Anti-ageing
Looking young was goal, even though most individuals during this time didn't live past forty. Wrinkle fixes included frankincense gum, moringa oil and cyperus grass (also used in making papyrus, another Egyptian staple) mixed with fermented plant juice or gall of ox blended with powdered ostrich egg.

Waxing
Hair removal, including shaving and waxing, was practiced by many segments of the Egyptian population, including priests. The latter started the application of creams to soften the skin. Next, a mixture of sycamore gum, cucumber, oil, fly dung and raven's bone was applied to grip and lift the hair. Finally, tweezers were used to finish the job.
You can find more modern (and no doubt, luxurious) versions of the above treatments at the Spa and Wellness Centre at Four Seasons Hotel Cairo at The First Residence. Whether you opt for a Pharaonic massage or an Essence of Egypt treatment package, rest assured you'll be paying homage to a glamorous tradition that began long ago.