Film director Paul Feig, known for projects such as Bridesmaids, The Heat and the television series Freaks and Geeks, couldn't resist the allure of Budapest for his latest film, Spy. After scouting Hungary's capital, hoping to make the city look more like Paris, Feig and his team fell in love with Budapest, and eventually rewrote the script so that much of the film is set there.
Considered one of the most beautiful cities in Europe, Budapest is known for impressive architecture in styles ranging from Renaissance to Art Nouveau—an excellent backdrop for a glamorous, action-packed film. Feig chose Four Seasons Hotel Gresham Palace Budapest as the six-month home for the cast and crew, even giving the Hotel a starring role in the movie by filming in the front drive, the grand lobby, the Royal Suite and one of the Park Suites.
"The minute you walk in, it's the most impressive place you've ever seen," says Feig of the Hotel. "I really wanted this to be a glamorous film that's aspirational, and the Gresham Palace was the embodiment of that. They had never let anyone shoot there before, so it was really fun to show it off in all its glory."
Here, Feig talks about the experience of shooting in a fully functioning hotel, his new-found love for Budapest and his favourite haunts around the city.
What made you choose Budapest and Four Seasons Hotel Gresham Palace as the location for Spy?

The movie was originally written to take place all over Europe, so when we first went to Budapest, we were thinking of just trying to make it look like Paris. The minute we started scouting around, I thought, "This is such a beautiful city, and it's such an exotic city, why would I try to make it look like anything other than Budapest?" We had a scene in the script where the cast is supposed to stay in a really fancy hotel, and I thought, "I wonder if we can shoot at Four Seasons?"
How did you manage filming while the Hotel was fully operational?

It's always a challenge, more for the Hotel than for us, but the last thing we wanted to do is make any sort of hardship for them whatsoever. They were great, and they really worked with us to figure out how to reroute traffic. Bringing in a movie crew is a big deal. For people who have never done it before, it seems exciting. I think they think we are going to show up with three people and a camera, and all of a sudden an army walks in: You need at least 100 to 200 people to do anything. I can't thank the Hotel enough for how accommodating they were.
You spent six months in the city researching, preparing and shooting the film, so you've undoubtedly experienced the best of Budapest. What are your top recommendations for visitors to Budapest?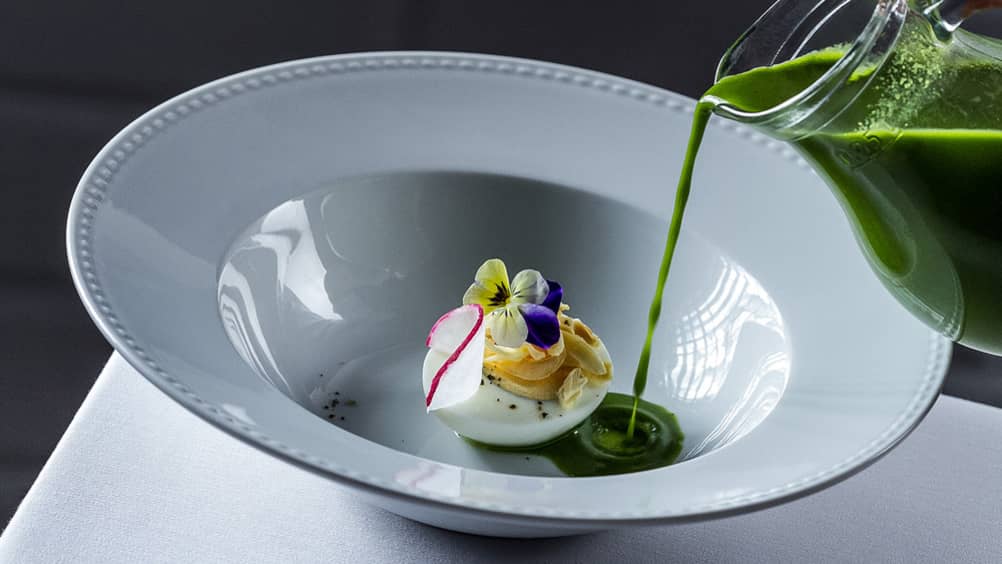 Photography Macesz Bistro
Favourite hangout:  Ground zero for us was The Bar and Lobby Lounge at the Hotel, because that's where we would all meet. We'd have drinks in the lobby or right in the bar area before going out for a meal.
Best haute cuisine: Costes was the first restaurant in Hungary to earn a Michelin star, and eating here feels like being in a high-end New York City restaurant. Onyx is an old-school fancy restaurant, and Aszu is fantastic as well. Tigris is a really good fine-dining Hungarian restaurant located in the city centre. For great steak, you have to go to KNRDY American Steakhouse and Bar, on the Pest side of the city.
Best restaurants for traditional Hungarian: It became a bit of an obsession of mine to try to find the best goulash in the city. My favourite was at Spinoza Café & Restaurant, in the Jewish quarter, where they have a great piano player who plays all the time. I take my goulash with a strong side of Eros Pista, a Hungarian hot chilli paste I now put on everything. There's also Pest-Buda, one of the oldest restaurants in the country, and Baltazár, a Hungarian bistro with a great burger; both are located on the Buda side of the Danube. Another great Hungarian restaurant is 21 Hungarian Kitchen. For strudel, you have to go to Strudel House, or Első Pesti Rétesház Kávéház, rumoured to be the place where strudel was invented.
Best places to dine al fresco: Once it becomes spring and summer in Budapest, almost all of the restaurants have outdoor seating areas. For al fresco dining, Café Pierrot has a back lawn that looks like something out of Alice in Wonderland; it's just so gorgeous.
Best ethnic dining: There's an amazing Greek restaurant called Taverna Dionysos, right on the Danube on the Pest side; we went there quite a bit. We also loved a great Mexican restaurant called Iguana; I live in Southern California, and I love Mexican food, so we ate there all the time.
Favourite view: Definitely looking out of the windows of the Gresham Palace at the Chain Bridge. I always stayed in rooms that faced the Danube, and loved looking out and seeing that view. One night I was in one of the suites on the top of the Hotel, and I took black-and-white photos of the Chain Bridge in the fog. It was just so pretty.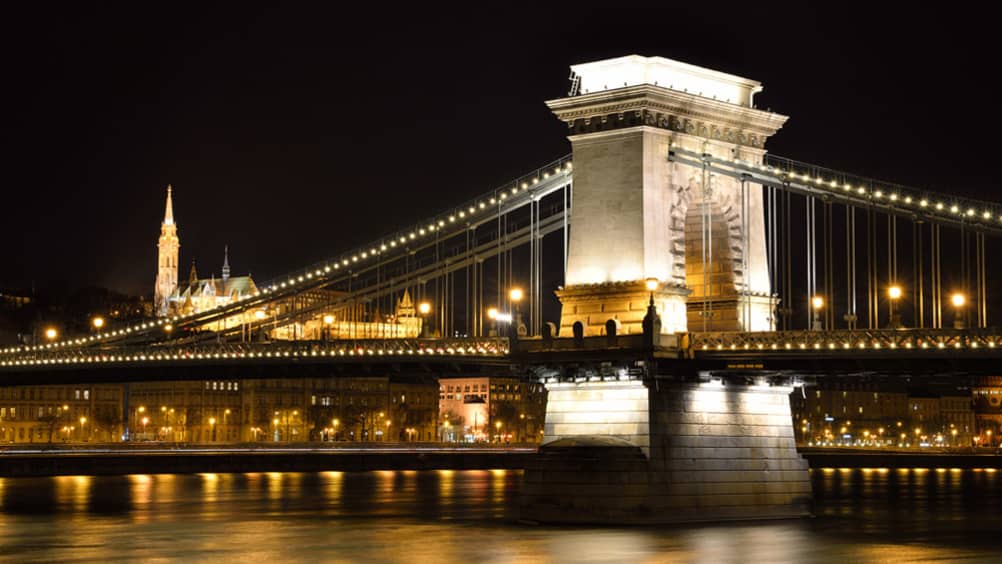 Photography Badahos / Thinkstock
Favourite shops: Il Bacio di Stile on Andrássy Street is a very high-end store with spectacular shopping. On the ground floor is a bar where they serve coffee. It's just a complete experience, to go there and shop, and then have a drink.
Most memorable experience: Our absolute favourite thing to do was to rent a Venetian-inspired water taxi from Dunarama every weekend for two hours, then drive up and down the Danube with wine and our friends. For the first hour and a half, they would cruise and play classical music, but during the last half hour, they'd suddenly blast AC/DC and go full speed up and down the Danube. It's one of the most fun things we've ever done.
Four Seasons Hotel Gresham Palace Budapest