Stay Longer – Fourth Night Free
Receive a complimentary fourth night.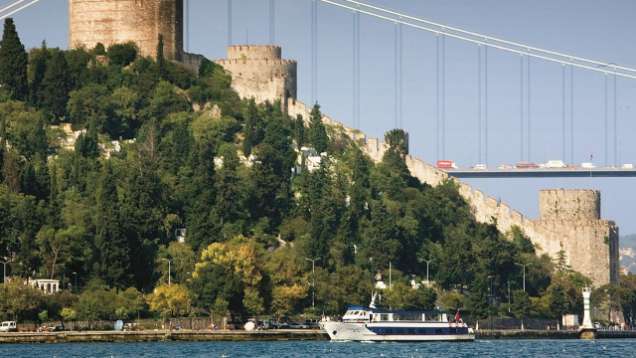 Seasonal highlights
April–May
The Istanbul International Film Festival is the first and oldest international film festival in Turkey, organized by the Istanbul Foundation for Culture and Arts. It is held every year in April in movie theaters in Istanbul, Turkey. The festival aims to encourage the development of cinema in Turkey and to promote films of quality in the Turkish cinema market.

The Istanbul Tulip Festival will take place from March 26 to April 29, 2018. As part of the festival, millions of tulips will bloom throughout Istanbul, and the festival will also host many artists and works of art, including the art of marbling, which has a unique place in Turkish traditional arts. With live concerts by Turkish bands, Istanbulites and visitors of the city will enjoy the first blossoms of spring. Tulips will also be sold at sale points in certain parks during the festival.
7th Istanbul International Dance Festival (IIDF), considered one of the most popular latin dance festivals around the world with more than 5.000 social dancers from over 80 countries, is set to be held between March 28 – April 2, 2018.



June–July
The International Istanbul Music Festival, the most prestigious event of the city's cultural calendar, offers performances of orchestra and chamber music, dance and ballet in stunning venues, including Haghia Eirene. The festival runs through June and July.


The first surprise of 25th Istanbul Jazz Festival is Nick Cave & The Bad Seeds. He returns after 17 years. The festival offers a selection of jazz music performances with the participations of famous artists from all over the world. The festival was first held in 1986 and is organized by the Istanbul Foundation of Culture and Arts.


Istanbul Shopping Fest takes place in one of Europe's most mesmerizing cities, and offers its guests the perfect opportunity for the ultimate 'Istanbul' experience and a shopping spree. The festival, now in its eighth year, will take place in July 2018 and will be offering great discounts and offers, along with amusing events that will give you the chance to explore Istanbul.



September–November
28th Akbank Jazz Festival, one of the most perennial jazz festivals in Turkey, was launched in 1991, with concerts organized in Istanbul. Not only hosting the prominent jazz figures across the world, but also paving the way for emerging and promising next-gen artists, the Festival has now made it into a versatile organization by adopting panels, workshops, film screening sessions, concerts and social responsibility projects. The festival will take place in November 2018.
16th Istanbul Bienal, organized by the Istanbul Foundation for Culture and Arts (İKSV), will be hed from September until November and will be a city-wide exhibition held in a variety of different venues.
Contemporary Istanbul, the 13th edition of Contemporary Istanbul, will be held between September 20-23, 2018. Contemporary Istanbul sees strong support from an international art audience of philanthropists, collectors and the public, strengthening the fair's vision for a continued collaborative cultural arena in Istanbul. Bringing together 73 galleries from 25 cities across more than 20 countries presenting 1500 artworks, the latest fair attracted a record number of over 80,000 visitors.

Quick Reference
Time zone
GMT +2 hours
Eastern Europe Time

Language(s) spoken
Turkish. English is widely spoken as well.

Electrical system
Local voltage is 220-240 volts AC. Adapters available; please request through the Concierge.

Shopping hours
Daily 9:00 am to 6:00 pm
Working hours
Monday to Saturday 9:00 am to 6:00 pm