Weddings
5 Day Couples' Sample Itinerary
The following is a sample itinerary for guests staying at beautiful Four Seasons Resort Bora Bora. To personalize your visit with romantic couples' activities, please call or visit the Concierge, who is ready to help you plan activities.
Day 1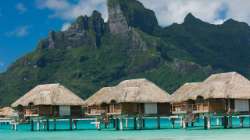 The approach from the air into Bora Bora is unforgettable! Once off the plane you will board a Four Seasons custom yacht for the 15-minute cruise to our private motu (island).
Spend your first day relaxing in your Overwater Bungalow Suite and exploring the Resort.
Day 2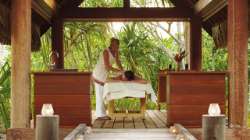 Get an early start and order breakfast through In-Bungalow Dining.
Meet your Polynesian guide on a motorized outrigger canoe for an excursion. Swim with the gentle rays, or simply observe as your guides feed the harmless local reef sharks.
Lunch is set casually on a private motu (islet.) Lounge on the white sand beach and enjoy a Tahitian BBQ lunch.
Indulge with our signature Kahaia Haven Ritual Spa treatment. Best shared with a loved one in our overwater Kahaia Spa Suite. Experience a truly divine ritual that is luxurious, unforgettable and therapeutic.
NIGHT

Sip a Taha'a Vanilla Mojito at our Sunset Bar and Restaurant while overlooking the lagoon. Sunset Bar and Restaurant offers an assortment of fresh sushi and an Asian inspired menu.
Day 3
Enjoy the rising sun and turquoise colors of the lagoon, and watch as your meal is delivered to you in a ceremonial Polynesian canoe. While your dining area is being set up, enjoy a short canoe ride around the pontoons, before enjoying your breakfast.
Adventurous couples can spend the afternoon experiencing the exhilaration of kite-surfing, windsurfing, parasailing or jet-skiing.
Lunch — From Tahitian meaning "house of friends," serves midday lunch and afternoon bites, as well as tropical cocktails, in a relaxed informal atmosphere.
NIGHT

Overlooking the still waters of the lagoon, Arii Moana offers a culinary experience highlighting the coming together of French and Polynesian flavors.
Day 4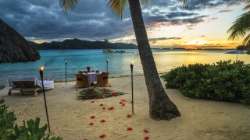 Have a leisurely breakfast in your bungalow. Be sure to try some traditional Polynesian breakfast dishes. Afterward, visit the boutique to discover some unique treasures and let our pearl experts teach you about the pearl-crafting process from A to Z.
Discover nature's treasures with Oliver, our marine biologist, in our Ruahatu Lagoon Sanctuary.
NIGHT

Enjoy a Taurua Romantic Dinner. This special evening for two offers a private and romantic Polynesian‐style dining experience, surrounded by magnificent scenery and lagoon‐side splendor.
Day 5
Start your day with our Breakfast Buffet in Tere Nui Restaurant
Cap off the afternoon with one last adventure — take in the beauty of Mount Pahia and Mount Otemanu on helicopter tour.
Enjoy the last flavors of the islands at Tere Nui Restaurant, with a delicious Ahi Tuna Tahitian Salad.
Late afternoon/early evening, departure by boat from the Resort to Bora Bora airport.