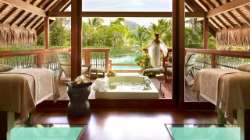 Earn spa credit worth EUR 150
Consider changing your overwater "point of view" and earn a EUR 150 spa credit. Enquire with our Resort reservation consultants and learn more about our Over-Water Bungalow incentive offer, in exchange for your flexibility in moving rooms during your stay with us!

SPA
Signature Spa Rituals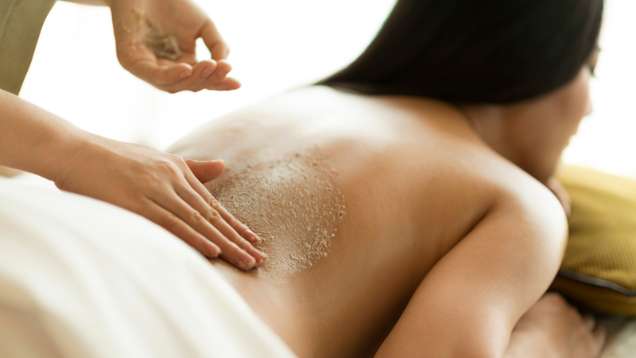 All experiences begin with the Maeva foot ritual to purify both mind and body while renewing the spirit. Your feet will be thoroughly exfoliated and then massaged with a detox oil to cleanse the body of impurities and prepare you for the transformative treatments to come.
Kahaia Haven
Restore inner balance with this life-embracing treatment, ideal for sharing with a loved one in one of our double treatment rooms or overwater Spa Suite. A skin-smoothing body treatment begins with cleansing using naturally exfoliating kahaia body scrub, legendary Tahitian black pearl powder and native fragrant vanilla. Once the skin is prepared, an exquisite massage of your choice, using native monoi oil of your choice is given. This experience concludes with a holistic and de-stressing Lagoon Express Facial.
SIGNATURE GOLD RITUAL
Let yourself be seduced by this fabulous relaxing gold face and body ritual. Begin with a coconut and gold scrub to leave your skin luxuriously smooth, then continue with an exquisite massage featuring our signature 24k carat gold oil. Conclude this luxurious experience with a face and neckgold mask.
Taurumi Mind and Body
A unique harmonizing experience, inspired by the ancient wisdom of Polynesian massage practitioners and their deep understanding of touch. These skills, which restore balance and harmony in mind and body, have been passed on from generation to generation. This distinctive island experience begins with a body scrub made with organic essential oils. Once the body and mind are prepared, the Polynesian-inspired massage begins. The massage is a unity of ancient and modern techniques embracing the concept of taurumi, meaning "health in the hands."
DEEP HYDRATION RITUAL
This 100% natural treatment delivers lush, lasting moisture that renews the face and body,leaving the skin irresistibly soft. Our Exfoliating Body Scrub completely clears skin of buildup and preps the skin to receive the hydrating benefits of pure Raw Honey. Our Antiaging Body Duo delivers two more layers of deep hydration, leaving face and body skin with a naturally healthy glow and luminosity.
Sunburn Relief Ritual by Carita
Ease sun-exposed skin with a cooling full-body treatment to soothe and repair. This deeply uniting treatment is an invitation to relax and let go. Generous gestures relax the body, whilst the nourishing texture of the massage balm leaves the face and body perfectly soft and silky.
Note: Prices and treatments are subject to change without notice.