If Bora Bora isn't on your travel bucket list, you might need to reevaluate. In this tropical wonderland – where turquoise waves surround sand-fringed islets and volcanic peaks rest gracefully amid quiet lagoons – any preconceived notions of paradise are easily debunked. From historic attractions to flavourful cuisine, French Polynesian cultural experiences abound. Teeming with a myriad of aquatic life, the South Pacific beckons travellers with water adventures such as snorkelling, diving, and stand-up paddleboarding. Here, island time is a more than a state of mind; it's a way of life.
The best way to experience all that this enchanting destination has to offer is with a stay in one of the opulent beachfront villa estates at Four Seasons Resort Bora Bora. With thatched roofs, original French Polynesian artwork and traditional teakwood furnishings, each one-of-a-kind villa estate sets the scene for an authentic island-inspired getaway. Lush gardens surround private infinity-edge pools, creating your own secluded paradise. Besides spacious living areas and exquisite views, the villa estates are mere steps away from the captivating South Pacific Ocean. Whether you're planning a much-needed getaway for two or a worry-free family vacation, the Resort's portfolio of beachfront villa estates accommodate any of your travel desires. For an even more stress-free experience, each villa estate is all-inclusive and personalized for each guest, with round-trip airport transfers, meals, private beach set up, select activities and more – all built into the nightly rate.
A Romantic Oasis for Two
Bora Bora is a lovers' paradise and the One-Bedroom Beachfront Villa Estate is at its centre. Time loses meaning when you're relaxing on the shaded lanai, during a soak in the oversized stone tub, or while strolling together along white-sand beaches – just steps from the villa estate. Hidden away amid sweeping coconut trees and tropical foliage, the villa estate is a secluded haven beckoning those looking to reconnect, recharge and rediscover romance. If you can leave the massive king-sized bed, venture together to the Kahaia Spa Suite for three hours of relaxation and pampering set against poignant island views. Return to the villa estate and pop a bottle of bubbly over candles and a gourmet meal. End the day with a moonlit dip in your private infinity-edge pool.
A Villa Fit for a Reunion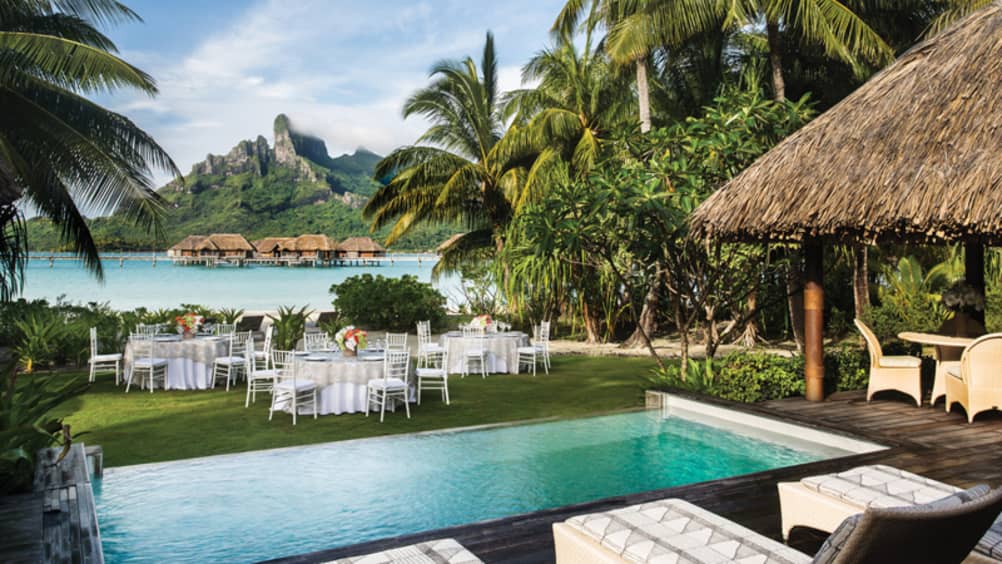 Family celebrations, reunions, multigenerational vacations – whatever group experience you have planned, the Three-Bedroom Beachfront Villa Estate is the perfect base. Loved ones have 500 square metres (5,380 square feet) of space – three bedrooms, four bathrooms, outdoor dining areas and shaded lanais – to sprawl out and relax after a day of fun-filled island activities. While adults relax on the expansive deck to Mount Otemanu and beachfront vistas, younger kids will spend the day at Kids For All Seasons, where they can snorkel with the Resort's marine biologist, fish and try traditional French snacks during a food tasting. Older kids can enjoy the villa estate's sandy beach for a day of stand-up paddleboarding and kayaking, or take part in one of three included signature experiences: a guided jet ski circle-island tour, half-day shark and ray excursion or a half-day vitamin sea catamaran tour. A delectable private BBQ on the beach and Polynesian show set to a stunning sunset brings everyone together to share memories of the day.
A Vacation Spot for the Family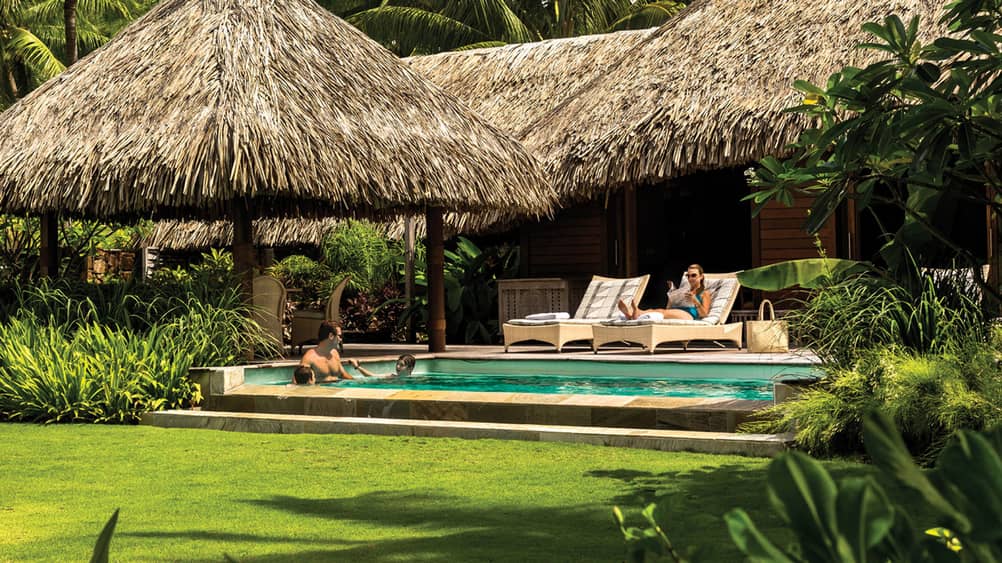 Just steps from the sparkling South Pacific, the Two-Bedroom Deluxe Beachfront Villa Estate is ready to welcome you for your next unforgettable family vacation. 300 square metres (3,228 square feet) of breezy open-air living spaces lead inside to two bedrooms and three bathrooms or outside to a large private garden encircling a refreshing pool and large outdoor deck. Older kids will love a separate bathroom with steam shower, just off the authentically decorated living room; and cribs are available for younger guests. Complimentary snorkelling gear gives way to the start of an action-packed trip: Come face-to-face with marine life in the Ruahatu Lagoon Sanctuary, see Bora Bora's beauty from a new viewpoint with a parasailing session or play a friendly game of beach volleyball near the villa estate. If it's cultural experience you crave, watch a private, traditional Polynesian dance together from the comfort of your own beachfront lawn and relax beneath the stars.
A Getaway with Friends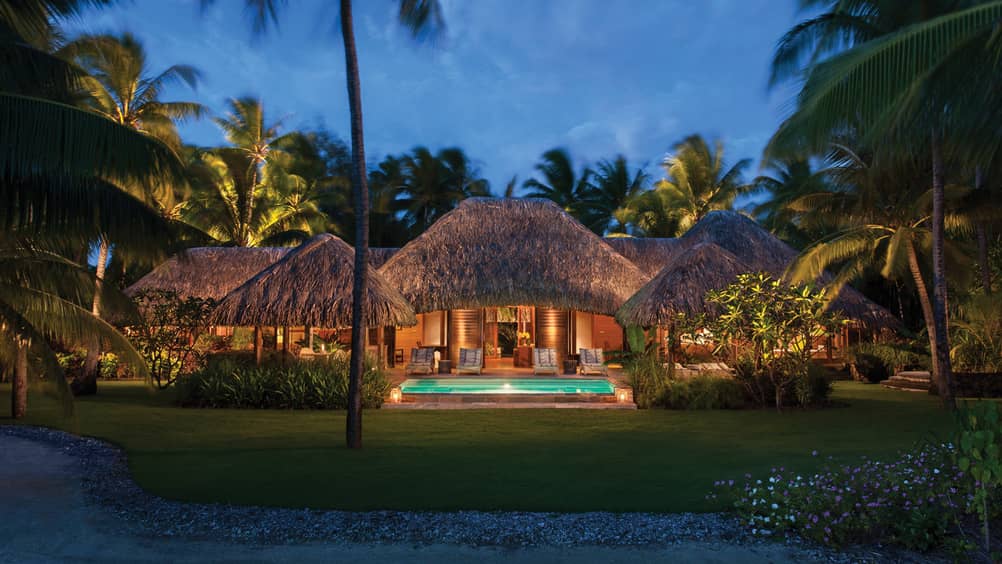 Sometimes you need time away from emails, phone calls and meetings. Gather your closest friends and embark on a relaxing getaway in the Two-Bedroom Premier Beachfront Villa Estate. Able to sleep five adults, this sumptuous villa comes equipped with plasma screen TVs and a fully stocked private bar. Laze in the large bedrooms or in a hammock on the private deck. Surrounded by a beautiful garden of coconut trees, bougainvilleas and Tahitian gardenia, the villa estate's secluded pool is the perfect place to unwind. During the day, climb aboard a private yacht to discover the island of Taha'a, known for its endless valleys of vanilla, or find adventure below the surface and explore the ocean floor with a submarine dive. Taste Polynesian culture together at the new Fare Hoa Beach Bar & Grill or have a meal prepared in-villa and dine to sunset lagoon views. Spend the final hours of the day in the private pool and let all your worries melt away.
Four Seasons Resort Bora Bora