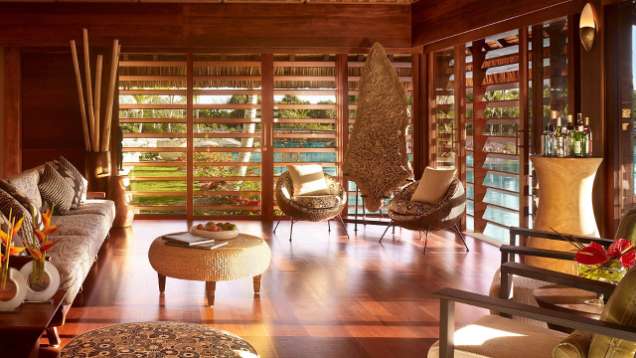 Pahia is a perfect gathering place for hospitality events, coffee breaks, lunches or cocktail receptions. Stage captivating presentations in a multi-purpose, air-conditioned event room fully equipped with the latest in audiovisual features.
Hospitality
This inviting and air-conditioned indoor function room offers guests 70 square metres (753 square feet) of flexible space. Its windows overlook the adjacent Otemanu, an open-air pavilion, providing guests with stunning views of the Resort.

Theatre Seating
Presentations at Pahia can be enhanced by staging the events in our dedicated theatre, which accommodates large groups of up to 50 people.

High-Tech Classes & Seminars
Conduct seminars, classes and panel discussions in a fully equipped classroom that accomodates up to 30 people. Pahia is equipped with state-of-the-art audiovisual gear and offers wired or wireless high-speed Internet capabilities.
Seating
Classroom
Hollow Square
U-shape
Theatre
Reception
Banquet rounds
Conference/Boardroom

30
30
24
50
70
40
28

Occupancy
Up to 70 guests
Room Features
Wired or wireless, high-speed email and Internet access

Location
GROUND FLOOR
Size
Area
Dimensions
Height

70 m2 (753 sq.ft.)
6.4 x 11 m (21 x 36 . ft.)
2.5 – 4 m (8 – 13 . ft.)