Function Rooms
Otemanu Pavilion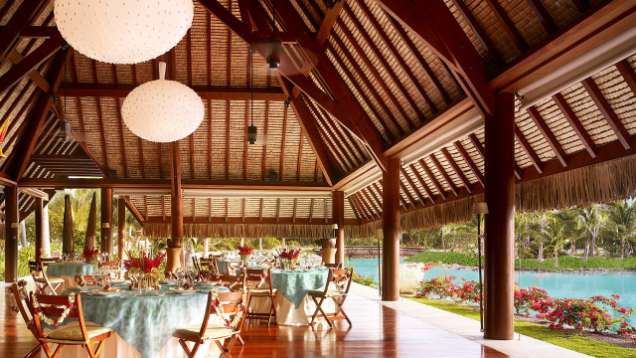 Conduct memorable events with delightful views of the Resort's inner lagoons and beautifully landscaped gardens in Otemanu, an open-air pavilion adjacent to the Pahia meeting room.

An Air of the South Pacific
Relax in a cool, open-air pavilion that enchants your guests with breezes from the South Pacific and views of the star-filled night sky.
Reception Space
Otemanu is ideal for receptions and incentive events. Meet with your colleagues in a reception space that seats up to 125 people.
Banquet Rounds
Entertain up to 110 guests with an authentic Polynesian banquet that features spectacular views of the turquoise lagoon.
Seating
Classroom
Hollow Square
U-shape
Theatre
Reception
Banquet rounds
Conference/Boardroom

60
80
60
100
125
110
40

Occupancy
Up to 125 guests
Room Features
Wired or wireless, high-speed email and Internet access

Location
GROUND FLOOR
Size
Area
Dimensions
Height

114 m2 (1226 sq.ft.)
8.8 x 13 m (31 x 43 . ft.)
2.7 – 7.5 m (8.8 – 24.6 . ft.)