Destination
Sample Itinerary
Surrounded by a spectacular lagoon, Four Seasons Resort Bora Bora is one of the world's most idyllic vacation destinations, where water sports and leisure activities abound. What follows is just a sampling of the activities available to you from your base at Four Seasons – we invite you to contact us to discuss all the possibilities.
Day 1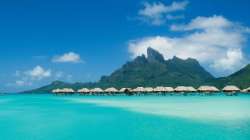 The approach into Bora Bora from the air is unforgettable, as is the journey from the airport to the Resort. As you board the Four Seasons boat for the 15-minute ride to our private motu (island), you'll be refreshed with flower leis, O'Tahiti water, and oshiburi towels.

Step into your Over-Water Bungalow and explore its countless amenities.
Spend an afternoon in quiet seclusion in the privacy of your bungalow, or visit with our sports team to plan your day of active exploration.

In the evening, Polynesian drums and tiki torches welcome you to a private beach for an island welcome reception under the stars. Mango martinis, local Hinano beer, fresh sushi, and local fire dancers will all inspire you to cast away your cares.
Day 2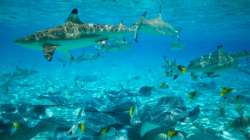 Wake up to a delicious breakfast on your private deck, or visit Tere Nui, our all-day dining restaurant, for your morning meal.
After breakfast, meet your Polynesian guide on an outrigger canoe for your introduction to the gorgeous lagoon. Swim with the gentle rays, or simply observe as your guide feeds the harmless local reef sharks. Circle the island for the best snorkel spots in Bora Bora.
For lunch, enjoy a relaxing barbecue on a private island. Lounge on the white-sand beach and savour local specialties and signature favourites.
After lunch, try a variety of water sports in the lagoon, take a dip in the pool, visit our spa for a soothing treatment, or simply lounge in a hammock under a palm tree.
In the evening, start with cocktails in Sunset Bar, then visit Arii Moana or Tere Nui for dinner.

Day 3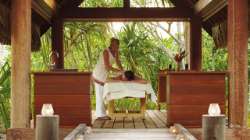 After breakfast on your private deck or in Tere Nui, choose your morning adventure. Try your hand at sport fishing for marlin or tuna, go on a reef discovery excursion to visit hidden coves and explore Bora Bora's underwater world, or take a hike through the Valley of the Kings.
If outdoor adventure isn't for you, take one of our boat shuttles into Vaitape for shopping and lunch.
In the afternoon, try a Black Pearl massage in the Spa, or lounge in the bubble spa overlooking the lagoon.
Before sunset, board a cocktail cruise on the Navigator, the Resort's luxury catamaran, to take in picturesque sunset views unique to Bora Bora.
For dinner, try a dine-around at the main island's most popular restaurants: Mai Kai and Villa Mahana.

Day 4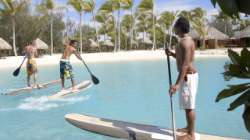 After breakfast in the venue of your choice, board the morning boat to Vaitape to explore the island on a rugged 4x4 Jeep excursion, during which you'll visit the island's best lookout spots.
In town, lunch at St. James on the water, then enjoy a chance for some shopping before returning to the Resort.
While away the rest of the afternoon with the activity of your choice, be it a trip to the Spa, a dip in the pool, a chance to try a new water sport, or quiet time in your bungalow.
In the evening, a fun and casual dinner at Bloody Mary's calls for shorts, tropical shirts, flip-flops, and strong local cocktails. Enjoy their barbecued fresh catch, beef kebabs or New Zealand lamb. Take home a Bloody Mary's shirt or hat so you can brag about your visit to the most unusual bar and restaurant in Polynesia.
Day 5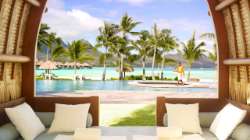 For one of the most memorable breakfasts you'll ever have, we'll deliver your meal right to your bungalow via outrigger canoe.
Enjoy a morning snorkel with the Resort's marine biologist, take a paddleboard out in the lagoon, or swim some laps in the pool.
In the afternoon, take a 90-minute lagoon tour on your own WaveRunner, or visit the Spa for a two-hour Spa Ritual in the Kahaia Spa Suite.
Visit our boutique to discover unique treasures and gain insight into buying the precious black pearl.
In the evening, enjoy a Taurua Romantic Dinner. This special evening for two offers a private and romantic Polynesian‐style dining experience, surrounded by magnificent scenery and lagoon‐side splendor. Enjoy your dinner within a warm, elegant setting either on the ocean‐side terrace of your private bungalow or on our beautiful white sand beach; all graced by impeccable Four Seasons service.
Day 6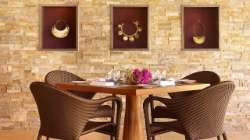 Savour your last morning in paradise with a relaxed breakfast in your bungalow or in Tere Nui, then transfer by luxury motor launch to the Aeroport de Bora Bora.