Make Time to Connect – 20% Off
Enjoy 20% off our Bed and Breakfast rate with the ability to move your stay date, at no...
Destination
Directions & Maps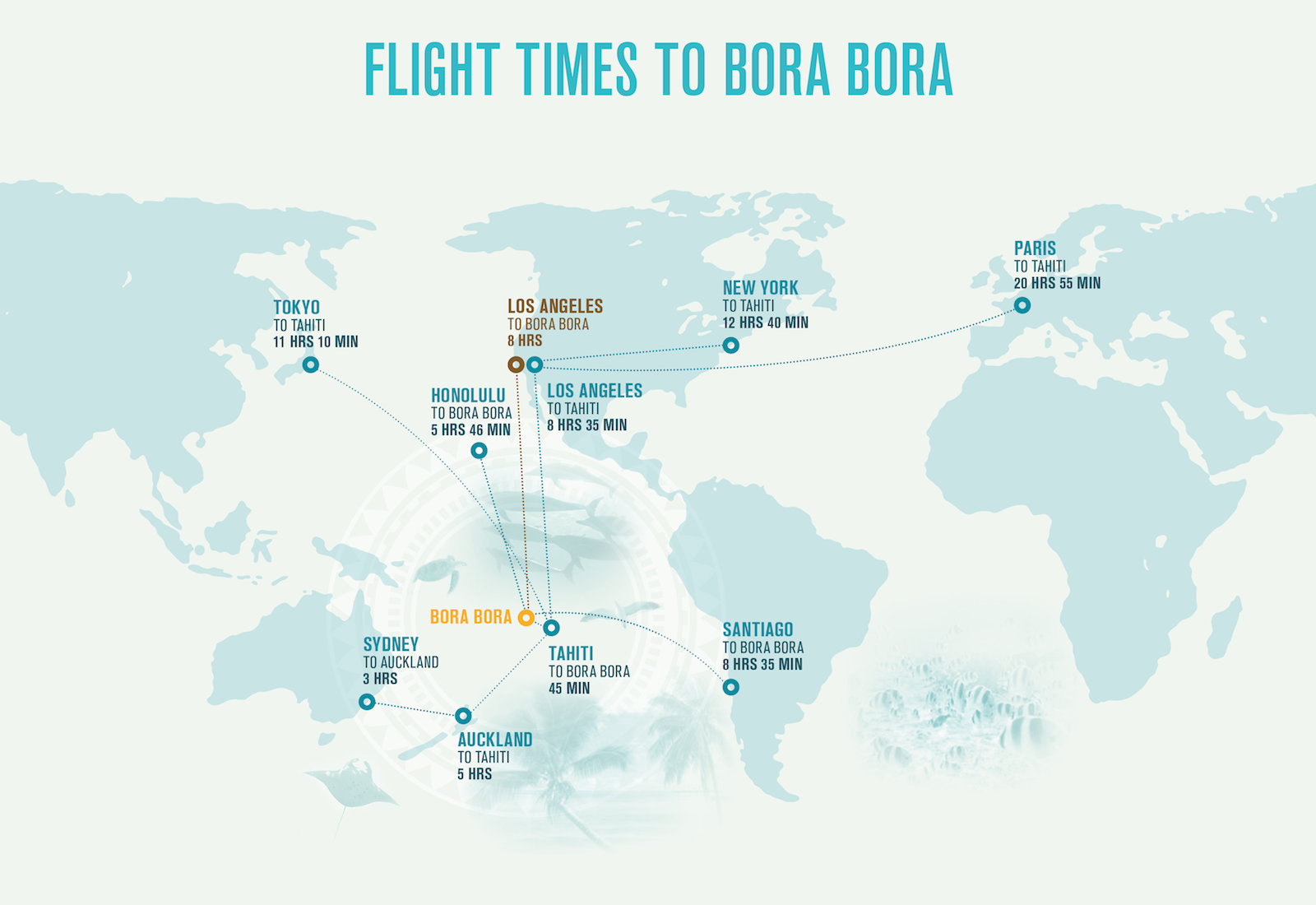 Getting Here
Guests of Four Seasons Resort Bora Bora first fly to Faa'a International Airport (PPT) in Papeete, Tahiti, the only international airport serving French Polynesia. From Papeete, it is a short 45-minute flight to Bora Bora, where we will meet you upon arrival and escort you to the Resort.
INTERNATIONAL FLIGHT INFORMATION
Direct flights are available from Los Angeles, Paris (with a stop in Los Angeles), Honolulu, Tokyo and Auckland. Airlines serving the airport include Air Tahiti Nui, Air France, Hawaiian Airlines and Air New Zealand.
Flight times from international hubs to Papeete (PPT):
Los Angeles (LAX) – 8 hours 35 minutes


(from Paris to Los Angeles – 12 hours 20 minutes)
Tokyo (HND) – 11 hours 10 minutes

Auckland (AKL) – 5 hours 5 minutes

Honolulu (HNL) – 5 hours
Official sites:
Inter-Island Flight
Papeete (PPT) to Bora Bora

45 minutes by plane

280 kilometres/174 miles
From Faa'a International Airport (PPT) in Papeete, Tahiti, it's just an additional 45-minute domestic flight to Bora Bora Mote Mute Airport (BOB) via Air Tahiti (four to six flights available daily).
At the airport in Bora Bora, guests are greeted by Four Seasons personnel. Staff handles your luggage, which will be placed in your room upon arrival. Guests are escorted to one of the Resort's custom Andreyale yachts, for a scenic 15-minute transfer to Four Seasons (fees apply).
Official site:
Visa Requirements
Upon arrival in Papeete, all passengers and private aircraft clear customs before continuing to Bora Bora. For entry into French Polynesia, all guests are required to have a valid passport and an outbound ticket. As entry requirements and customs regulations are subject to change without notice, please consult the appropriate authorities before travelling internationally.

Arrival Experience
Your island experience begins before your plane touches down. The approach into Bora Bora's airport offers passengers breathtaking views of the island – with its primeval peaks, deep blue lagoon and necklace of white-fringed motus (coral islets).
At the airport
You will be greeted at the airport by the warm, welcoming smiles of our Four Seasons personnel. Guiding you through the arrival process, your Four Seasons contact can help coordinate your luggage transfer and direct you to the boat, which will be waiting to take you to the Resort. During the 15-minute cruise to the Resort, relax with one of the on-board magazines, or look overboard to watch the fish and manta rays that inhabit the waters. Fee applies for round-trip airport transfers.
Bora Bora airport to the Resort: 15 minutes by boat

At the Resort
When you arrive at the Resort, you will be greeted with traditional Polynesian hospitality and you may don your own Polynesian flower lei. Enjoy chilled infused pineapple water as staff guide you to the arrival lounge – kids can even fill out their own registration information. You will then be guided to your bungalow or villa by our knowledgeable staff, who will help orient you to the Resort, introduce you to some of the island's unique features and provide useful information about your accommodation.
TAXIBOATS TO MAIN ISLAND (VAITAPE)
Twice daily from Monday through Saturday, the Resort provides return watertaxi service on a fixed schedule to Vaitape Harbour on the main island of Bora Bora (25 minutes by boat.) Fee applies. Please contact the Resort for additional information. Rentals cars are also available in Vaitape through Concierge.
FAQ
Airfare Promotion: Air Tahiti Nui
Air Tahiti Nui is offering several promotions for travel to Bora Bora in 2017.
Quick Reference
Time and distance to city centre
25 minutes by boat
Time and distance to shopping
Vaitape – 25 minutes by boat